DaVonte' Neal has been top of mind in the community circles that I travel. There's not been a conversation or event that I've had in the last few days where people haven't asked about the arrest of the former Chaparral football star on three charges, including first-degree murder. The alleged crime happened in November of 2017 here in the Valley. Neal helped high school football programs at Dobson and Higley in recent years and was hired by Idaho State this past January. The connection that most are asking about is Idaho State head coach Charlie Ragle, who was Neal's high school coach at Chaparral high school, where he would become a two-time Gatorade Player of the Year. It's a sad/tragic story on so many levels. Just last Fall Bruce Cooper did a terrific story on Neal here on the site…
Coop's Chronicles Episode Eight: DaVonte' Neal Teaching On and Off Field
Alek Thomas appears to be the next big thing in our busy sports market. The Diamondbacks called him up to the Show less than a month (My 8th), yet it feels like he's been here much longer. Even though the Hometown Nine hasn't been top of mind, I find my way to hanging through the commercial break if I know that Thomas is on deck.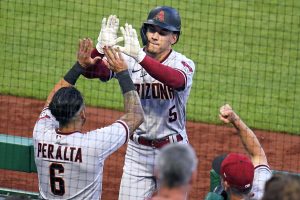 His arrival reminds me of when the Diamondbacks called up a 19-year-old kid named Justin Upton in 2007. I wasn't big at the time of the PR push the team put on Upton. They created "Uptown" in the right field. It was way too much, too soon for him. Justin never lived up to the expectations in Arizona and was eventually sent to Atlanta after the 2012 season for a group of players, including current shortstop Nick Ahmed. Thomas, like Upton, has all of the tools. I'm pleased to see that he's come in and put up a solid first four weeks…
Got any suggestions on the D-backs closer? Saturday night's loss at Pittsburgh was B-R-U-T-A-L.
This season, Grand Canyon University baseball won over Stanford, Oregon State, Texas, Texas Tech, Arizona, and Arizona State. The 'Lopes season came to an abrupt end Saturday in the NCAA Tournament, but there's no reason for Andy Stankiewicz's team to hand their collective heads. GCU pulled off something that was viewed as impossible. A WAC team is getting an at-large postseason bid. That's something! GCU will have Daniel Avitia, the WAC pitcher of the year(Alhambra high school grad), returning next year along with other vital parts.
I did hear from several people who wanted to listen to the 'Lopes NCAA postseason games on the radio only not to have that option. Budget it for next year!…