Arizona Basketball's all-time leading scorer and 1999 NBA champion Sean Elliott was glowing with pride discussing this year's Wildcats.
"I wish Coach [Olson] was around to see this team," Elliott said. "Putting the program back to where it should be…He would be absolutely over the moon with the job he's done and the way [Lloyd] treats his players."
Those words carry a lot of weight when they come from one of the sparks that ignited a new era for this program in the 1980's.
"I'm just happy they're back on the map and they're doing it the way it's supposed to be done," Elliott said.
Growing up in Tucson, Elliott attended Cholla High School when the Wildcats were in the basement of the Pac-10 standings.
That is, until he came to campus and teamed up with head coach Lute Olson and star guard Steve Kerr to lead Arizona to a record 35-win season and its first ever Final Four berth in 1988.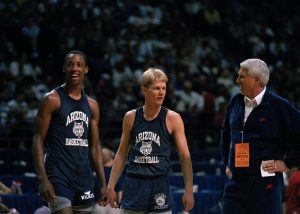 The Wildcats have made it to the Final Four three other times, beating Kentucky for the National Championship in 1997.
Head coach Tommy Lloyd and this year's team have the chance to reach those heights again.
"They can play fast," Elliott said. "They can play slow. They've been in a lot of tight games and they've won a lot of close games. They can match up with anybody when it comes to style. They've played all kinds of teams, all manners of styles and here they are with 33 wins."
Beyond the X's and O's, it's the togetherness of the student-athletes that most impresses Elliott.
"Really appreciate that the guys play for each other," Elliott said. "Seems like they play for the guy to the right and to the left of them and I think those are the same kind of similarities we had back in the day."
While the 'one-and-done' mentality has taken over college basketball, the 1989 Wooden Award winner appreciates a more traditional approach.
"It's been remarkable what they've done with bringing all these guys together from different places and really forming a real team," Elliott said. "I feel like that's kind of what was missing over the last several years with Arizona Basketball. Now you have a team that plays like a team and they help each other out. They're unselfish, they're a good defensive ball club, and they're exciting to watch."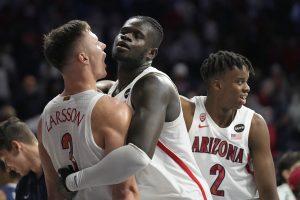 If they do make it as far as the National Championship game, that would imply breaking the 1988 Wildcats' record for most wins in a season with 36.
Elliott didn't hesitate to give this year's squad his full support.
"I'm thrilled if they do that because that means they're gonna keep winning," Elliott said. "I don't care about anyone breaking our records. I just want the young kids to be successful."
With more success, comes more expectation.
"It's not an easy thing to do, especially with that type of pressure," Elliott said. "These kids – I feel like they embrace pressure. They felt it so many times. When you get accustomed to doing that, the pressure, it kind of fades to the background. These young kids have done a great job handling it."
No. 1 Arizona and No. 5 Houston battle in the Sweet 16 on Thursday at 6:55pm in San Antonio.