How many ways can you say 'happy holidays?'
The Phoenix Mercury know it in seven different languages, one for each of the countries players on the roster have called home.
Speaking different languages has a unique importance in the WNBA as its players are often faced with the decision to play overseas during their league's offseason.
It's a decision that looms particularly heavy during the holidays.
"It is getting harder and harder," All-WNBA First Teamer Brittney Griner said. "I'm not really looking forward to it, honestly. Having to leave my family and go overseas again."
Years spent away from loved ones throughout the winter and fall hasn't stopped players like Phoenix's star center from going to work around the clock to improve their games.
However, Griner's feelings are reflected across the league.
"Mentally, emotionally being there for family," veteran center Kia Vaughn said. "Trying to enjoy the time without stressing. I've been doing this for 13 years professionally. Back and forth, overseas, WNBA. I'm not sure how my wheels will turn but hopefully they're in a good way."
It can especially be a challenge on the days when a FaceTime simply isn't enough.
The hectic experience puts things into perspective when they do get the chance to stay home.
"Most of my family's birthdays are in the winter season so I never got to celebrate birthdays, let alone my own," Vaughn said. "I'm a real Christmas girl so it's exciting to be able to host something. I look forward to those things."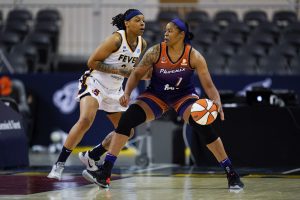 It's all a balancing act.
"Two years ago my son stayed with my parents when I went overseas," guard Bria Hartley said. "Now it gives me a little bit more time to be here with him. He'll be able to visit a bit more."
Hartley spent extra time with her son while recovering from a torn ACL injury throughout this past season.
As great as being home is, high-level overseas competition pushes them in the offseason.
"I've always talked about how going overseas is the only way to stay playing and stay in shape," Mercury superstar Diana Taurasi said.
Seeing new places doesn't hurt either.
"I've enjoyed playing overseas and going to different countries," Hartley said. "Playing some of the Europeans that are really good over there."
Those who stay in the states have to adjust their training regimens accordingly.
"I did speak to 'D' a few times about what she does in order to stay in shape and getting back into the season," Vaughn said. "She takes a few days off just to get herself mentally together. She goes back into the gym, staying consistent with her workout routine. I'm going to have to see how I'm gonna do that."
Making it work is a mentality pro female hoopers have grown accustomed to.
"You do want to grow the game of basketball here so that we could have a normal basketball season at some point," Hartley said. "Rather than players having to go overseas to compensate for their salary."
Organizations like 'Athletes Unlimited,' are continuing to develop in order to give athletes more professional options in the US.
AU's inaugural season will include 44 players competing for five weeks from January to February.
"I think it's great to be able to stay home and work on your game," Taurasi said. "Especially for some people who don't have the opportunity to go overseas or play in the WNBA. This is a great opportunity to be seen."
That way, maybe someday soon, all WNBA players will have the choice to be home for the holidays.