"After red and blue, we all wanted the season to start the next day."
Guard, Dalen Terry, and the new-look Wildcats are excited to bring a whole new vibe to Tucson.
Led by first-year head coach Tommy Lloyd, UArizona men's basketball is implementing a fresh brand of hoops.
"I don't particularly play this style of play because I think it's fun – I think it's effective. I'm just gonna hone in on what are the things that I think impact winning. I'm comfortable playing fast as long as it's layered with fundamentals."
If their lone exhibition game is any indication, pushing the pace and finding energy through ball movement will be key to the success of this squad, as they finished with 24 team assists.
"A team's never going to know who's going to get off," Terry said. "Everybody can bring different things to the table at different nights so it's real hard to scout us."
The first step of developing that identity is taking care of business against their non-conference opponents.
"It's just establishing the standard we want to play with," Lloyd said. "Effort, intelligence. The style of play that we think we need to be successful. More than anything, it's kind of a big-picture approach. The games give you an opportunity to solidify learning and establish and build habits."
Developing those habits can only happen through intent, and Lloyd's guys are motivated to get after it.
"Everybody's been looking real sharp," Terry said. "Everybody's got their game face on this week."
For a guy going into his first official matchup as head coach, Lloyd's been a cool customer.
"I'm not approaching it any different," Lloyd said. "I've never been a guy that's gotten too nervous about games. I've never found any benefit to get nervous. I'm excited and we'll be prepared but I love games on any game day."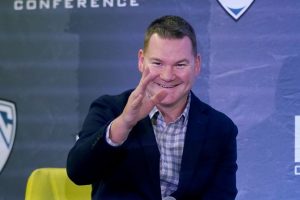 That calmness has been contagious.
"He's pretty consistent on who he is every day," Terry said. "He doesn't act nervous. We're not acting nervous either. It's just basketball – we've been playing basketball all our lives."
UArizona finds itself in fourth place according to the Pac-12 preseason media poll, Lloyd's keeping an eye on the future while being present.
"I want this program to be solidified and locked and loaded," Lloyd said. "When the runway is clear for us to take off, I want to be ready to take off. I've always tried to be forward-thinking with it."
The Wildcats look forward to hosting Northern Arizona at the McKale Center at 8:30 pm tonight to kick off the 2021-22 campaign.