Every week during the NFL season, Sports Illustrated Senior Fantasy Analyst Michael Fabiano joins Sports360AZ's Brad Cesmat to share his insight on building and developing your fantasy team for success.
In our most recent conversation with Michael (Oct. 12), we discussed more players who might make ideal trade centerpieces. Here are the players we highlighted:
You've Mentioned Your Concerns About Derrick Henry's Durability Late In The Season. Would You Recommend Selling High On Him?
#Titans Derrick Henry … wearing the numbers of carries he'll have at the end of the year 😂 pic.twitter.com/SPq2cCb0y4

— Kayla Anderson (@KaylaAndersonTV) October 14, 2021
"If someone offered me a king's ransom for Derrick Henry, like a really good running back and a stud wide receiver, I'd at least think about it. He is on pace to carry the ball 480 times; not touches, carries. It's going to be really hard for him to continue to carry the ball 30 times a game, and if he does do it successfully, he'll be the biggest bust candidate in fantasy football in 2022. As great as he is right now, can he keep it up?"
What Running Backs Might Be Good Buy-Low Options Right Now?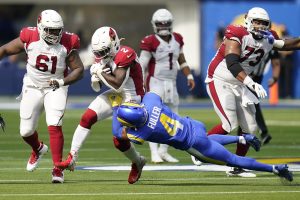 "Chase Edmonds was the 12th-ranked running back going into last week. Did not have a good game this week, dealing with a bit of an injury. James Conner is getting a lot of the goal-line work, so Edmonds could be a guy who you could take a shot on now, after he had a bad game. He's still going to be the guy who leads that backfield in touches and snaps every week, but his ceiling is limited."
Who Are Some Guys You Are Holding Onto At All Costs?
Mike Williams has 6 receiving TDs

Most in the NFL ⚡️ pic.twitter.com/hquZsFfBUT

— PFF Fantasy Football (@PFF_Fantasy) October 13, 2021
"There's a lot of running backs who are hot right now – Kareem Hunt, Austin Ekeler, Najee Harris. I'm keeping those guys, Mike Williams too. If somebody offered me DeAndre Hopkins for Mike Williams right now, I'm not doing it. Mike Williams has been great and Hopkins has not been good."