The 4A-6A championship matchups are set and Saturday night the Open Division will be, as well. While Friday night brought fewer upsets than a week ago, Cinderella's glass slipper still fits for a trio of Valley schools.
Coyote Ugly
There's just something about this Campo Verde team and I'm still not quite sure what it is. Max Ragsdale's team stood toe-to-toe with second-seeded Notre Dame Prep and left the north Valley with a 20-17 win in a game which came down to the wire.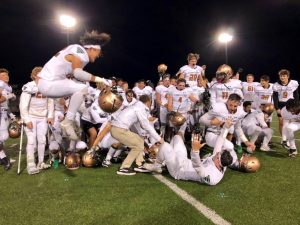 — Cody Cameron (@CodyTCameron) November 23, 2019
Outside of a couple hiccups, the defense has been RMHS's calling card and this week was no different as they harassed Queen Creek's talented young quarterback Devin Brown and held the Bulldogs to just seven points offensively.
Red Mountain's only blemish, a four overtime heart-breaker to Perry way back in early September, is the only thing standing in the way of a perfect season to this point.
Many felt the only thing which got Chaparral in and kept Red Mountain out of the Open Division was strength of schedule. Regardless, the Mountain Lions are still playing for a gold ball.
Three and Out
1. Notre Dame upset by Campo Verde 20-17.
I know I touched on it above and take nothing away from Campo Verde's win but the Saints just didn't look ready to play Friday.
After falling behind 13-0, NDP clawed back into the game but wasted a great scoring opportunity late in second quarter after quarterback Derek Elsholz was sacked and time expired inside the Campo 10-yard line.
The Saints muffed a punt which the Coyotes pounced on late and it seemed, outside of steady senior workhorse Dominick Mastro, NDP never found a consistent rhythm offensively. Key penalties also thwarted a number of drives.
2. Liberty holds off Desert Vista 33-30.
Your @LibertyFBLions are going to the state championship game! pic.twitter.com/PAfUcE5H6l

— Liberty PSBN (@psbnlhs) November 23, 2019
The seven-seed Lions have come a long way since I saw them sputter offensively in a Week Zero loss to Brophy at Phoenix College.
Head coach Mark Smith decided to stop rotating quarterbacks and Jonah Guevara has thrived working behind a big, tough offensive line and a pair of double-digit touchdown scorers in the back field in bruiser Jace Accurso and Joseph Forney. The trio of seniors have combined for close to 30 touchdowns and Liberty has rushed for 3000 as a team in 2019.
It will be Lions (Liberty) versus Mountain Lions (Red Mountain) for all the 6A marbles.
3. Mesquite upsets Cactus 28-27.
Mesquite to the 'ship pic.twitter.com/yATVOrgqRu

— ArizonaVarsity.com ???? (@AZHSFB) November 23, 2019
Campo Verde wasn't the only 6-seed to taste victory Friday as Mesquite's defense turned away the Cobras' two-point attempt with 38 seconds left.
If you follow high school football in Arizona, you probably know about star junior quarterback Mesquite quarterback Tyler Thompson but he's certainly not the only weapon in that Wildcats' offense.
Senior running back Chris Hintze has around 1200 total yards and double-digit touchdowns, while Jordan Wollangk and Jacob Walker headline a deep and productive receiving core.
Two of Mesquite's three losses are to 5A Campo Verde and 4A blueblood dynasty Saguaro.
The most beautiful play in Football Victory formation. Wildcats 28 Cactus 27. See you in the finals! #weAREmesquite #RoarandScore

— Mesquite Athletics (@MHSAthletics1) November 23, 2019
It will be east against west as Gilbert's Wildcats tangle with Goodyear's Desert Edge Scorpions for the 4A State Championship.
Buckle up, there are two more huge #FridayNight360AZ games to play Saturday night in the east Valley.