By Kennedy Wilkerson
It was déjà vu for Arizona high school volleyball fans inside Wells Fargo Arena Wednesday night, as the Xavier Gators took on the Corona del Sol Aztecs in the 6A Girls State Volleyball Championship.
Last year, Corona del Sol was dethroned as reigning state champs by Xavier.
This year, in their sixth finals appearance in ten years, the dominant second seeded Gators swept the fourth ranked Aztecs 25-22, 25-20, and 25-18 to go back-to-back.
#TFW your school is #Back2Back ? State Champs! @gatorvball seals the deal with a 25-18 set three win over @CoronaDelSolVB pic.twitter.com/elJsu1K4Cu

— kennedy wilkerson (@kennnedyy16) November 8, 2018
Xavier returned seven varsity players, five being seniors, from their 40-3 record from last season.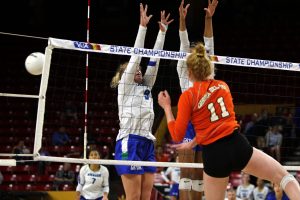 Seniors Shannon Shields, Kate Spellman, Jenelle Yarwood, and Hayley Nash led the offense as veteran players and senior libero Ashley Yeung commanded the defense.
But it was junior outside hitter Briana McKnight who set the tempo for the Gators offense.
In the final match alone she accounted for 20 of her team's 50 kills, with only one error. She also added in 13 digs, the second highest for the night behind Yeung.
"She stayed aggressive and all the other girls followed her lead," head coach Rene Lamar-Bryant said.
On the biggest stage of their young careers, it isn't easy to remain calm. The Gators knew they would have to rely on each other in order to come out victorious.
"When things weren't going our way, we would go to the middle and take a collective deep breath, so we could go back out and do what we needed to do," McKnight said.
Prior to the 2018 season Bryant credited last year's title to their team chemistry and said it is what would drive them to success this year too. She was right.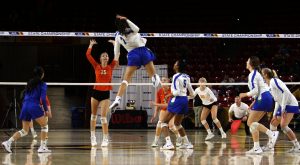 "These girls fight for each other, they encourage each other, and they believe in each other," Bryant said. "When you believe in one another, that is when you are going to get the best effort from each individual person on the floor."
2018 proved to be another dominate year for Xavier and their prestigious program, winning their 13th title in just 22 years.
THANK YOU FOR AN AMAZING NIGHT! WE LOVED OUR STUDENT SECTION?? We really couldn't have done it without you all! GATORS TAKE STATE…AGAIN! #twopeat #sodmw #gdtns #gts #chompchomp pic.twitter.com/UiuI5bVeNX

— XCP Volleyball (@gatorvball) November 8, 2018