"Hi, nice to meet you. I'm Dylan Raiola."
In some parts, most notably the entire state of Nebraska, the Pinnacle High junior needs no introduction (we'll get to that later).
The 6-foot-3, 215-pounder, widely considered the top quarterback recruit in the Class of 2024, pulls up a chair across from me in the Pioneers' football meeting room.
While he looks every bit the physical teenage quarterback lab freak I expected, there's far more to Raiola than a bunch of recruiting stars next his name, NFL genes, and a Howitzer of a right arm.
During our near 30-minute chat, I'm struck by his humility, family-based morals, and faith-first approach to life, both on, and off the field.
A Fresh Start (Again)
Sure, his three-year prep football story, now at its third stop, certainly has a lot of unpacking, but it's not quite the quick-to-judge narrative many Twitter bullies have scripted in their social media hot takes after Raiola opted to transfer from Chandler to Pinnacle last month.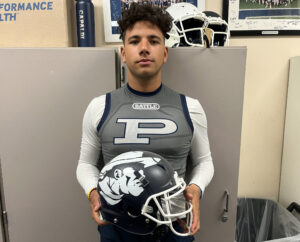 — Dylan Raiola (@RaiolaDylan) July 1, 2022
Raiola admitted he was star struck but the two quickly bonded over their shared position on the field, as well as their love for baseball. Mahomes pitched and played outfield for a year at Texas Tech. Raiola catches, pitches, and plays third base on the club baseball circuit. His fastball has been clocked at 89 miles per hour.
He also took the time to lean into the 2-time Super Bowl Champion for advice on the question everyone has been asking.
"I talked to him about his recruiting process, how he handled it," Raiola explained. "He just said he was going to bet on himself and go to Texas Tech. He's where he's at now, and that says a lot about his drive. [That] dude is insane. It was really cool."
People Watching
"It's a blessing to be recruited by guys like Lincoln Riley, Kirby Smart," Raiola explained. "Guys that you dream of talking to and then actually have the opportunity for them to come at you as hard as they do, recruit you to their program that they've built for a long time. It's a very fortunate situation to be in to be recruited by Power Five programs."
One of those programs recruiting him heavily is Nebraska, where Dylan's father, Dominic Raiola, was a consensus All-American center, and Remington Award recipient in 2000 before embarking on his 14-year NFL career, all with the Detroit Lions. Dylan recently attended a Husker basketball game in Lincoln, making quite an impression on his dad's alma mater.
Dylan Raiola in attendance for today's Nebraska MBB game

The No. 1 recruit in the '24 class throwing the bones after the PBA crowd yelled "DY-LAN! DY-LAN!"

Joined by his dad/former Husker Dominic & little brother Dayton pic.twitter.com/eJFS9fLxWY

— Ellie French (@elliefrenchTV) February 25, 2023
Spencer Rattler, another once-prized Pinnacle quarterback recruit, often joked how Oklahoma fans would frequently recognize him walking through the Oklahoma City airport on recruiting visits.
Raiola received the same star treatment last weekend in Omaha.
"I actually got to the gate and my brother told me there were people videoing me, taking pictures, and things like that," he said with a chuckle. "Then we were boarding the plane, and I had my head down, just minding my own business, and there was like 10 people videoing me. I mean, that's pretty cool. It's awesome. Their fans just know their stuff."
Trusting the Process
After de-committing from Ohio State last December, Raiola, and his family, are committed to taking their time before selecting a college.
"I have no timetable," he said. "You really just want to make sure that you do your research. Really, I'm kind of open to everybody. A lot of people say that it's a four-team race, but really I'm open to every school that reaches out."
While schools like Georgia, USC, Oregon, and Nebraska have been linked as possible destinations, Raiola said he has also gotten recent interest from Miami, Colorado, Texas, and Michigan among others.
One play which could sway Raiola's decision is where fellow Pinnacle two-sport star, and close friend, Duce Robinson commits. The five-star, top-rated 2023 tight end in the nation has yet to announce, but both Georgia and USC are strong candidates to land the services of the 6-foot-6, 225-pounder.
"That's definitely something we talked about before," Raiola explained. "I just came up naturally. I was kind of like a joke here and there. We just started laughing about it. We do want to play together, that's for sure. That would be pretty special. But for [both of us], it's wherever we want to go, and whatever fits best."
In some ways, despite just a one-year age difference, Robinson has served as a role model for Raiola.
"I've definitely learned a lot from him," Raiola noted. "How he carries himself. How he works. We kind of bounce ideas off of each other, see if they stick. I do learn a lot from watching Duce. How he works. How he plays. Just his type of game style."
Youth Movement
Raiola won't have the luxury of throwing to Pinnacle's 2022 top targets in Robinson, Myles Libman (Stanford), and tight end Coleson Arends (ASU) but the 'Neers have a surplus of young talent ready to step into bigger roles this fall.
"I think the guys will step up to the challenge," Raiola said. "I love the challenge of working with young guys, and just molding them into being great receivers and dominating in high school, and hopefully at the next level, as well."
What's Next
Perfecting his craft.
Despite being the most coveted junior prep quarterback in the country, Raiola, who is set to visit USC this weekend, says this off-season will be spent not only acclimating to new coaches and teammates, but improving his base, footwork, and every other nuance to elevate his game even higher this fall.
Team first.
Hard working.
Humble.
Selfless.
Welcome to The Dylan Raiola Experience.