There are few athletic honors more coveted than winning a medal for your country.
"We are Silver Medalists at World Games," Head Coach Mary Roberts said. "Not too many people could say that. When you saw us in the beginning, that would have been hard to believe."
What started with tryouts in Arizona and members of the team simply learning the fundamentals of basketball, turned into an odds-defying journey.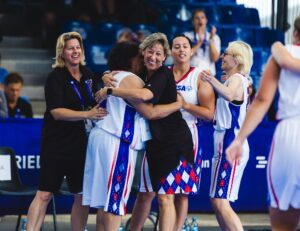 Special Olympics Arizona earned the privilege to represent the United States in 3-On-3 basketball at the 2023 Special Olympics World Games in Berlin.
That privilege came with the responsibility of America's hopes on their shoulders.
"It was such a great once-in-a-lifetime experience, being in Germany," athlete Vanessa Robles said.
The team was led by Coach Roberts and Assistant Coach Mandy Faust. As a unified sport, the roster included both athletes and partners.
The goal of unified sports is "those with intellectual disability and without, playing on the same team to promote inclusion, awareness, understanding, and lasting friendships."
Sarah Gaudio, Lindsay Hayes, and Robles made up the team's athletes while Taylor Lifgren and Summer Burgess were partners.
"Their vast differences, varied levels of skills and abilities came together to form this incredible team," Roberts said. "They always supported each other through kindness, strength, heart and determination."
The road was full of unexpected moments, like finding out that they'll be playing against teams with both men and women.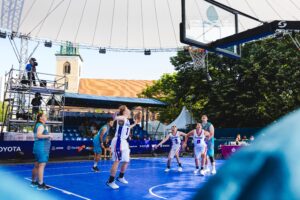 "It wasn't specified on the World Games program so it wasn't until a few weeks prior to departure before our Special Olympics Arizona president and CEO informed me that, 'We don't have a women's team for Berlin. Are you okay with that?'" Roberts said. "I think my response was, 'Absolutely. It's gonna be fun to beat some guys.'"
That might throw off a different group of competitors – but it was business as usual for this squad.
"When I did tell them and I asked if they had any concerns or problems competing against men, they didn't even hesitate," Roberts said. "They're like, 'Ok.'"
The games started with a gut check right away.
"We played Austria in our divisioning game and they kind-of beat up on us a little bit," Burgess said. "We didn't play to our fullest potential…They had two 6-2 partners that were really good…We ended up playing them again in our first round of medal games…We had our team meeting beforehand…We were like, 'We can compete with the best of them,'…and we ended up winning."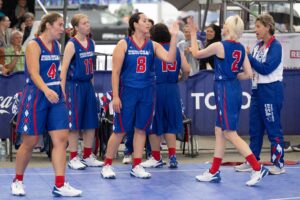 That victory sparked the confidence Team USA needed to climb the bracket all the way to the gold medal game against an undefeated Kuwait team.
Down 4-0 (one basket = one point) in the Gold medal game, Team USA stormed back with seconds to spare.
"We were down by one and I was able to tie the game," Robles said. "It was almost like winning the gold…there were so many emotions going on. It was really meaningful – winning that silver medal."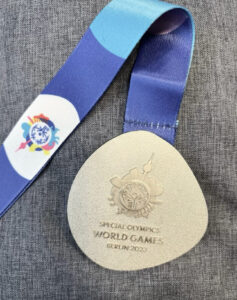 "Just to be in the gold medal game was beyond our wildest dreams," Roberts said. "These ladies earned that hardware that's on their chests…it's a beautiful piece and nobody will ever take that away from them."
Winning helps bring people together, but exploring a new country helped develop those lasting friendships as well.
"I had never been out of the country," Robles said. "It was just mind-blowing that I got the opportunity to go."
"I practiced with everybody for months so I knew I was with a great group of people and we were gonna have fun no matter what," Burgess said.
They were also recognized at the Phoenix Mercury game against the Sun on July 18, 2023.
"It's always nice to showcase the Special Olympics name," Burgess said. "Spreading the word about unified sports in general…Everybody wants to see the silver medal, but spreading awareness of inclusion is the big goal for that."
"A whole lot of emotions were going through my head," Robles said. "Being honored was another really great experience. You hear the cheers from the fans and it was just excitement. It was unbelievable."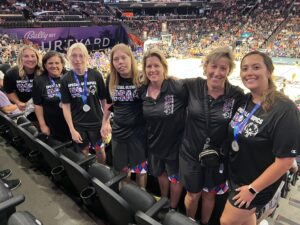 This squad's story is a reminder that odds are better forgotten when the dream is worth chasing.
"Anybody can choose a dream as long as they have a good intent of going for that dream," Robles said. "We also have dreams like anyone else – just go and find it."
"Anybody, anywhere, regarding ability or disability – you can do absolutely anything," Roberts said. "When we come together as a group, instead of individuals – this team has proved, we can accomplish it."