Marcus Libman never slows down.
After catching 137 passes for nearly 2300 yards and 24 touchdowns his final two seasons at Pinnacle High, the likable, out-going Libman, three-star prospect, signed with Columbia University in 2020, and is now entering his senior season for the Ivy League program located in the Manhattan.
"Zone Read" recently caught up with "Libby" just before fall camp to talk about a myriad of topics both on, and off, the field.
Here's more from the wide receiver who's always on the move.
I've seen on your social, you've been everywhere this summer. Take us through some of your adventures since school got out in the spring. "I left New York [City] in early May, went over to Philly to a Taylor Swift concert. My first Taylor Swift concert ever. Then I got to go home [Phoenix] for two weeks to train at Made2Move Performance Training which was cool. Then I went off to Barcelona and studied abroad over there for a month. My class was awesome.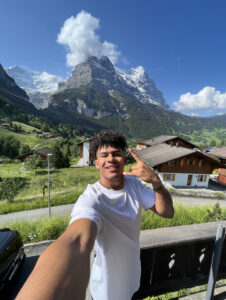 (photos courtesy: Marcus Libman)
We went on a ton of field trips. We really got to experience the culture and go to a bunch of different museums. Then on the weekends, we got to travel, which was cool. I went to Paris, Como Italy, and Switzerland. So it was a pretty remarkable start to the summer [laughing]. After that, I came home for a day and a half and then Nico Mannion, one of my good high school buddies, texted me and he was like, 'Come watch me in the [NBA] Summer League.' So, me and my buddy went up to Vegas for the night and watched him play. Had some fun over there. Then came back home, and the next morning flew to Wisconsin with my family to our lake house. The weather was awesome. It was beautiful. Fast forward a couple days and now I'm here, back in New York."
Was T-Swift worth the hype? I heard she is. "It's worth the hype. She absolutely is. I was seeing Aaron Rodgers' videos of him being there. It was worth the hype. She was awesome."
Did she play for like three hours? "Yes! But you don't get bored. It was cool – definitely an incredible experience."
How have you enjoyed playing in the Ivy League? "I love it. I think it's the best decision I could have made in that it's out of state, and it's in New York City. It's been everything I hoped it would be so far. I'm going to graduate in December and I'm going to do two years in my Master's degree and go play somewhere else. That's the goal. Yes, playing in the Ivy League has been awesome. I'm getting an amazing degree, while being able to play football – something I love to do. So, I'm having a great life."
Fancy footwork by @marcuslibman!
https://t.co/Nns1tRPyNn pic.twitter.com/YieeP1LqvR

— Columbia Football (@CULionsFB) November 12, 2022
What's the best part of going to college in New York City? "Oh, that you're never bored (laughing). There's always something to do. You may be having a bad day, you're getting on the subway going up to the [football] complex, and there's just some dude dressed in a Spider Man costume flipping across the subway trains. You can't not laugh at that. It's just hard to have a bad day here."
Livin the best life! @CULionsFB pic.twitter.com/sHhSaRX56M

— Marcus Libman (@marcuslibman) April 9, 2022
I've seen posts from you being at Nets games, Knicks games, Yankee games, Broadway shows, clubs…you've really taken advantage of being in the big city, haven't you? "Yes, definitely. I think another big thing [about going to school in New York City], are the connections, too. Just being able to meet a bunch of different influential people. Making that connection. Getting your name out there and introducing yourself to everybody. Yes, you can definitely do some fun things like that."
What's been one of the most memorable things you've been able to do in NYC? "I'm close with Duce Robinson's family and when they came out to visit, we got to go to Jay Z's Sports Enterprise [Roc Nation]. The former GM of the Mets [Brodie Van Wagenen] works there. We got to see New York City from a tower point of view. It was super cool."
When not out exploring everything NYC has to offer, how have you been able to balance football with the rigors of Columbia's academic load? "School is definitely first in the Ivy League. Once you get here, it's all about how you do it, and how much you love the sport. You definitely have to have a good balance. What's cool with the football program is they'll set you up with tutors and they'll help you succeed in school. They won't let you fail. Then you have to show up and have that great attitude. It gets hard sometimes. It definitely gets hard. It's the Ivy League…it's tough."
I understand there is no redshirting in the Ivy League, and you lost a year of football in 2020 due to the COVID pandemic. So, is your goal to get your degree in December and enter the transfer portal? "Yep, I'll hit the transfer portal and then I'll pursue my Master's degree. Try to figure out where I want to go continue to play. Play two years of football. Maybe play one and then go play in the [NFL]. We'll see what happens."
Your little brother Myles also had an incredible career at Pinnacle. He came up just short in the 6A State Championship Game in December. How much did that hurt for you, seeing that tough loss to Highland? "I was just so proud of him. His life is only going to get better from here. Myles and Duce are my little brothers. They both mean so much to me. I just want them to succeed. Watching them both ball out [in the championship game], I was just so happy, It was such a cool experience. It sucks that they lost but the memories will live on with them forever. Now they're both at school and succeeding, so that's fun for them."
Not the outcome we wanted but couldn't be prouder of my guys. Started the season with a goal to make state and didn't fall short. Love this team and this program. @GoBigBlue_PHS 🤍🤍 pic.twitter.com/qNOriWx9gp

— Myles Libman (@myles_lib) December 13, 2022
With Myles now playing at Stanford, what are the chances that big brother may join little brother next year in Palo Alto? "It's likely (laughing). No (more laughing). But Stanford would be one of my top schools for my Master's program for sure."
Have you two talked about it at all? "Yes. A little bit."
Now I need a full scouting report on youngest brother, Maxwell Libman. Go! "Maxwell Libman – love it! It's cool because Duce's little brothers are his best friends. They're the same age [entering eighth grade] and they're just as athletic as all of us. Honestly, they might be better. They're big. They're going to be beasts. Maxwell is playing quarterback and receiver right now. I would go coach them last summer in flag football for a little bit. Maxwell is out there throwing darts. It's cool because I feel like they're so advanced and so much more experienced than the other kids because they've learned from Myles, and I, and Duce. They know what the expectations are and the need to work hard to succeed. They're all going to be successful for sure. It's going to be fun."
How close do you keep in contact with your former Pinnacle quarterbacks – Spencer Rattler and J.D. Johnson? "I definitely keep in close contact with both of them. It's a little harder with J.D. because he's in Michigan a lot, but he's loving it. I'll usually see him when I'm out [in Phoenix] and we'll catch up. I saw Spencer recently when I was home. I got to throw with him. I'll always keep in contact and see how he's doing. He's got a big season coming up. He's excited."
ain't how you start. It's how you finish! GODS TIMING ! 💯#History #Legendary pic.twitter.com/5biAyVzhL5

— Spencer Rattler (@SpencerRattler) November 26, 2022
You're a college head coach and you can only sign one. Which one are you signing to play for you: Spencer Rattler or Duce Robinson? "Oh, geez (laughing)! I gotta pick one? Oh, man. You're making me pick a hard one! I want both! I'm going to have to pick Spencer just because he's a quarterback and he can lead my team to wins. God, if I could pick Spencer to throw it to Duce all day, I don't think I'd lose a game."