By Dalanie Todd
PHOENIX – USA Blind Soccer star Alvaro Mora Arellano has been through many challenges in his life, but he doesn't consider being blind one of them.
He spends most days like anyone else.
"Being blind, you can live a life that everybody can live," Arellano said. "It's nothing different."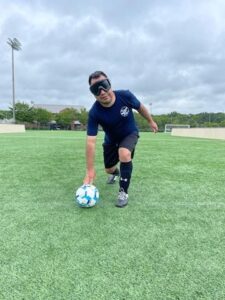 Born in Cocula, Mexico in 1987, Arellano grew up with family all around him.
His family's love would be a rock he could lean on when he lost his sight due to cancer as a three-year-old.
Such a massive challenge at a young age led him to the sport that became his passion: Goalball, a Paralympic sport for the blind or visually impaired.
He eventually moved to Arizona his sophomore year of high school in 2003.
Arellano's father had been working in Phoenix at the time and wanted the rest of the family to join him. Arellano attended Carl Hayden High School.
"Great but difficult because I had to learn a new language and I was frustrated," Arellano said.
With help from teachers and friends alike, he was able to learn English and graduate Carl Hayden.
After high school, he attended Phoenix College and earned his associates degree, then enrolled at Arizona State University, where he got a degree in Spanish.
He also has a certificate as a medical interpreter. At one point, he even had an interest in crime. But he knew that goalball and soccer were where his heart was truly at.
He would play both with his friends often, and then started playing in tournaments. That's where he got noticed for the USA Blind Soccer team.
In 2019, Arellano received a letter from the team inviting him to Chula Vista. In order to be considered, he had to write an essay explaining his love for soccer. He was later invited to try out.
In 2021, he received another invitation. This time, to Olympic headquarters in Colorado Springs.
By the end of 2022, the invitations kept piling up until he finally made the roster after national tryouts.
Team USA picked Arellano because "they saw that I had the talent and IQ to understand the plays."
He went on to make history, scoring USA Blind Soccer's first ever goal in an international friendly against Canada in 2022.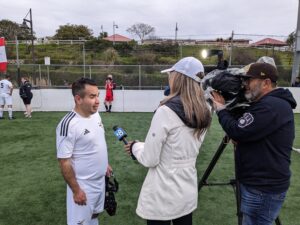 Arellano is staying in Phoenix and training for the 2028 Paralympics in Los Angeles, where Team USA will field its first men's blind soccer squad.
As for his future, he would like to transition to coaching. For now, he continues to live life like anyone else would.
Well, anyone who's made Team USA history, anyway. And he's not finished yet.