Over two years ago former Casteel quarterback Dane Christensen took a leap of faith and embarked on his mission to South Africa. Going on a mission is very common in the LDS community but less common for a young athlete determined to play football at the next level. For Dane, there was no question that he wanted to serve. Family, Faith and Football explores Dane Christensen's unique journey to college football.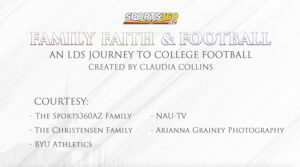 I am excited to announce two commitments in my life. Starting 6/24, I'll be serving a 2 yr church mission in Cape Town, South Africa. Upon my return in 2023, I have accepted an offer to join the BYU football team. Huge thanks to my family and coaches for their support. Go Cougs! pic.twitter.com/Y9r9NAVfCa

— Dane Christensen (@DChristensen_12) April 7, 2021
Read here for more about Dane's early experience serving his mission in South Africa.