Arizona State soccer senior in Gabi Rennie is just the second Sun Devil ever to represent her country in the FIFA World Cup.
"It's quite cool that I'm representing more than one legacy," Rennie said. "It makes me happy and excited that I have the whole Sun Devils team behind me. I know all my girls back in Arizona right now are watching and supporting me. It gives me a lot of encouragement and belief in myself."
Amy LePeilbet, who attended ASU from 2000-2003, won silver with USA at the 2011 World Cup in Germany.
The fact that this World Cup happens to be in her home country of New Zealand is not something Rennie is taking for granted.
"It's a whole different feeling – having that home crowd," Rennie said. "It's something that I never thought I'd be able to experience before… It's kind of what the 'little you' dreams of… To be a part of that as a player is pretty surreal."
"It is an incredible achievement to play for your country, but to represent them in a World Cup that is hosted in your home must feel like nothing else on Earth," Sun Devil soccer head coach Graham Winkworth said. "I am so proud of Gabi. I will be cheering her on like crazy and so will all of Arizona State."
Having the weight of your country and your university on one's shoulders could bring down some, but Rennie has embraced the love.
"I'm letting myself enjoy that and let that pressure come in," Rennie said. "I think it's privileged pressure. It's a good kind of pressure."
Rennie is appreciative of her success, but knows it's the attention to detail that got her this far that will serve her on the world's biggest stage.
"I finished my last exam in May in Arizona, then I flew to New Zealand and it was straight into camps," Rennie said. "At the end of the day, it's football… When I'm in this bubble, it's pretty easy for me to focus on what the job is at hand. We do a good job creating an environment at camp that is replicated…When I'm in the training and playing field, it's just doing my 101's and getting the job done."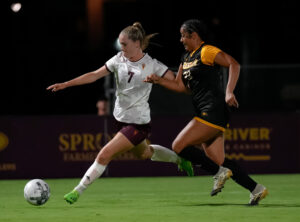 She also recognizes the full scope of being a role model as part of New Zealand Women's Soccer, the first of international soccer's more than 200 member countries to receive equal pay.
"We're a smaller country, so growing up, there probably wasn't as much development as the likes of the US," Rennie said. "You had to put into the extra miles to get some development out. Playing with a lot of boys teams as well because it just wasn't enough girls playing the sport when I was younger… Equality in women's football has grown a lot. Still got a long way to go, but I think we can see from FIFA's change of prize money and conditions for this World Cup, that it is improving and they are listening."
Rennie's first chance to see the World Cup pitch with the Ford Football Ferns will be in Aotearoa, New Zealand at Eden Park on Thursday, July 20 versus Norway.
"It's going to be massive," Rennie said. "It's at Eden Park, the biggest stadium in New Zealand. That's where the big games are always being played which are normally rugby matches. To play football at Eden Park, and hopefully with a sold out stadium, that's gonna be really amazing."
The forward is no stranger to scoring international goals, as she scored one in New Zealand's matchup against Australia at the 2021 Tokyo Olympics.
As the tournament approaches, Rennie and the Ferns will look to make their home country proud.