Santa Cruz Valley High School is used to winning, which means the city of Eloy, Arizona is used to winning too.
Eight football state titles will do that to you.
And when the city has a population of just about 16,000, winning means that much more.
"This town is a family all around," junior running back Jonathan Ramos said. "Every time you go into a store, they're like, 'You're gonna bring us back the 'ship,' and that's why you wanna do it for them. Bring it back."
The Dust Devils' most recent state championship came in 2020 (and before that, 1990), but since then, back-to-back five-win seasons have given people reasonable doubt.
Second-year head coach and Santa Cruz Valley alum, Thomas Cortez, has started to turn that doubt into belief.
"Every cookout, you got an uncle talking about how they did when they were here," Cortez said. "You play the game for the town, yourself, your parents, the name on your jersey. You just want to make everybody proud."
"With [Cortez's] mentality and what he's been bringing to the table can really help us push and bring together a championship team," senior offensive and defensive lineman Cristian Moreno said.
While last season didn't end the way Cortez had hoped, the team rattled off five straight wins after starting 0-3.
If you combine belief with momentum, a lot can be done.
"When I first got here, I think we had probably 10 guys," Cortez said. "Now we have about 40 kids out here every day… The buy-in. The culture. The expectations. I don't want it more than they want [to win] anymore…I was taught a long time ago, you're a teacher…I want you to leave here a great man. Someone you can be proud of 10 years from now."
Not only did the winning streak give the guys confidence, it gave them momentum that carried them through the offseason and now, into a new opportunity.
"The crowds ain't as packed no more, so we want to change that," junior quarterback Nathan Harris said. "We want to bring the culture back to Eloy…it feels good when people are telling you every day, 'keep grinding,'… makes you really want to do it for the people that have that hope in us."
"When we come together as a team, go through the adversity, everybody can push through their boundaries and go forward," Moreno said. "A lot of the leadership comes from the underclassmen as well."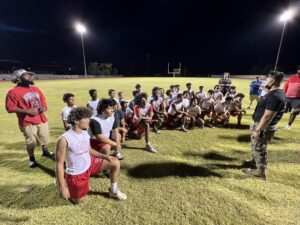 Players and coaches alike have already noticed a difference in the hustle and physicality the team has shown in offseason 7-on-7's.
"7-on-7 is definitely not real football," Cortez said. "But you go play some of these bigger tournaments, the bigger schools, and you get hit with adversity and you see how they act. So far, I'm seeing a lot of guys deal with it the right way."
"When he's taking us to these 7-on-7 camps, we're dominating," Ramos said. "I feel like the last two years we were afraid and not wanting to get out there and show ourselves. This year, you can feel it."
Perhaps most impressive, however, has been the growth of the squad's leadership and ability to hold each other accountable – regardless of position or year.
"When someone messes up, we get on him – not in a bad way," Ramos said. "To encourage them to do your job right. Especially the freshmen, they're gonna be a bunch of dogs."
"They're actually forced into leadership roles as young guys," Cortez said. "Nathan Harris started out as a freshman. Jonathan Ramos started out as a freshman. Those guys are now natural leaders… they're leading by example. They're stepping up and talking like they mean it."
On top of their chemistry development, Coach Cortez is expecting to roll out a more dynamic playbook in all phases of the game.
"I want some shutouts," Cortez said. "My uncle and my dad – they had a competition back in the day – who can get the most shutouts…some hard knock defense…we're gonna try and keep it about 50 [run]/50 [pass], but it's gonna be, hopefully, some fireworks."
"You can expect more passing…past couple years we've been a run-heavy team," Harris said. "We still got great running backs…it's gonna be good having running and passing. We've got a lot of good receivers."
"One of the biggest things is we have four returning o-line and d-line," Moreno said. "We all started last year…we have a really strong line and we could really stuff the ball on defense and we can run the ball."
Fair warning: if you're sleeping on the Dust Devils, it might be time to wake up.
"Everybody's sleeping on us," Ramos said. "We all know what we want. We're all going for that state title."
"They're never gonna give us the credit we deserve," Cortez said. "But we don't worry about that…I don't buy into it whether you're playing good or bad, I just get an overall feel of what we look like and what we expect to be."
The 2023-24 Dust Devils' desire to prove themselves is only rivaled by their need to make Eloy proud as the program chases its ninth state title.
Also… how about this Arizona sunset? pic.twitter.com/S9hjzCiHI5

— Eliav Gabay (@eliavgabay) June 20, 2023