With spring football kicking off this week around the state of Arizona, "Zone Read" decided to swing by Saguaro, where first-year head coach Zak Hill looks to keep the #SagU train rolling with a number of play-makers on defense, including 2024 linebacker, Trey Morrison.
Good Things Come in Threes
While the last name "Morrison" may not immediately ring a bell to the AZHS fan base, the family lineage certainly does.
Morrison is the younger half-brother of Kyle and Connor Soelle, who made a habit of wrecking opposing offenses during their days with the Sabercats. Kyle played both linebacker and, at times, defensive end after transferring in from Notre Dame Prep, while Connor starred at linebacker, and also saw time at running back for the 'Cats. Both would go on to play at Arizona State. Oldest brother will have an opportunity this summer to fulfill his dream of playing in the NFL, while Connor transitions to his new football home at the University of Oregon after entering the transfer portal in early January.
Hometown guy. Hometown team. @AZCardinals 🤝 @kyle_soelle #ForksUp /// #O2V pic.twitter.com/JC2Tjdsd9D

— Sun Devil Football (@ASUFootball) April 30, 2023
Now Morrison has taken his turn, grabbing the family tackling baton, proving in his one varsity season he has a chance to be every bit the game-changing player his older half-brothers were during their prep careers off McDonald and Hayden.
After seeing limited varsity action as a sophomore, the 6-foot-1, 210-pound Morrison burst onto the scene as a junior registering 69 tackles (12 for loss), and five pass deflections. He did it in just eight games after battling back issues which forced him to miss game action last fall.
Those linebacker family genes just don't lie.
"I'd say I'm a mixture of Kyle and Connor," the senior-to-be Morrison said to the "Zone Read." "Kyle, I would say, just the way he plays the run game. Connor is more of like a speedy guy who can get around the field. Both of those are in my game."
Thank you to all of the schools and coaches that have reached out to me throughout this process. After much thought and prayer I have decided to take my talents and commit to the University of Oregon! #GoDucks pic.twitter.com/3GLwYk7tTn

— Connor Soelle (@cmsoelle) January 8, 2023
Hill, the former ASU assistant, has had the unique opportunity of seeing all three up close and personal.
"From a play-making standpoint and just finding their way to the ball, they're all very similar," Hill explained to the "Zone Read." "They're football savvy, just from knowing where things are going to go, reading linemen, slipping blocks. There's definitely some similarities there."
"He Just Flips the Switch"
Saguaro defense coordinator Andrew Hurley pauses during our discussion about Morrison, then points out to Saguaro's field, back-dropped by picturesque Camelback Mountain.
"There's something different about him when he gets out there," said Hurley to the "Zone Read." "He just flips the switch. As soon as the lights come on, I feel like he shines the brightest."
It's quite the contrast from the quiet, polite shaggy-haired 16-year-old with his hands mostly tucked deep into his pockets during our conversation.
"He's not afraid of anybody, and he's always willing to line up," Hurley continued. "You get those things you can't really coach into kids, and he's got it…I think he's probably one of the most under-recruited kids in the class of '24. His potential is sky high."
Thank you for the hospitality. Had a great time today @KennyDillingham @BWardDCoord @CoachMohns #ActivateTheValley pic.twitter.com/6rmz5J03BU

— Trey Morrison (@_TreyMorrison) December 19, 2022
It's the same characteristics long-time Saguaro linebackers coach, now co-offensive coordinator, Andy Johnson first saw in Morrison eight years ago when he was coaching the seemingly always talent-laden Scottsdale Argos.
"You could tell that he was tied to those Soelle genes because he just had a knack for the football," Johnson said of Morrison. "Whether he knew the game or not, he ran to the football. He stood out on the field."
@_TreyMorrison has developed into an absolute BEAST at the LB position 💪🏼 17 tackles in the game against Chandler 😮 Going to give his older bros @kyle_soelle and @cmsoelle a run for their money 😤 https://t.co/iWpFDrcAoq

— Jason Mohns 🔱 🏈 (@CoachMohns) October 6, 2022
Connor told the "Zone Read" before his senior season in 2018, Morrison could be the best of the brothers when it's all said and done.
"He could," Johnson confirmed.
Brotherly Love
Morrison has had the fortune of watching not only one, but two older brothers play, and succeed, at his position.
While there may be a bit of pressure to perform up to the high Saguaro football standards left by Kyle and Connor, there's also consistent support for younger brother who will likely see his college recruitment heat up with a strong off-season, both on the field, and in the weight room. Morrison is hoping to play at, or close to, 225 this fall.
"When I have questions they definitely help me, for sure," he explained. "They've been through it all which gives me [an advantage]. They just tell me not to worry about, to just keep my head down. It will happen."
Another Linebacker in the family 👀 runs in the genes! https://t.co/Y2pXOzBgMI

— Kyle Soelle (@kyle_soelle) October 6, 2022
Hill knows Morrison's football future is still very much in front of him.
"He still looks like a pup," he said flashing a grin. "He still looks like a kid. I think there's definitely potential there. I think it will all depend on how he develops physically, and what type of season he has this year."
Johnson believes Morrison's long, thick body type will eventually more resemble oldest brother Kyle who stands 6-feet-4, and played at 235 pounds last year as a graduate senior for the Sun Devils.
The Tie That Binds
The real star is someone who's never taken a single snap at linebacker.
Mom, Wendy Henshen.
"She's the rock of the family," Morrison said.
Happy 17th Birthday to my Trey boy. I love you to the moon and back!! pic.twitter.com/0RWJ2zi4Ne

— Wendy Henschen (@FtBallMamaBear) February 20, 2023
Henshen had Kyle shortly before graduating high school, and Connor two years later. When the Soelle boys were young, their father was incarcerated. After remarrying, she gave birth to daughter Faith, who would tragically pass away from meningitis as an infant.
Through the ups and downs, highest of highs, and lowest of lows, Henshen has remained a steady, positive influence throughout her sons' lives. She's a staple in the Saguaro stands, and prioritized attending Kyle and Connor's ASU games, even on the road.
Mom always knows best, especially when it comes to eliminating common high school complications.
"She tells me to keep my head straight, tunnel vision kind-of-thing," Morrison said flashing a shy grin. "Mainly, just stay away from the distractions."
One More Makes Four
Just when you thought it was safe to go in the water…
…yep, there's another one.
Meet 2026 Saguaro tight end and, of course, linebacker, Brody Morrison.
"He could be more of a tight end, defensive end-type," Johnson said of the youngest sibling, already 6-feet-2, and who he also coached with the Argos. "He really long right now. He's a tall and skinny red head. Once he fills into his frame [look out]. He played mostly tight end at the freshman level. Someone you can slot out."
Meet the past, present, and future of Saguaro football.
It truly is, all in the family.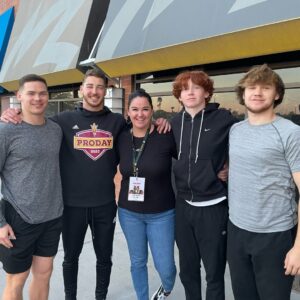 (photo courtesy: Wendy Henshen)