By Miles Aronson
There aren't many kids who grow up not knowing their birth parents or even the environment they were born in.
Kyah Zurek faced these adversities with the help of her friends and family and became a Division I women's soccer player.
Soon to be entering her senior year at Casteel High School, Kyah has excelled into becoming a role model student-athlete.
From AP classes galore to dominance on the soccer field, she has managed to keep up her 'perfection' mindset and overcome many barriers to get where she is today.
Kyah's story begins approximately 7,400 miles away in Xiushan, China – a few miles outside the major city Chongqing.
"A couple people have asked us; will it feel different for you having an adopted Asian girl as part of your family," Drew Zurek, Kyah's father, said. "There was some curiosity but I can say from the moment we saw her, there was no doubt she was ours."
—
Drew and his wife, Stephanie Zurek, made the journey to China in 2007 to pick up Kyah after a long process of fine details and paperwork.
Especially with international adoptions, there are many factors that are in play.
Using the right adoption agency is just the beginning.
They also had to understand the international laws and customs of the country they were adopting from.
"We knew China had a big need for international adoptions." Drew said. "Especially at the time with their one child laws in place, we really felt like we could help a place in need. We also wanted to adopt a girl into our family, so it felt right."
Ever since the late 80's early 90's, the Chinese government has implemented the one-child policy to reduce the growth rate of their population. This has led to an increased number of international adoptions out of China.
Most adoption processes are usually completed within two years after making the initial decision, since adoption agencies want to ensure that the kid is going to a safe environment with loving parents. Drew and Stephanie Zurek recalled their story when they knew they had the right adoption agency.
"One of the things Drew and I talked about a lot was our first impressions of the agencies," Stephanie said. "We walked into one and there were tons of snacks, drinks, fancy chairs and big conference rooms. We walked into another and its folding chairs and maybe a bottle of water. As we walked out, I turned to Drew and said, I absolutely want to use this company simply because I can see that the money is not being used to wow the families."
"With this company," Drew said. "It was never a transaction, they humanized it as much as they could and really added a different element to where we felt totally comfortable."
This was ideal for the Zurek's, who already had two biological boys in their family and wanted to make the addition as smooth as possible.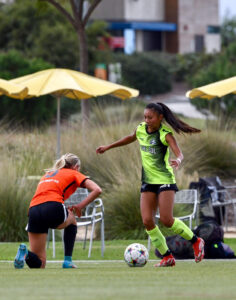 Her schedule is packed with classes like AP physics and AP US History and she still manages to have stellar grades.
"My favorite subject is math, but I'm not very good at it," Kyah said with a smile on her face. "With English, I hate it but I am really good at it, it's a weird combo."
—
With the support Kyah receives she can't help but try and be an example for others around her.
It's deeply rooted within Kyah, a helpful personality. Something that she says stems from being adopted.
"Everyone has a story, everyone's struggling, everyone is dealing with something that you don't know," Kyah said. "Once I opened my eyes, I wanted to help people, I don't want anyone to feel helpless or like they can't do anything about it… that's who I am supposed to be."