BY KENT SOMERS
It was obvious well before Friday that expectations for the Cardinals should be severely downsized for 2023. Bad luck and baffling decisions have relegated them to spending a year or two in Alimony Gardens as they try to get back on their feet while paying for people and things that are no longer part of daily lives.
Cardinals fans don't need reminders of that, but they have come anyway. Almost weekly, it seems.
The latest arrived Friday when the Cardinals announced they released DeAndre Hopkins, who, when he's healthy, available and motivated, is among the NFL's top five receivers.
The problem was that Hopkins was all of those things in just one of his three seasons in Arizona.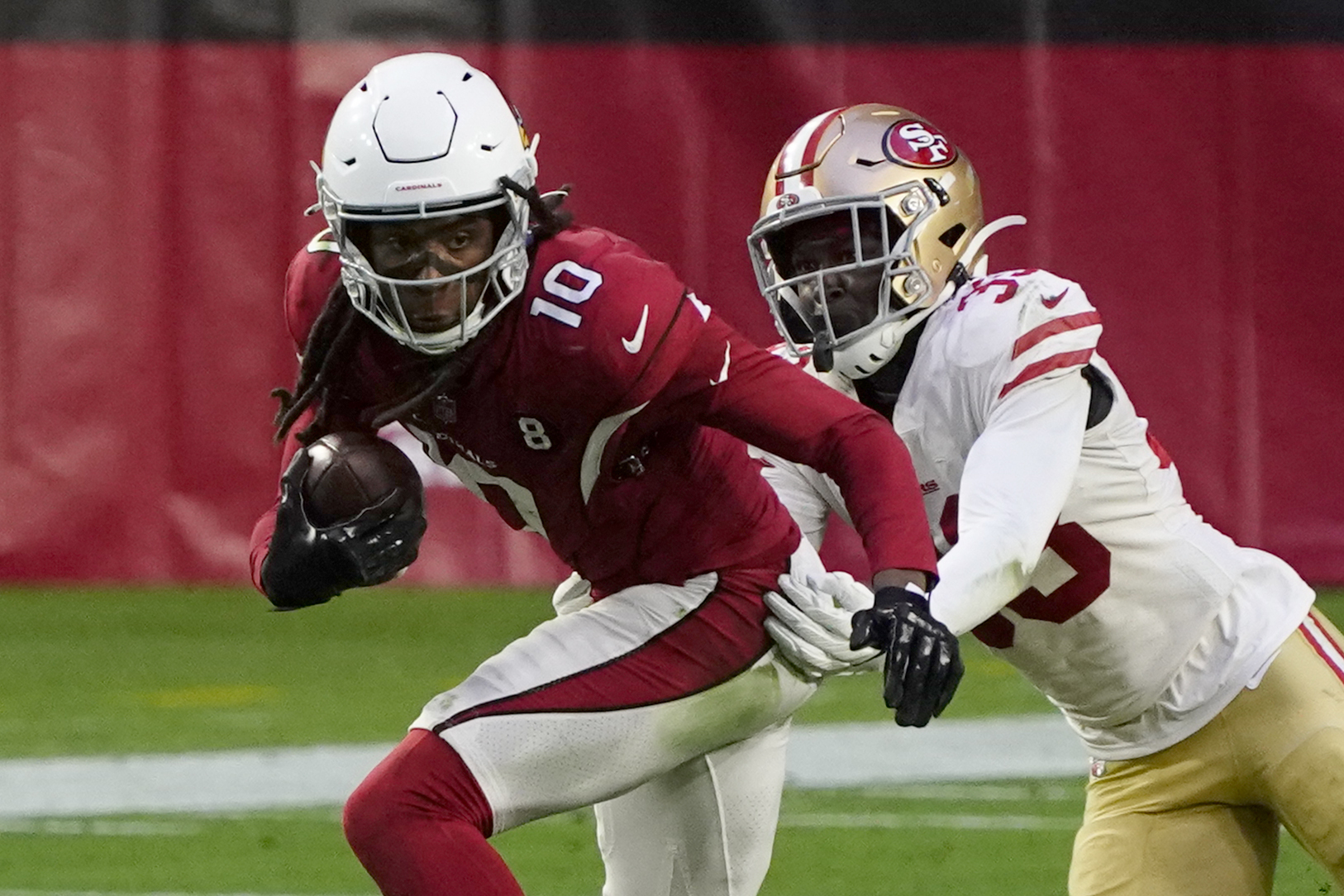 Trading for Hopkins in 2020 was one of the best deals Steve Keim made in his 10 years as general manager. The Cardinals sent running back David Johnson and his hefty contract, plus a second-round pick and a future fourth-rounder to Houston for Hopkins and a fourth-round pick.
That fall, Hopkins signed a two-year $54 million contract extension that made him the highest-paid non-quarterback in NFL history. And when the 2020 season was complete, hardly anyone thought Hopkins had been overpaid.
He finished with 115 receptions, a franchise record, 1,407 receiving yards and six touchdowns.
But Hopkins missed 15 games in 2021 and 2022. The seven in 2021 were forgivable; Hopkins suffered hamstring and knee injuries. The eight missed games in 2022 were not, at least by some in the Cardinals organization.
Hopkins was suspended the first six games in 2022 for violating the NFL's performance-enhancing substance policy. That was disappointing enough, but what irritated some in the organization was Hopkins' decision to sit out the last two games because of knee soreness.
The Cardinals were 4-11 at the time. Coach Kliff Kingsbury and his staff were fighting for their jobs. Owner Michael Bidwill had told players he was watching to see how everyone involved finished the season.
Hopkins, who made nearly $58 million in three years with the Cardinals, opted not to finish.
That likely impacted what the Cardinals were willing to do as they tried to trade Hopkins this spring.
No team was willing to take on Hopkins' $19.45 million salary for 2023. The Cardinals could have enticed a trade partner by converting some of that to bonus money they would pay while decreasing the salary a new team might pay Hopkins in the process.
But Bidwill apparently didn't want to cut Hopkins another check, not after the way last season ended.
So the Cardinals are letting him leave and getting nothing in return except a $22.6 million cap hit this season. The Cardinals couldn't spread that over two years via a post-June 1 release destination, because J.J. Watt and Rodney Hudson already had taken those two slots.
That arcane accounting detail isn't worth whatever debate it might cause. This season is the first of a two-to-three year rebuild for the Cardinals, so it's better to absorb the pain now than to have Hopkins still on the books in 2024.
Via twitter, Hopkins expressed his thanks and love to Arizona and no doubt will successfully land on his feet, as he did with the football on the Hail Mary reception against the Bills in 2020.
Hopkins turns 31 in June, an age at which many elite players begin contemplating their place in NFL history.
Until the last two years, Hopkins was on a trajectory that would lead to a bust in the Pro Football Hall of Fame in Canton, Ohio. He's smart and knows that winning, as well as statistics, will return him to that orbit.
Hopkins is also business savvy, as he proved in 2020 when he negotiated a very Hopkins-friendly deal with Keim. It's apparent no one is going to pay him $19 million in salary this year. If that was going to happen, the Cardinals would have made that deal even if the return was a year's supply of Gatorade cups.
Hopkins will sacrifice money in the short term if, say, it means playing for the Bills, Chiefs or Ravens, which seem to fit his criteria of going to an organization with a proven front office and successful quarterbacks who love football.
Where does his departure leave the Cardinals? Pretty much where we've thought for months they would be. With Marquis "Hollywood" Brown as their No. 1 receiver. With quarterback Kyler Murray recovering from an injured knee. With a defense severely lacking in talent, given the departures of Watt, Zach Allen, Byron Murphy and the unhappiness of safety Budda Baker. With a general manager, Monti Ossenfort, who has stocked draft resources for 2024.
The 2023 Cardinals season was always going to be defined by sunk charges and sunk hopes. The release of Hopkins was just another in a long line of reminders.