Story Danny Stipanovich
After cruising to another regional conference state championship, the Scottsdale Community College basketball team reached all-time highs in program history.
"They're going down in history books," head coach Mark Bunker said. "Not only has no team won a regional championship, shoot, they did it twice, back to back."
The Fighting Artichokes (25-9) captured the championship with a Mar. 10 victory at Pima College 90-69.
But the path here for this Artichoke squad was far from easy.
Bunker is familiar with the grind of competing at the junior college level. The eight-year head coach played at SCC from 2002-04 and transferred to Arizona State University.
"A lot of these guys aren't on full scholarships," Bunker said. "They're paying for school, housing, food, working part-time jobs during the week, on the weekend, grinding double shifts during the summer to save up money, taking out student loans, they're commuting long distances because we don't have dorms on campus, we don't really have meal plans on campus either."
The odds are stacked against the majority of these athletes but for the players at Scottsdale, the team has rallied behind the team's two leading scorers who have already overcome seemingly insurmountable obstacles.
Sophomore guard Cameron Faas led the Fighting Artichokes averaging 13.6 points per game at an astounding 52.5% from the field while making 2.9 three-pointers per game at about a 50% success rate from behind the arch.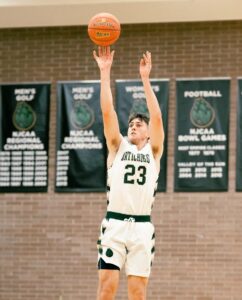 And if not for Bunker's wife, Jackie, a mathematics teacher and the women's volleyball varsity head coach at Arcadia High School, Faas may have landed at a rival school. Her coaching instinct kicked in and Jackie thought Faas' height and work ethic meant he could fit in her husband's program at Scottsdale. At first, Mark laughed the idea off. Faas had mediocre stats, no collegiate offers, didn't play his natural position and missed his entire junior season.
"I get that he's a nice kid, but I need a guy that can go get me 20," Mark told Jackie.
Jackie persisted and convinced her husband to watch some of Arcadia's games. Faas' tough play, mooth shooting stroke and familiarity with Jackie were good enough for Mark to offer Faas a spot on his roster.
Faas grew up in the Gilbert and Arcadia area and even though the Oregon native found himself making the Arcadia High School varsity basketball team as a sophomore, tragedy struck soon after the basketball season ended. One February morning, his father, Eric, woke Cameron up for school with nightmarish news. Cameron's mother, Cheryl, took her life.
"I almost didn't feel as if it was real," Faas said. "I fell back asleep and when I woke up I was so disoriented. You really can't explain it in words."
For the Faas family, it was the second time in as many years that an unexpected tragedy struck the family to their core. In 2015, Cameron's older sister, Mary Jane, also took her life.
"You can get humbled by God real quick," Faas said. "It made me value relationships a lot more with my family and friends and everyone. It makes you think how grateful you have to be for what you have."
Cheryl and Mary Jane are survived by Cameron, his two brothers Nicholas and Ethan and his father, Eric.
After losing his mother, Faas needed to take a step back to focus on his mental health and strengthen the relationships in his life. He quit the varsity basketball team in his junior year to train by himself.
"I think it was one of the best decisions I've made," Faas said. "I got more athletic, had some more time to focus on myself and the important things in my life outside of basketball."
Faas returned his senior year of high school as a team captain to help lead the team to a 23-6 record and a playoff win over the Coconino Panthers.
In his freshman campaign as a Fighting Artichoke, the 6'6′ guard helped eclipse the school's first-ever regional championship in SCC history as part of a young squad that rostered 12 freshmen.
But Bunker wasn't satisfied to run it back with the same squad and took advantage of the opportunity to add a D-I transfer to the team, sophomore forward Isaiah Broady.
"I thought he was kind of full of himself because he came from D-I and thought he was gonna expect to take all the shots but once you really get to know him and play with him you can trust it's different than that," Faas said.
Even though Broady's path and ceiling are different compared to his peers, he is in the same boat as the rest of his junior college teammates that have had to overcome life's challenges.
The Phoenix native grew up around the game. His father, Tavares, competed professionally in Germany and at the semi-pro level, meaning Isaiah's earliest memories as a child are about basketball.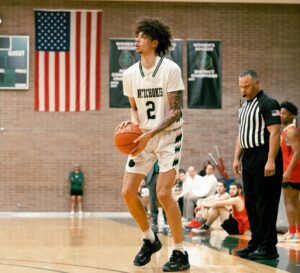 Before kindergarten class started, Taverus was taking Isaiah with him to pick up basketball games at a local church.
As he grew up, Isaiah started competing in said games with grown adults at a young age which taught him how to play physically and strongly.
His high school career started at Imagine Prep where Broady already made the varsity team but come sophomore year, his family moved to Sierra Vista putting Broady at a crossroads. Either move with his family or stay in the Phoenix area where there were greater basketball opportunities.
"My sophomore year it was kind of like, 'I gotta figure out my life,'" Broady said. "It was kind of bigger than basketball at that point."
Broady found himself homeless and was forced to move in with SCC point guard Carson Kelly and transfer to Chandler High during his sophomore and junior year.
The duo led Chandler to a 19-9 record an appearance in the Class 6A State Semifinals in 2020. Senior year, Broady transferred to Compass Prep and accepted an offer from Jacksonville University where he averaged 2.2 points per game in 12 appearances for the Dolphins.
Unfortunately, disagreements with the coaching staff led Broady to enter the transfer portal and despite receiving interest from other universities, he wanted to be reunited with his former Chandler teammate, Kelly, who was coming off a career year at Scottsdale.
"Carson is pretty much my brother so I came back to play with my brother and win some," Broady said. "It was an easy decision when it came down to that."
Kelly's willingness to bring in a talent like Broady speaks to the unselfish nature of the Artichoke culture whose goal is to win.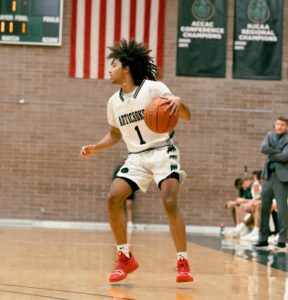 "We knew bringing in Isaiah he would be a guy fighting for a lot of minutes, shots, possessions, rebounds," Bunker said. "He was that talented and gifted that he was gonna take away opportunities from a lot of people that have been here for years."
Broady plans to earn his associate's in business administration but his ultimate goal is to play in the NBA.
"He's as talented as any guy that has walked through our doors and that's including guys that are currently overseas pros," Bunker said. "His ceiling is through the roof, it really is."
Scottsdale started the season with a slight adjustment period opening the year at 6-4 but rebounded with a 15-game win streak.
"We're firing on all cylinders right now," Bunker said before the national tournament. "It's been a long season but we're peaking at the right time and hopefully we're in the right position to make a run."
Kelly and sophomore guard Unisa "YuYu" Turay led the past-faced Artichoke offense that averaged 91.9 points per game, good for second in the state.
Kelly led the team in assists (6.9 apg) and can stretch the floor, and shot 40.2% from deep while Turay was the slasher for the Artichokes. Sophomore forward Tyree Tyler anchored the team down low and averaged a double-double behind 13.1 ppg and 10.2 rebounds per game.
Tyler was nearly unguardable around the rim, shooting an efficient 68.4% from the field.
"The guys have the hardware, the banners, to say that, yeah, we're the best team to ever play at Scottsdale," Bunker said. "Not only for one season but we did it twice."
The No. 11 Fighting Artichokes fell to No. 6 Orange County (NY) in the first round of 16 in the first round of the NJCAA tournament on Mar. 23 and lost to Arkansas State Mid-South in the
consolation tournament. But the team's flat performance in the national tournament doesn't take away from the memorable regular season run and regional championship the Chokes earned.
Scottsdale took care of business in the regional playoffs with double-digit wins against Chandler-Gilbert and Pima.
"We were planning on getting here," Bunker said. "This group getting here again, finding ways to winning games, winning a regional championship has definitely made it a successful season. I would say ask me that question again in two or three months when these guys hopefully graduate
and move on to the 4-year level, that would be a very successful season."