Reynolds' Rap
Imagine having a full ride scholarship to Arizona State for baseball, and two committable offers to play quarterback at Oregon, and BYU.
Now imagine being a 15-year-old freshman.
It's good to be Queen Creek High two-sport standout Tait Reynolds.
I am happy to announce my commitment to @ASU_Baseball. Where I will be furthering my academic and athlete career. Thank you to all my family and coaches! @williebloom @TBuckASU @SperazaASU @Ricaleek07 @ransom_cody pic.twitter.com/xKSqzvFSir

— Tait Reynolds (@TaitReynoldsQC) January 15, 2023
If you know the family, it's no surprise Reynolds, the younger brother of two college football players, Trey (Utah), and Porter (NAU), has found early success in athletics, but many believe Tait, already 6-feet-2, and 195 pounds, likely has the biggest upside of all.
"Tait has a very bright future," Queen Creek head coach Travis Schureman said to the "Zone Read."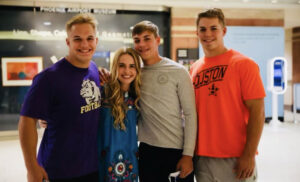 — Tait Reynolds (@TaitReynoldsQC) January 20, 2023
Tait's dad, Paul Reynolds, was a standout linebacker alongside Pat Tillman, helping lead Arizona State to the 1997 Rose Bowl. The former Queen Creek High athletic director, who stepped down in 2020, now runs QC's strength and conditioning program on campus.
During COVID, Paul got, uh…creative, to help keep his three boys, including the then-six-grader Tait, in shape.
"We got this [weight] rack in our garage," he said with a chuckle. "It would be me, Trey, and Porter in there. We had nothing to do so we just lifted all day. Instead of doing sleds [pushes] and stuff, we'd push a car around our neighborhood. We had this big truck. It was a lot harder…I grew a lot that year."
KISS IT GOODBYE

Tait Reynolds (@TaitReynoldsQC) lifts this ball out to deep left field for a two-run home run! #FiveToolPower@QCHS_Baseball (AZ) 2026 • @ASU_Baseball commit

Profile: https://t.co/RF6ibt4CPn pic.twitter.com/AiI435A4qM

— Five Tool Arizona (@FiveToolAZ) February 24, 2023
While playing two sports nearly year-round can be challenging, it's apparent Reynolds envisions playing both in college, potentially at ASU. He has spoken with Kenny Dillingham, who expressed to him his desire to get ASU back to where they belong, specifically vying for CFP appearances and/or spots in NY6 games after Christmas.
Queen Creek finds the end zone late with this 6-yard scamper from Class of 2026 Freshman QB @TaitReynoldsQC for a @QC_football TD, Red Mountain leads 24-6 late in the game @AZHSFB @TSchureman pic.twitter.com/O1igJ00EP5

— Cody Cameron (@CodyTCameron) October 22, 2022
Reynolds chuckled, then paused, when asked if he likes baseball or football more. However, there was no hesitation when "Zone Read" pressed back about which is a greater thrill: game-winning touchdown pass or walk-off homerun.
"Walk-off homer," he said. "I gotta say…in baseball, you fail a lot more. You hit a [walk-off] homer and it's like, 'Oh yeah!'"
He'll spend the off-season building off his freshman success, both on the field, and in the weight room.
"I'm trying to get from 205 to 210, or 215 [pounds]," he said. "I'm constantly eating, trying to get stronger, and gain weight. I have experience now [on the field]. So, I know what I'm doing now, and I know what I can improve on. I can make better reads and trust myself more with the line. Make better reads in the pocket."
Two sports, one star.
Remember the name.
Tait Reynolds.
"…a new challenge and opportunity"
Two years ago Jamar Malone arrived on the campus of Higley High as a hungry, yet unproven, freshman quarterback.
Two prep seasons later, he leaves the Valley with a 5A State Championship ring, double digit college offers, four stars next to his name, and his entire football future in front of him.
I wanted to take a moment to announce that I will be transferring to another school for a new challenge and opportunity. I have thoroughly enjoyed my time at Higley High School and I cannot express my gratitude enough to my coaches, Coach Zubey and Coach Mazzone, my teammates,… https://t.co/bp62IEpkt6 pic.twitter.com/ZpZCggZ2ZK

— Jamar Malone (@jamar1malone) March 15, 2023
Malone is transferring to IMG Academy in Bradenton, Florida with the intention of playing against elite-level national competition.
"We had a great run together over the last two seasons," Malone explained to the "Zone Read." "We came together and made history this season…under Coach [Eddy] Zubey's leadership."
He leaves behind a two-year legacy which will be remembered for quite some time, including beating rival Williams Field for the first time in school history, then leading the Knights to their first gold ball in program history.
Records are meant to broken! Until then we'll hold on to this one right here 👇 #weRknights #higleyfootball #5A #statechamps pic.twitter.com/x4mMkqwsn8

— Higley Football (@HIGLEYFOOTBALL) December 12, 2022
"I am happy for Jamar," Higley head coach Eddy Zubey said to the "Zone Read." "This is something that him and his family want to do and we support him. We had a great run with him the last two years. We made history together! I'm excited to watch him continue on this path."
Zubey and Higley are certainly no stranger to excellent quarterback play. Malone followed Kai Millner (Cal/NAU). Millner succeeded Spencer Brasch (Cal/Cal Poly). Mason Crossland was dominant, throwing for over 9000 yards and 112 touchdowns from 2013-2017.
In just 22 games, Malone completed 392-619 attempts (66.3%) for 5579 yards and 56 touchdowns. He also added over 1500 rushing yards and 18 more scores in his two seasons. The 6-foot-3, 205-pounder threw just eight interceptions in 442 attempts last fall.
With Malone's departure, it will be an interesting few months to see who earns the opportunity to step in and take over the reigns of an offense which averaged nearly 44 points per game in 2022.
"I'm excited to see who the next QB1 will be at Higley," Zubey noted. "With Coach [Noel] Mazzone running the offense…you're not going to find a better quarterback developer or play caller in Arizona, or the nation, to be honest."
He'd get no argument from Malone.
"Individually, I grew as a quarterback under Mazzone," he explained. "His experience and knowledge of the game are off the charts. He taught me so much, and he remains as a mentor, and is instrumental in my continued development."
Best of luck, Jamar.
We'll all be watching!