Good morning from Chicago – I asked Monty Williams for a general assessment of Kevin Durant after two games, 'He's Kevin, the one thing nobody talks about is how unselfish he is". I'll go there because I've seen it in person over the past four days.
#35 took just ten shots against Chicago. The Suns beat the Bulls by 21, putting up 125 points in the process. It wasn't Devin Booker, Deandre Ayton, or Chris Paul who caught my eye, it was the fifth starter. IF Josh Okogie shoots like he did against the Bulls, and the Suns stay away from the injury bug, hard not to see a straightforward path to the Western Conference Finals and beyond.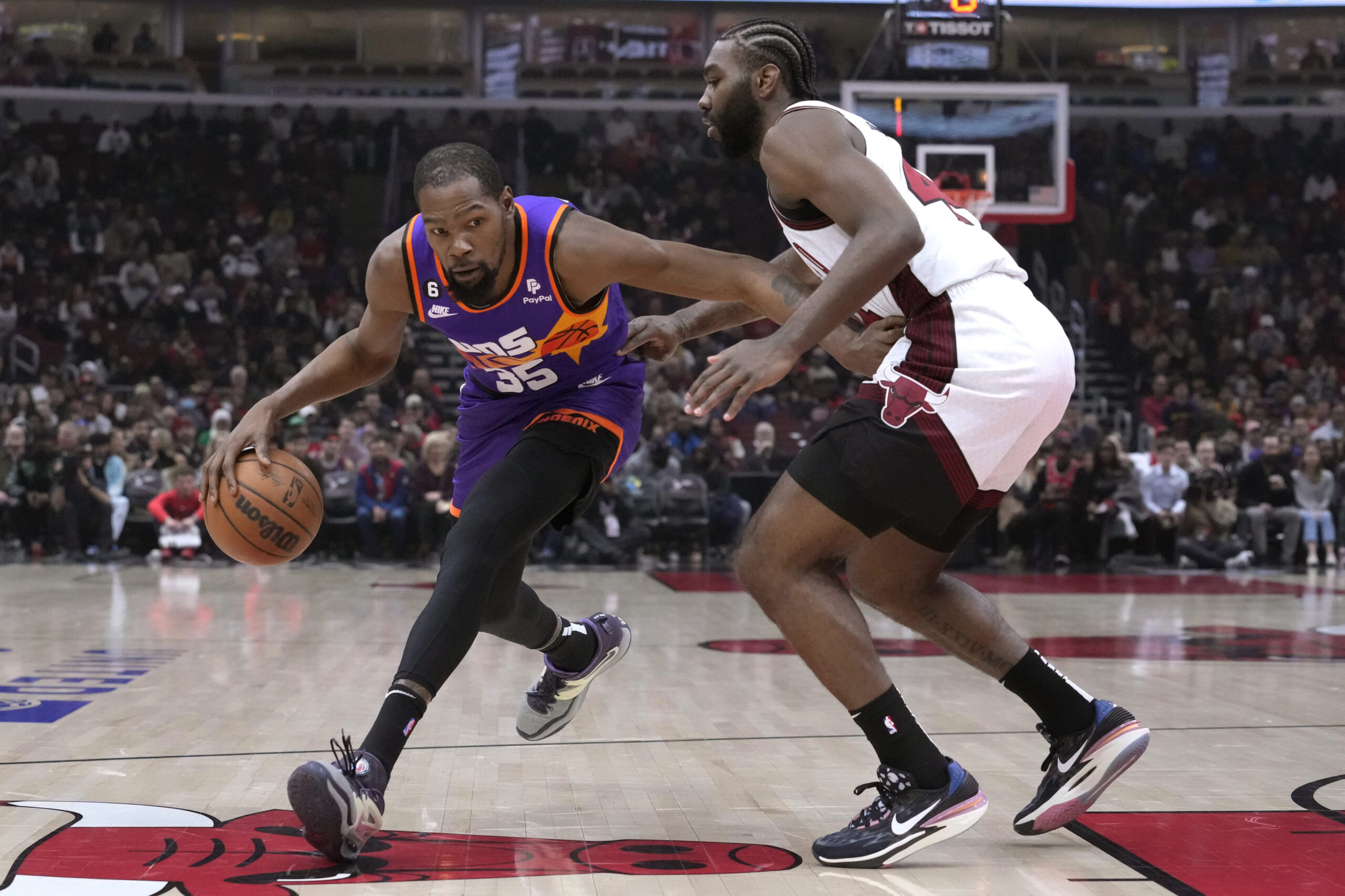 The head coach pulled out the virtual blackboard in post game – "Kevin posted up 6, 7, 8 times tonight and he could've shot the ball every time because he's so dag-on big, but as soon as he felt the double-team coming he got off of it". Okogie was hanging out on the left baseline in front of the Chicago bench in the first quarter, drilling open shot after open shot. The double team would come on Durant, and the ball would swing around to #2 for wide-open looks. He'd finish with 25 points, hitting 5-10 3ptrs. Durant had six assists, a few finding Okogie in a prime shooting position. It was textbook unselfish basketball. Booker-"that's been J.O.'s season; every opportunity he gets, he takes full advantage of it."
Just so we're clear, the Bulls have been the number one defensive team in the NBA since early January. This wasn't a bunch of stiffs that the Suns ran over.
So the Durant roadshow goes on to Dallas for Sunday's much-anticipated matchup against Kyrie, Luka and the Mavericks.From the sounds of the key players, it's just another early March matchup. I would disagree, but nonetheless here's three views from the Suns.
Monty – "It's not my concern, my focus is right now, let's just get on the plane"
Durant – "Just another game. I get excited every time I get up to play in the NBA"…
Booker – "I'm just excited for every opportunity to play. It's a beautiful job to match up your talents against the best in the world"
//%20blockquote%20class=twitter-tweetp%20lang=en%20dir=ltrHalftime%20shows…%20a%20href=https://t.co/6BiIjtM5OCpic.twitter.com/6BiIjtM5OC/a/p—%20Brad%20Cesmat%20(@bradcesmat)%20a%20href=https://twitter.com/bradcesmat/status/1631849998273896454?ref_src=twsrc%5EtfwMarch%204,%202023/a/blockquote%20script%20async%20src=https://platform.twitter.com/widgets.js%20charset=utf-8/script">http://
Halftime shows… pic.twitter.com/6BiIjtM5OC

— Brad Cesmat (@bradcesmat) March 4, 2023