The Inaugural Open Division Boys' Basketball Championship set the stage for a fun night at Arizona Veterans Memorial Coliseum.
Despite a valiant effort from the 10th-seeded Sunnyslope Vikings, the Perry Pumas won back-to-back state titles Saturday behind sophomore star Koa Peat's 35 points.
"I just stay trusting my teammates, trusting my coaches, putting me in positions to score," Peat said. "I feel like we had the hardest journey. We stayed the course and came out victorious so that's all that matters."
It wasn't the prettiest start for the Pumas as Sunnyslope's ball movement was crisp and the Viking defense was holding up against the explosive Perry offense.
In the second quarter, however, Perry's intensity picked up on both ends and the Pumas started to suffocate Sunnyslope with power and precision, holding them to just eight points for the period.
"Our guys were on a mission all year," Head Coach Sam Duane said. "They're such high character kids and they're such unselfish kids, so just fun to coach."
The reasons Sunnyslope made it this far were clear, one of which was heart. A whole lot of it.
Despite Perry having a sizeable advantage for much of the second half, thanks in large part to their points in the paint and transition offense (16 fast break points), the Vikings outscored the Pumas 40-38 in 3rd and 4th quarters combined.
It wasn't enough though – Perry simply had everyone playing their roles perfectly.
In addition to Peat's 35 points, star senior Cody Williams put up 15 of his own and D'Andre Harrison nearly had a double-double (7 points, 10 rebounds).
When it was all said and done, Perry took care of business, 74-58.
After the buzzer sounded, Williams didn't forget what the naysayers said after the Pumas won the 6A Title last year.
"It's even better when the whole season, people are saying now we're in the Open Division, now it's tough, can't go back-t0-back," Williams said. "It's nice to see all those little brackets they drew up of us losing completely blow up. It's just nice to show everyone we're the best in the state."
As Williams graduates, his state titles will live in the history books, and Peat is proud they got it done together.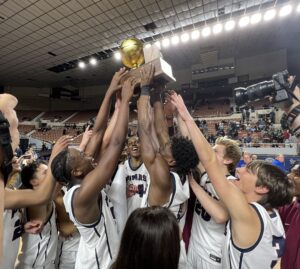 "Winning it for my seniors," Peat said. "They're leaving and they get to leave with two [titles]."
But what Williams will truly remember is his time with the fellas.
"I wouldn't want to do it with anyone else in the world," Williams said. "You build this relationship over four years. They're basically your brothers. Seeing everyone cut down the net, get involved… It's just the best feeling in the world."
And there's no question what he'll be remembered for.
"His legacy is a great basketball player," Duane said. "Even more importantly, a great person, and family."
"Just being a winner," Williams said. "Being a part of this team…I just want to be remembered as a leader. Someone who wins."
.@PerryPumaMBB are back-to-back state champions & have won the first-ever Arizona Boys' Basketball Open Division State Title:@Sports360AZ pic.twitter.com/4x4YnjPVK2

— Eliav Gabay (@eliavgabay) March 5, 2023