Story by Miles Aronson
In 2019, a group of freshman boys at Perry High School in Gilbert, Arizona, signed up to join the Pumas soccer team with only one goal in mind. Four years later, the feeling was unbelievable, they had accomplished their goal, and it meant everything.
Winning the Boys 6A State Championship in the state of Arizona was everything they had hoped and worked for. Their common interest and hunger were what drove the team together, and they celebrated as they reached the summit of High School Soccer.
"These boys are family to me; I'm so proud of them and the team as a whole," said Carson Pridie, the junior goalkeeper for Perry High school.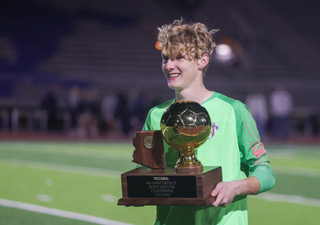 Perry High School goalkeeper Carson Pridie celebrating with the 6A State Championship Trophy after a shutout score line in the State Final at Dobson High School on February 25, 2023 in Arizona.
Pridie mentioned how much this group of hardworking and driven guys meant to him and the program. He was of course referring to the 15 seniors that make up the majority of the team's roster.
"It was amazing to have this tournament run," said a jubilant Pirdie. "This team is very special, and I am defiantly going to miss those guys."
But it wasn't just the seniors who were putting on a show during the State Final. During the convincing 2-0 win over San Luis High School, Pirdie came up big for Perry, keeping a shutout for 90 minutes. He also made big saves in the second half to keep San Luis from returning to the game. When asked about the team's defensive game plan coming into the second half, Pirdie said, "Keep the ball out of the net."
A solid game plan that the team stuck to. You could quickly tell that this team had natural chemistry just by watching how the Pumas communicated and helped each other out.
Evangelos Sideris, a striker for the Pumas, is a part of those seniors who will be leaving the team. He knew that this 2022-2023 season was everything that they had worked for.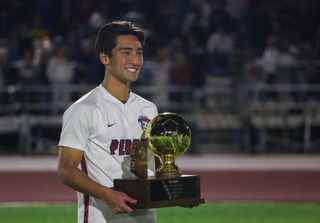 Perry High School forward Evangelos Sideris posing with the Arizona 6A State Championship trophy after their convincing win against San Luis High School, on February 25, 2023 in Arizona.
"Four years in the making," Sideris exclaimed. "We've been talking about this for so long. We have put so much into this and finally achieving this… it means the world to us."
Senior forward Hudson Deutsch, who would later get injured and no longer play, scored the opening goal shortly after the game began. A beautiful through pass to a finish on goal at the near post put the Perry Pumas up early.
San Luis looked threatening at times during the first half of the game but could not get that much-desired equalizer. Junior Misael Meza for San Luis came close to scoring off a freekick and a couple of solo dribbles, but nothing that challenged Pirdie too hard in goal.
Going into halftime, it seemed a pretty evenly contested game, but only Perry had been able to capitalize on their chances. With both sets of fans eager to get the second half started, the referee blew his whistle, and there were only 45 minutes that separated Perry High School and their first-ever boys 6A State Title. They came out in the second half looking like a completely rejuvenated side. "I think the pressure got to us a little bit in the first half," said Sideris. "Coach basically said there are no excuses, win or lose, we play our game."
The Pumas quickly made good use of a throw-in near their opponents' goal and exploited the space they created early in the second half, which forced the second goal scored by Junior Tyler Haren.
"We knew it was our one chance, and we did it," said Sideris. "We have succeeded."
Caden Dosmann, one of the attacking options remaining with the Pumas next year, was overcome with emotions after the full-time whistle. "It's a dream come true for me," Dosmann said. "I've been wanting this for a while now!" Dosmann seemed to be everywhere on the field defensively and offensively, being a significant contributing factor in their final win.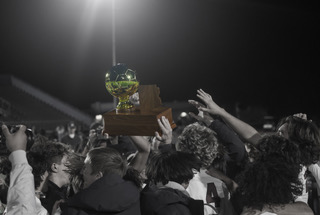 The Perry Pumas' first real taste of a playoff run came back in 2019 when the squad was wholly different and reached the Quarter Finals before being sent home. This year, more than ever, they felt determined to clear all the hurdles and become champions.
Perry Head Coach Jason Berg displayed a masterclass in coaching as he settled his side down at halftime so they could come out into the second half looking the sharper team. The team responded well. "We were all a little jittery, it being our first time here and all," said Berg. "I told them it's just like any other game; we need to play how we know how to play."
Perry High School controlled most of the second half and were relieved of the tension and anticipation when the referee finally blew the whistle for fulltime. A determined group of young men and coaches all crying and cheering, finally letting their emotions out for the first time as State Champions.
Coach Berg summed up the feelings of the group… euphoric.