As a sports reporter, you hope that one of the teams you cover will make it all the way to the big dance. Most of the time, we are required to put our fandom and alliances aside. On Thursday night, you won't catch me following the rules. On Thursday night, you can find me at a local Phoenix sports bar decked out head to toe in Florida Atlantic University gear! Yes, I have FAU socks too.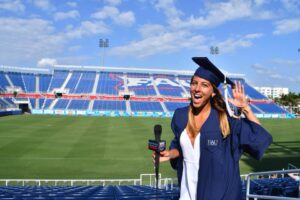 Before I was a Sun Devil, I was an Owl. I spent my undergraduate career at Florida Atlantic University where I found my passion for sports reporting, held a handful of internships and even became the Sports Director at Owl TV (our student-run television station). FAU holds some of the fondest memories of my life…I met some of my best friends at FAU, covered too many sporting events to count and met my husband there!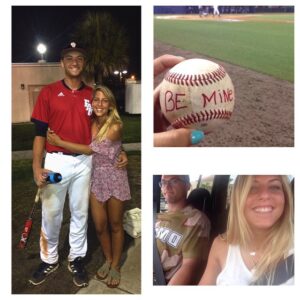 I spent my final two years covering FAU sports for a number of different companies and organizations. I had my first opportunity as an intern at ESPN West Palm while also working for the FAU Athletics Department. However, if I'm being honest…covering basketball wasn't a "thing" when I was a student.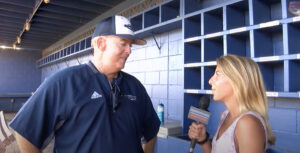 I went to FAU from 2014-2018. Our baseball team, women's soccer team and softball team were all pretty successful programs. The excitement around FAU football grew dramatically when Lane Kiffin took the head coaching job and recruited tons of athletes seen on Netflix's Last Chance U. But Basketball…not so much.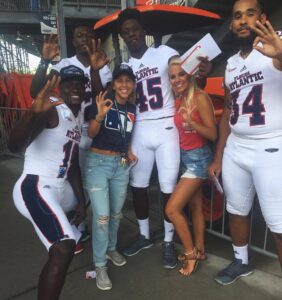 To be honest, I only worked with the basketball team or covered the basketball team a handful of times. In my four years at Florida Atlantic, the Owls best season was in 2018, the year I graduated. They were 12-19.
In the 2014-15 season, the Owls were 9-20. In the 2015-16 season, they were 8-25. That's why this is a HUGE deal.
I haven't followed FAU basketball since graduating. I still keep up with the baseball and football team. But as soon as I knew FAU would have a chance to dance in March, I knew I'd be dancing too!