Story by Jeff Metcalfe
Arizona State needed more than a new women's basketball coach after Charli Turner Thorne's retirement.
The Sun Devils lost more than three-quarters of their 2021-22 scoring during the coaching transition to graduation or transfer. Three full-time were among those departing, including leading scorer Jade Loville, who is now at Arizona.
Fortunately for ASU, when new coach Natasha Adair traveled cross country from Delaware, she attracted three players playing for or committed to the Blue Hens.
"It was a no-brainer," guard Tyi Skinner says of transferring to ASU. "Other schools did contact me, but I always wanted to play for coach A even at the start of my recruitment, so I just stuck with it."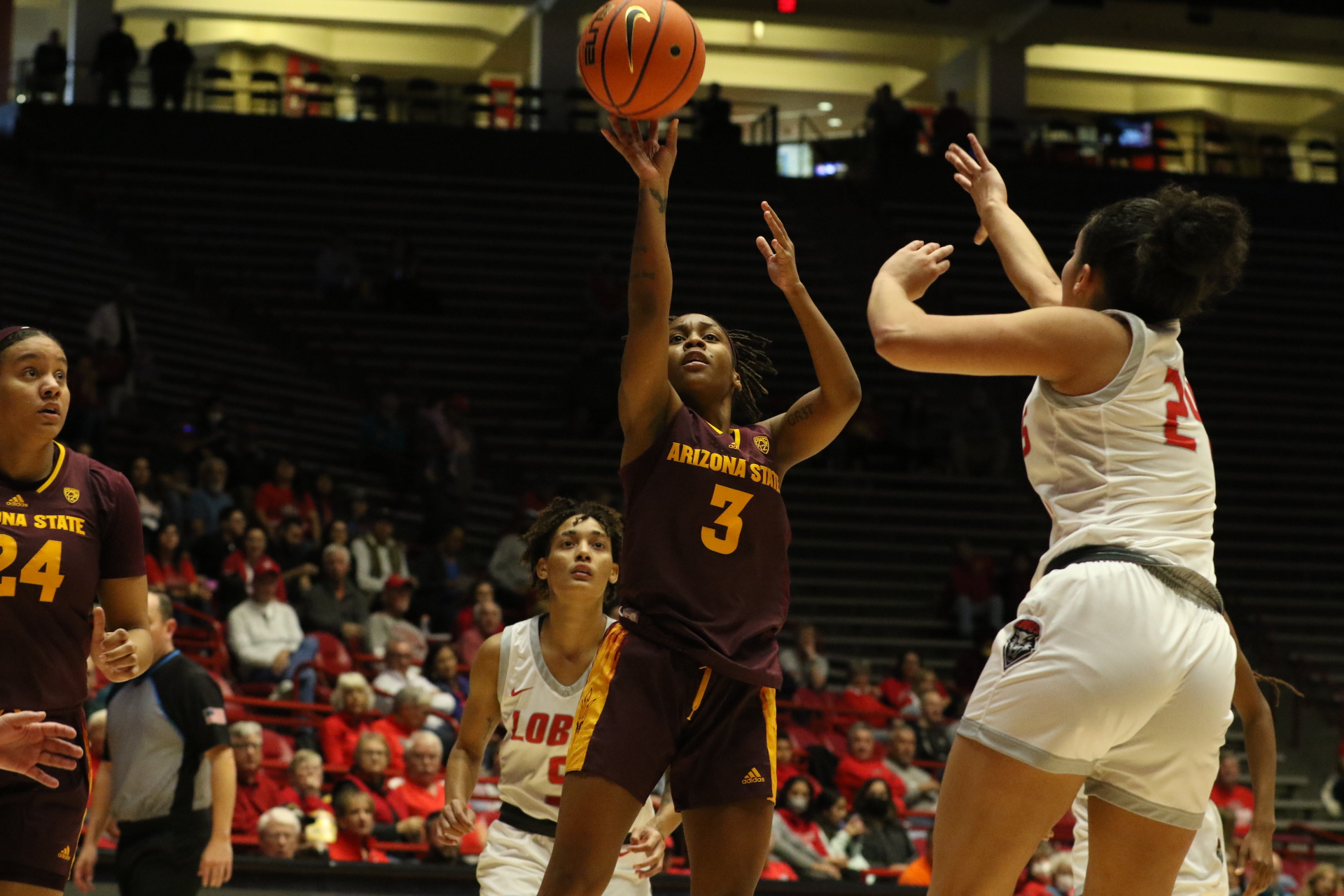 She committed to Delaware at halftime of one of her final AAU games in part because then Blue Hens assistant coach Sarah Jenkins made an unscheduled trip to watch her play for a new team.
"It was that Delaware was underneath that basket that game," Skinner says. "That meant a lot and really stood out to me."
ASU fans are now stuck like glue on Skinner, a 5-5 junior guard who has elevated her play well beyond her two-year statistics. She is No. 15 nationally in scoring with a 20.6-point average, second highest in the Pac-12 behind Washington State's Charlisse Leger-Walker (21.1 ppg).
At Delaware, Skinner averaged 10.9 points overall and 12.8 as a sophomore when she was a starter on an NCAA Tournament team.
"She always was able to do what she's doing now," Adair says. "But there was a pecking order," on a team with veterans such as Jasmine Dickey, now with the WNBA Dallas Wings. "She learned how to follow, and that's what makes her a phenomenal leader."
About the pecking order coming out of TPLS Christian Academy in Richmond, Va., Skinner admits, "I wasn't at first too fond of it. I just had to understand my role and do what I can do best for my team. But whenever I could seize the moment, I always seized the moment."
Like in the 2021 WNIT when she hit two half-court buzzer-beaters, one making ESPN SportsCenter No. 1 highlight. Or against Towson in the 2022 Colonial Athletic Association Tournament, making a pair of needed free throws with 0.4 seconds left to send the Blue Hens into the championship game.
Already for ASU (7-4), which opens Pac-12 play Thursday at No. 18 Arizona, Skinner has six 20-point games, topping out at a career-high 29 twice. She's scored in double figures in every non-conference game and leads the Sun Devils in assists (32).
"She's the one that's always going to stay after to get extra shots up," Adair says. "She'll call me an hour or two after the game and say did you re-watch it yet. I should have got this stop or this rebound. She's a student of the game as well."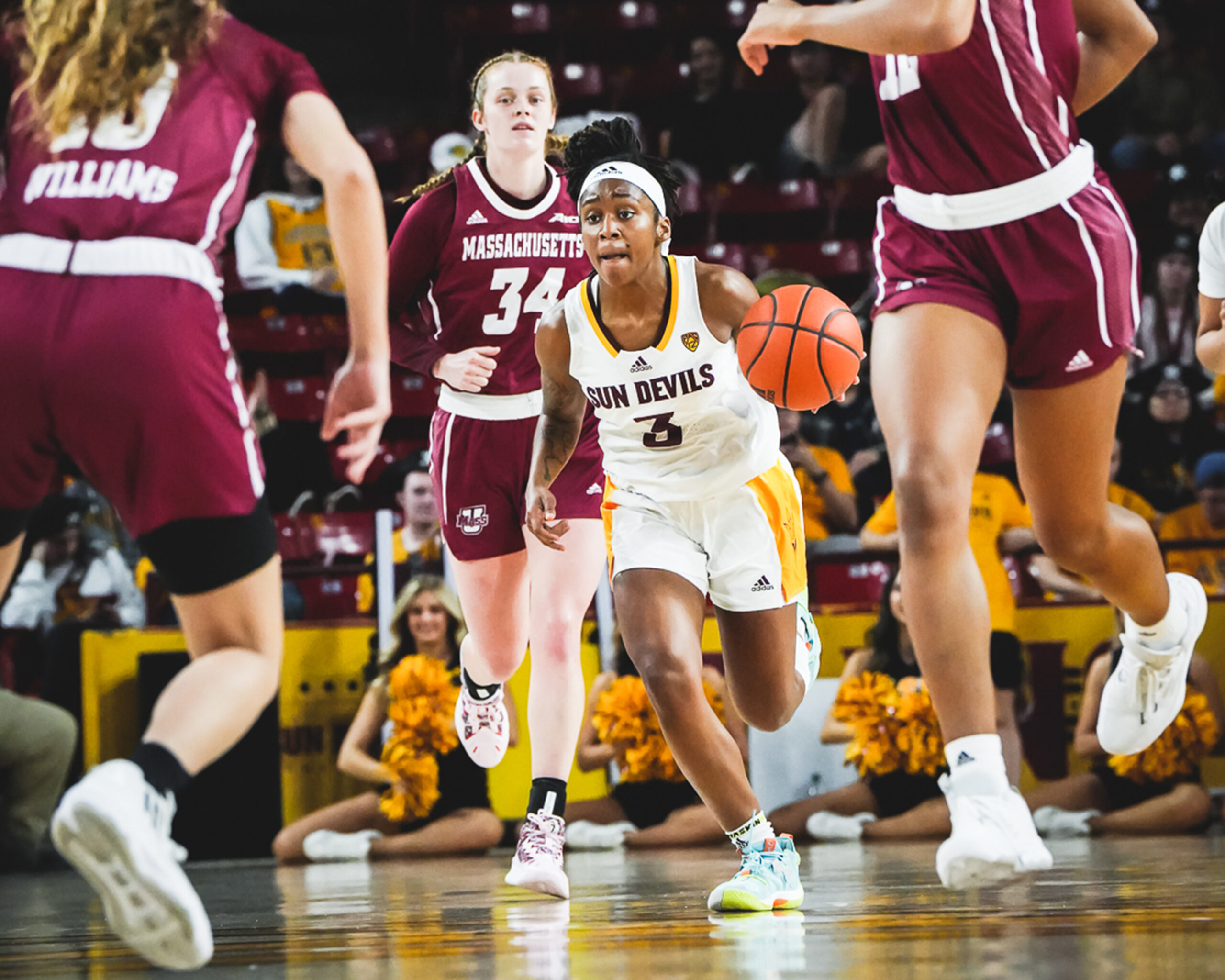 Growing up as a middle child on both parents' side (she was raised by her mother in metro Washington D.C.), Skinner has six siblings and a family tradition of playing street basketball.
"You learn how to share because you have to share," she says. "You can't not be a team player. Also you learn to be tough."
Her mother Yulanda Scott remembers a little girl in love with Dora the Explorer and discovering where basketball could take, specifically to become the first in her family to attend college.
"From 3 years old until now, Tyinhia has loved nothing but basketball. It's crazy for someone really young to know what they want to be. Most people are like I want to be a fireman, a rapper, a ballet dancer. She has always said she's going to be a basketball player. She's been the epitome of discipline to know there was nothing going to take me off my path.
"She's never been a really tall person (even though her father Robert Skinner Jr. is 6-4) and was considered the underdog. That would just give her a fire to work even harder. I commend her every day."
Skinner certainly doesn't lack confidence. She goes by ShowTim3 on social media and, while at Delaware, started her own sportswear line called Dif3rnt Breed.
When Roll Bounce, a 2005 film starring hip hop artist Bow Wow, came onto young Skinner's radar, she was determined to learn how to roller skate. "She watched this movie over and over, and by midsummer, she could do all the tricks," her mom said. "I'm telling you, that girl has a level of determination that'll make you shudder."
Because of NCAA COVID allowance, 21-year-old Skinner has two years of eligibility remaining after this one. It's the same for Jaddan Simmons, a junior in her third season at ASU and the only full-time starter back from 2021-22. They are the Pac-12's top-scoring backcourt (34.3 ppg combined) and willing distributors on a team that needs to improve its assist-turnover ratio.
Skinner says she and Simmons "work really well together with her being more patient and I'm more push and go. We feed off each other. She's experienced playing in the Pac-12 and I've been to the (NCAA) tournament and she wants to go. So whatever I'm missing, Jaddan has and whatever Jaddan is missing, I've been through it."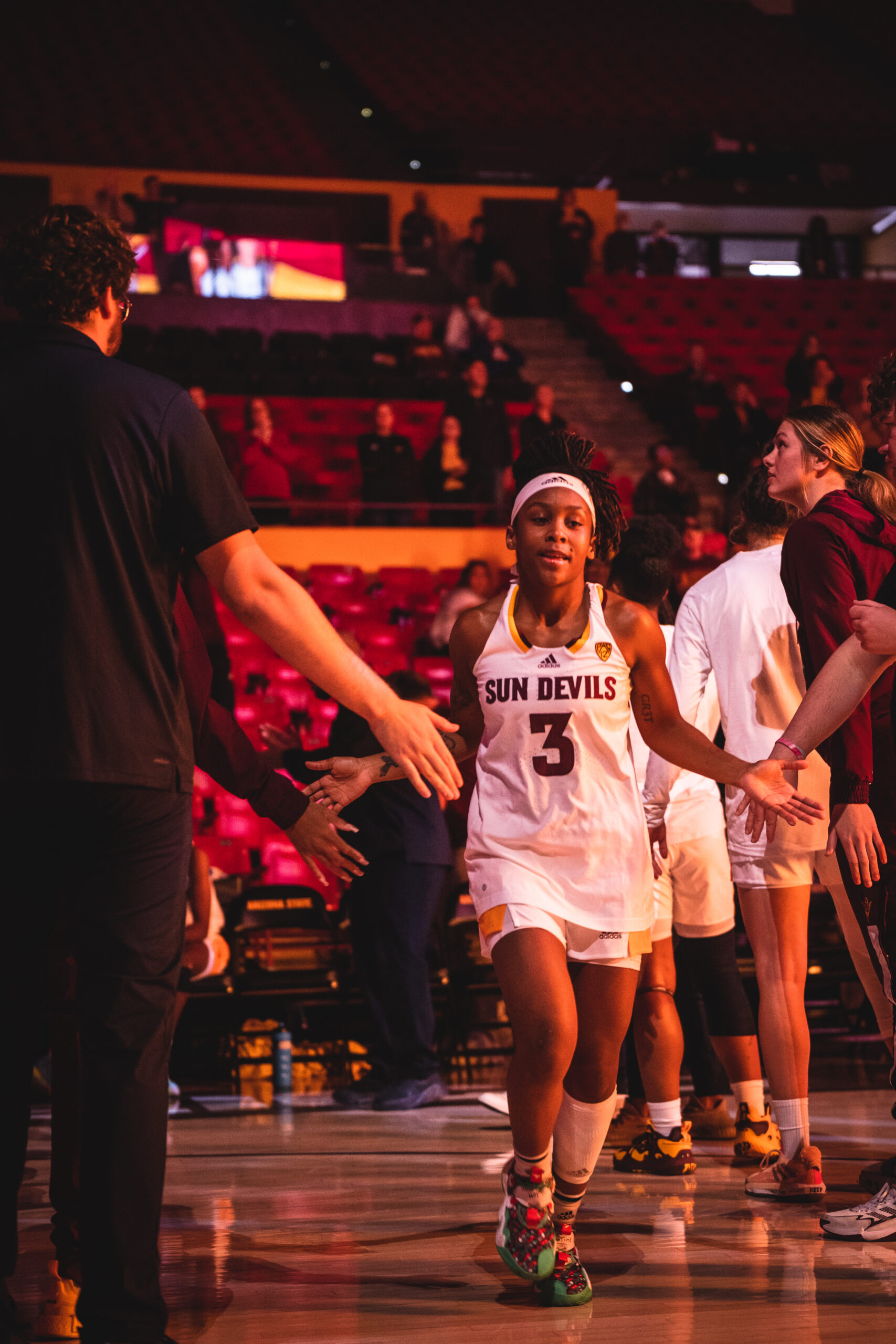 Adair is happy to have a floor leader like Simmons, familiar with her system and expectations, in this transition season at ASU. It's something she didn't have when taking over as head coach at College of Charleston in 2012, Georgetown in 2014 or Delaware in 2017.
"There's a fine line where she has to lead but not be too pushy," Adair says. "She has to be patient to allow them to understand and trust her."
Skinner has done a good job of that during non-conference play and now must prepare for what defensive-minded coaches such as Arizona's Adia Barnes, Stanford's Tara VanDerveer and UCLA's Cori Close will plan to get the ball out of her hands and force other Sun Devils to score.
"People do scout for you," Skinner says. "You can still continue to produce and that only makes you better. Iron sharpens iron. I'm going to make the adjustments however they are guarding me. It will just help me as a player to grow."