By Noelle Blumel
From a notorious losing record to 5A Metro Region champions, the Central High School football program has done a complete 180 in their 2022 season. The Bobcats have not won a playoff game since 1974 and will face the Scorpions of Desert Edge High School in their first playoff appearance since 2009 this Friday.
"We're looking to end the drought," head coach Chandler Hovik said.
Hovik has led the program for the past four years and said the spark of change had been the commitment of players and their buying into what the coaching staff consistently preaches.
"We don't want to make excuses because we're in the inner city…we feel like we have everything we need right here," he said. "And just giving our players that confidence, like if you work at something and really put everything into it, you're gonna have a chance to do that."
The Bobcats finished their 2022 regular season at 9-1, a significant improvement since their 2-8 record in 2019.
PXU congratulates the Central Bobcats football team for becoming the region champions and going to the playoffs for the first time since 2009 🎉 The Bobcats have a 9-1 record this season🏈. Congratulations, Bobcats 👏 @CEHS_Bobcats pic.twitter.com/blV01gcwX0

— PXU (@PhoenixUnion) November 16, 2022
Senior quarterback Dominik Bagchi said the team went through a hard summer and off-season camp in preparation for this season because of Hovik's belief in them to succeed.
"It's been long but worth it," Bagchi said. "He knew what we had and what to do to get the best out of us."
Baghchi added that the team has seen an increase in attendance at practices and games compared to past seasons, even towards the end of this season, contributing further to the team's theme of accountability and commitment.
Senior left tackle and defensive end Blas Guillen said he has seen the program evolve greatly over his time at Central, but what he has learned on the field has translated even greater in other aspects of life.
"Just being able to go, sweat with your brothers just really binds you together," he said. "And you get to feel like you're a part of something greater than just a regular football team."
He added that the pride of being a Bobcat has come out more recently than in the past when stereotypes of them as the "losing team" were present.
"Nobody really sees Phoenix Union schools as contenders in the playoffs," he said. "So it's really great to see that now."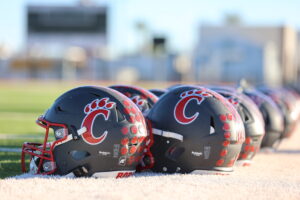 In preparation for Friday's first-round-playoff game, Baghci said the mental aspect is not as intimidating as people would assume because the team has treated every game of the season as a playoff game.
"We're trying to keep the season alive," he said. "So, at this point, we're just playing for the love of the game."
Hovik said he is aware that nothing is going to come easy for this team, but he believes his guys are capable of playing good football and succeeding when they step foot on the field.
"We have a lot of talent, we have a lot of toughness, and we know our guys aren't gonna back down."