The Patchetts are two of the best Sun Devil supporters I know. Mo, a badass cancer survivor, has a tattoo of Sparky on her left ankle. JP is the guy that donates pork shoulder to be cooked up for the Sun Devil football team as part of their Thanksgiving Day dinner. He's the guy who makes sure the little things, which are BIG, are handled professionally. He's the guy who will buy the table at the football banquet but ensure that everyone is having a great time supporting Arizona State. If the Sol Devils need someone on board, JP steps up.
JP introduced himself to me in 2013 at White Mountain Country Club in Pinetop. I had just come off the stage as MC at the annual Arizona State steak fry when he stopped me in the back of the sprawling tent. I'm glad he made an effort to do so; he's a good friend.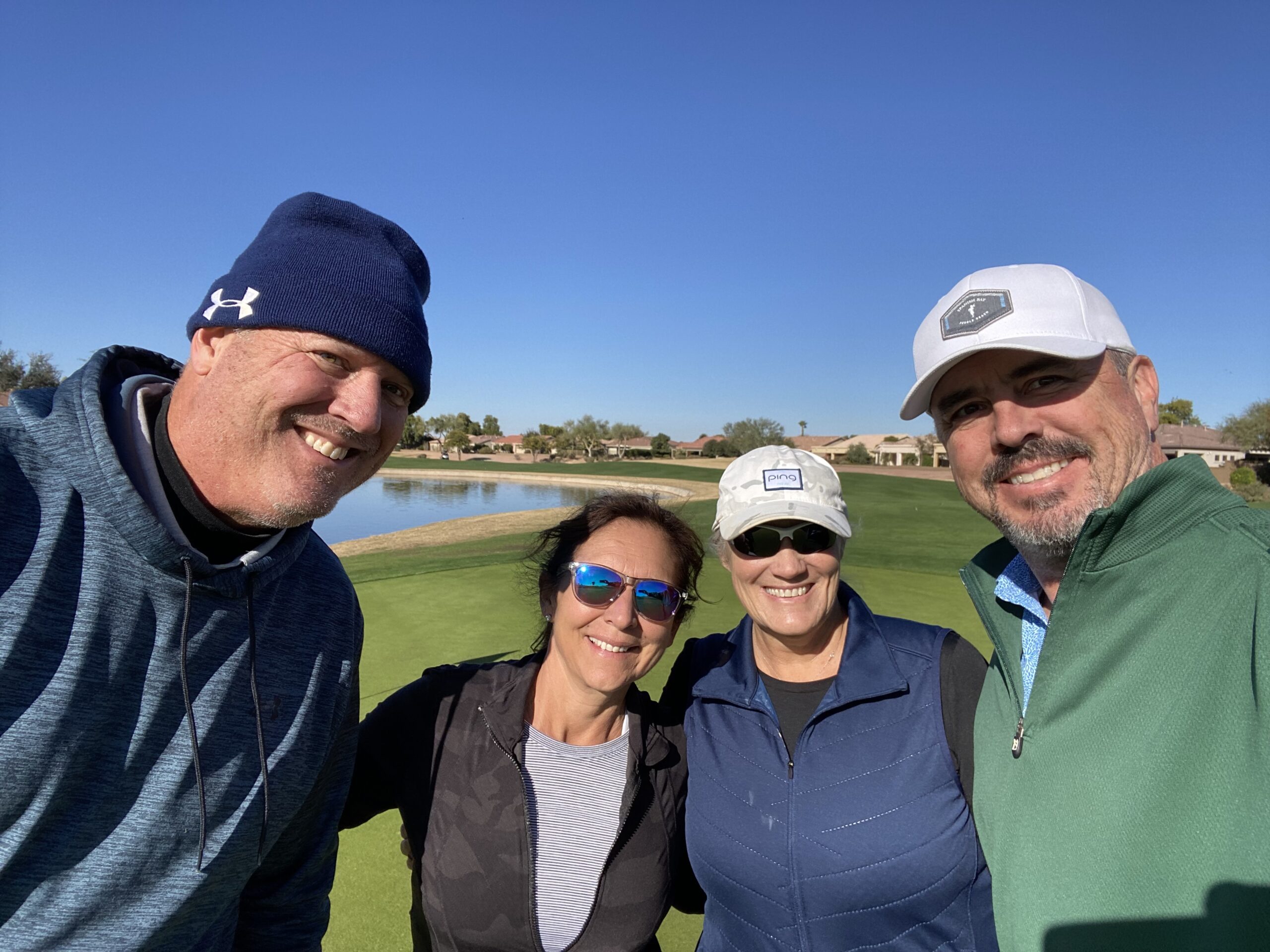 JP, Mo(brown jacket), my wife, and I had scheduled golf for Sunday morning at a course in Gilbert. A frost delay would push our tee time back, so we grabbed breakfast to kill time. The topic of Kenny Dillingham's hire took the full breakfast and became part of the round. Boosters like Mo and JP are NOT a dime a dozen. They LOVE Arizona State, so it didn't surprise me that at 10 am on the dot on the 18th hole, Mo and JP streamed the Dillingham press conference and were listening to the head coach in between their drives and putts. When fellow booster Nap Lawrence announced that he was donating one million dollars to the Sun Devil Collective to help recruit, they were both pleased. Good to get a different perspective on a big story every now and then…
.
I've been thinking about Shaun Aguano. Selfless is the word that comes to mind—concerned more with the needs and wishes of others than with one's own. Unselfish. He's someone who needs to be celebrated. He interviewed for the job last week and then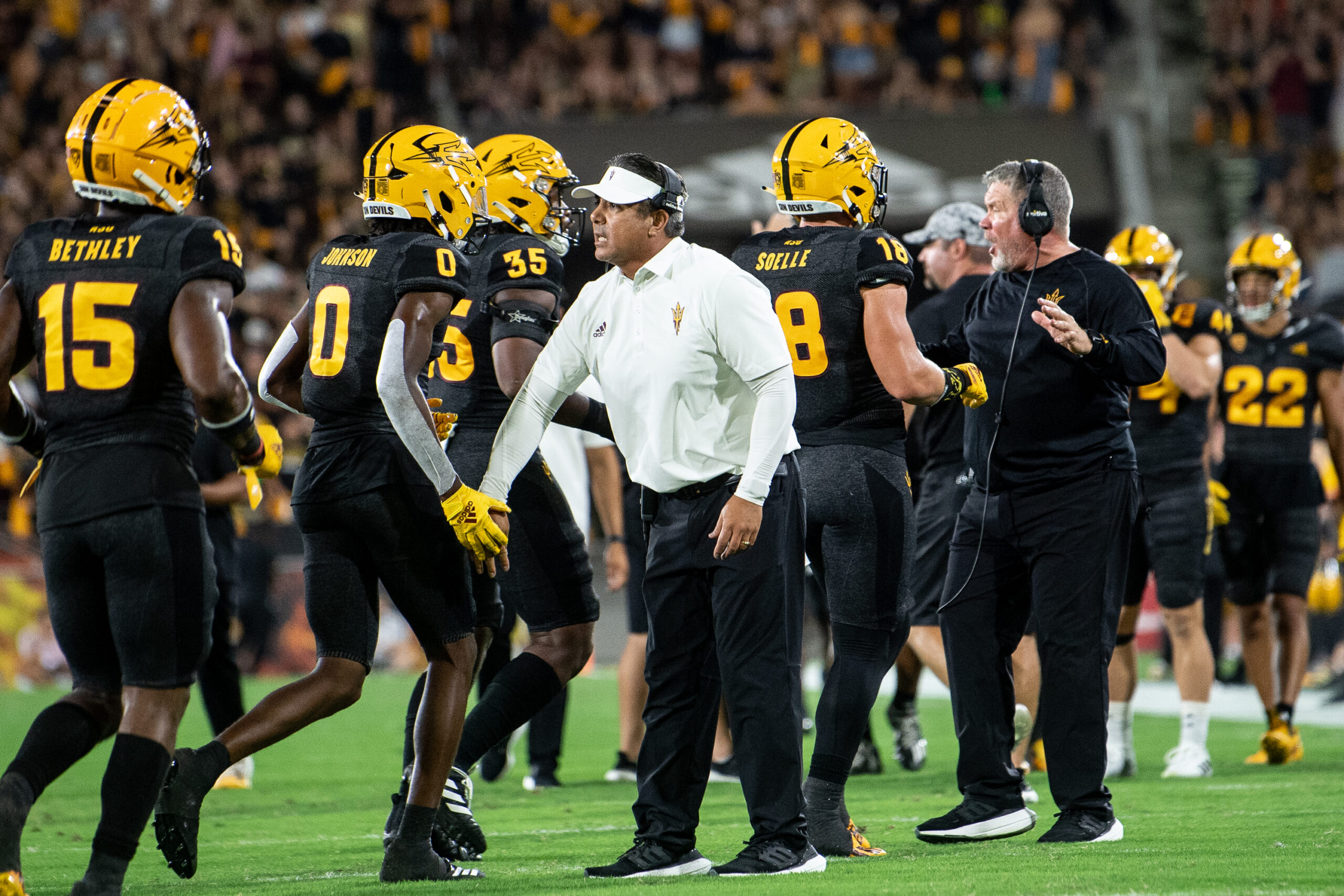 was in the room seeing the new coach introduced. Shaun should be on the speaking circuit on how to be a true leader in the face of adversity and stick to principles, values, and core beliefs. What might've happened had he won at Stanford? If Washington goes to the Rose Bowl, Shaun can smile big on that W…
Nap Lawrence used to sit in the audience when I hosted the Bruce Snyder show in the late 90s at Monti's La Casa Vieja in Tempe(I miss their roman bread). Nap has a weekly gathering in the SE Valley that has been part of my schedule for the last decade—not shocked or surprised by his gesture. I don't take him for granted. That's just who he is…
As for the new head coach, he won the press conference, which is to be expected. The diehards are re-energized by his energy and enthusiasm. The following nine-month honeymoon will be great for the college football community. Getting beyond the small number of rabid fans needs to happen for this program to reach levels I haven't seen in many years. Sure, winning is a cure-all, but I'd like to see more Patchetts come out of the woodwork.
This was a good hire by Arizona State. Someone within the University dropped me a text saying, "Ray read the room on this hire"…