Story by Jeff Metcalfe
Arizona State soccer is back in the NCAA Tournament for the second time in three seasons on the strength of fifth-year seniors Nicole Douglas, Alexia Delgado and Eva van Deursen. But the Sun Devils also probably aren't in the postseason without freshman goalie Pauline Nelles, who played well enough to make All-Pac-12, just the second Sun Devil goalie to do so. Kim Bingham was first team in 2006. Nelles is on the third team and All-Freshman. ASU coach Graham Winkworth believes Nelles already is one of the nation's best keepers in the country.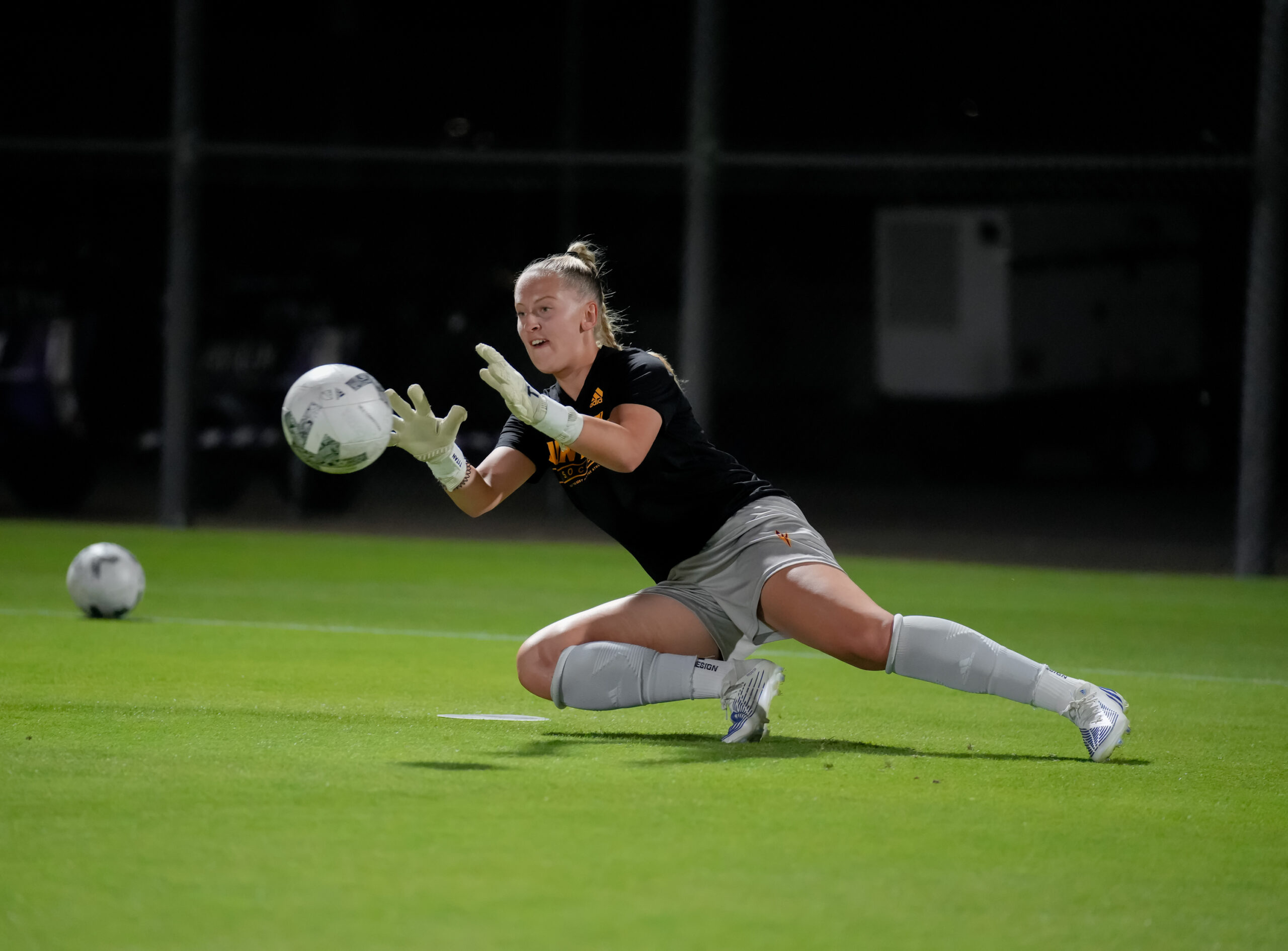 That's why he elevated her to a starter immediately after her arrival from playing for her native Germany in the U20 World Cup. "She missed preseason and the first game of the season," Winkworth said. "She was thrown into the limelight when Birta (Gudlaugsdottir) was playing fantastic. It wasn't a case of we're struggling in goal, let's put the new one in. It was a case of we signed a world-class goaltender. I made that call. That was harsh on Birta, but Pauli has demonstrated why in my mind she's one of the best goalkeepers in the country at this level." Nelles at 5-9 is three inches taller than Gudlaugsdottir, from Iceland, and has experience in the Bundesliga (Germany's top league) playing for FC Koln and multiple international youth teams. Winkworth, from England, is well known for his international recruiting. He was among the first to respond when Nelles made it known via highlight video that she was available to U.S. colleges. "When I talked to the coaches for the first time, they were like we're very international," Nelles said. "There are so many different cultures, that's very special and good for me. I talked to so many players before I came here so I got the trust from them. I think it's almost the best decision I've made. I'm glad to be here." ASU (9-5-3) is happy to have Nelles in goal for its NCAA Tournament opener Saturday at No. 8-seeded Portland (11-4-4) and beyond. The winner plays at No. 1-seeded Alabama (20-2-1), a 9-0 first-round winner over Jackson State on Friday. In the longer term, Nelles still could be ASU's goalie in 2025 when she will be 23. So it's worth getting to know Nelles, much like fans have come to embrace Douglas in her five-year run to most school scoring records.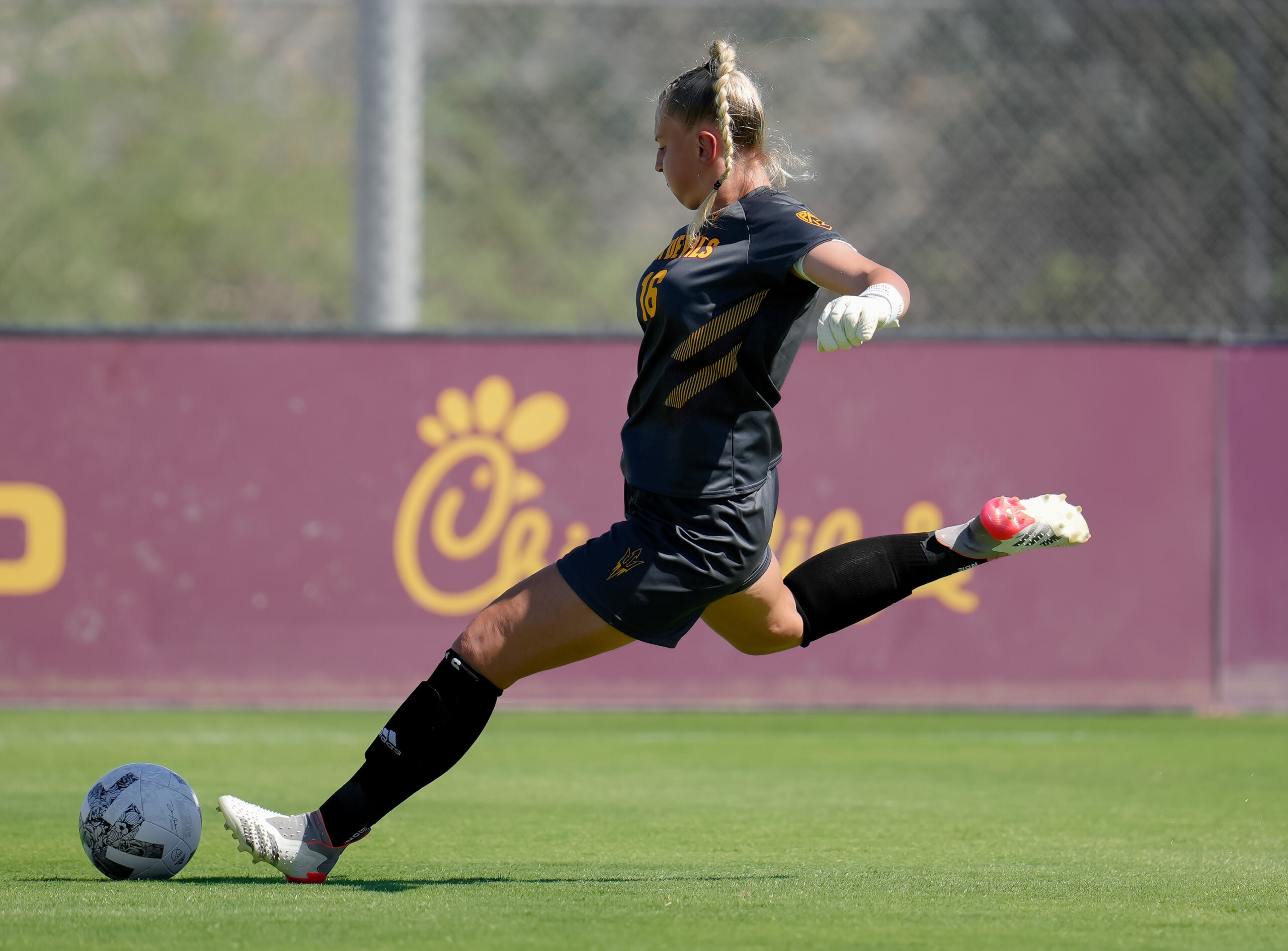 She grew up in Bonn, in eastern central Germany, and was introduced to soccer by her grandfather. "We played in the garden," Nelles said. "On the weekends, I watched (soccer) with him." She became a goalie, according to a German interview, because "there was no other goalkeeper" on her first team and she "didn't wan to run that much back then. My main concern was building sandcastles." That changed with time, her move to FC Koln in 2010 and her admiration of famed German World Cup keeper Manu Neuer. "He also played outside of the 18-yard box and was and patient," said Nelles, also known for that playing style. Winkworth said Nelles has "the best feet I've ever seen from a goalkeeper. She's fun to watch. She's like having an 11th field player out there. We can play back to her fully confident she's going to control the ball and play nice passes out." She is third in the Pac-12 in saves (67) and has 3.5 shutouts including consecutively against Utah and Washington State in October. Learning English is an ongoing challenge for Nelles, part of the reason she changed her major from secondary education to German. "I knew when I come here you have to learn the language," she said. "On the pitch, it's OK." Winkworth jokes that the language barrier "sometimes is a good thing because she doesn't understand me when I'm like what are you doing?" Nelles taught herself to play piano by watching a YouTube video. "It's good when you come home after a long day and can play piano," she said. "It's relaxing. I'm able to play here in Barrett (Honors complex), but next year I will buy a piano so I can play every day." If you're ever talking music with Nelles, know that famed German composer and pianist Ludwig van Beethoven also is from Bonn. At the 2019 U17 European Championships, Germany won over Netherlands in the final thanks to Nelles stopping four consecutive penalty kicks. NCAA regular season games now do not include overtime, but in the postseason there are two 10- minute OT periods (no golden goal) followed if necessary by penalty kicks. "It gives me confidence," Nelles said of her PK experience. "I hope we score in the 90 minutes before (overtime). I trust my strikers. As a goalkeeper, you can't lose (on penalty kicks). It's luck. You can only win."