Arizona State should be talking to candidates about their vacant head football coaching job. Evaluating Shaun Aguano is easy. He's already in the building. Going through a national coaching search, not so much. Agents want to get their "guy" on the radar for a job while keeping it quiet. Others want their client's name out in the open to stir up interest and potentially get him an extension and raise at the current spot.
We are in the lying season. It happens as you go higher up the food chain.
Do I believe that Jim Mora Jr. at Connecticut or Jamey Chadwell at Coastal Carolina have heard from those associated with ASU or former players of the Sun Devils program about the head coaching situation? Yes.
Do I believe that Oregon offensive coordinator Kenny Dillingham's circle has yet to hear directly from Arizona State. Yes.
Can that change at a moment's notice? Sure.
If I'm the Athletic Director sizing up exactly what I have in interim head coach Shaun Aguano, I would want to know who he has lined up to be on his staff if I offered him the job. I'd have to tilt my head and wonder why the stands for the UCLA game were 3/4 full with very few Bruin colors in the stands(much different crowd makeup than Washington). Was it because it was Parents Weekend, or was it that the community is growing to really like "Ohana Means Family"? If I were the Athletic Director, I'd be out walking the parking lot two hours before kickoff and listening to Sun Devil fans who were actually eager for the game. I'd walk past Snooze on the south side of the stadium and hear conversations about how nice it is to have an in-state quarterback at the controls.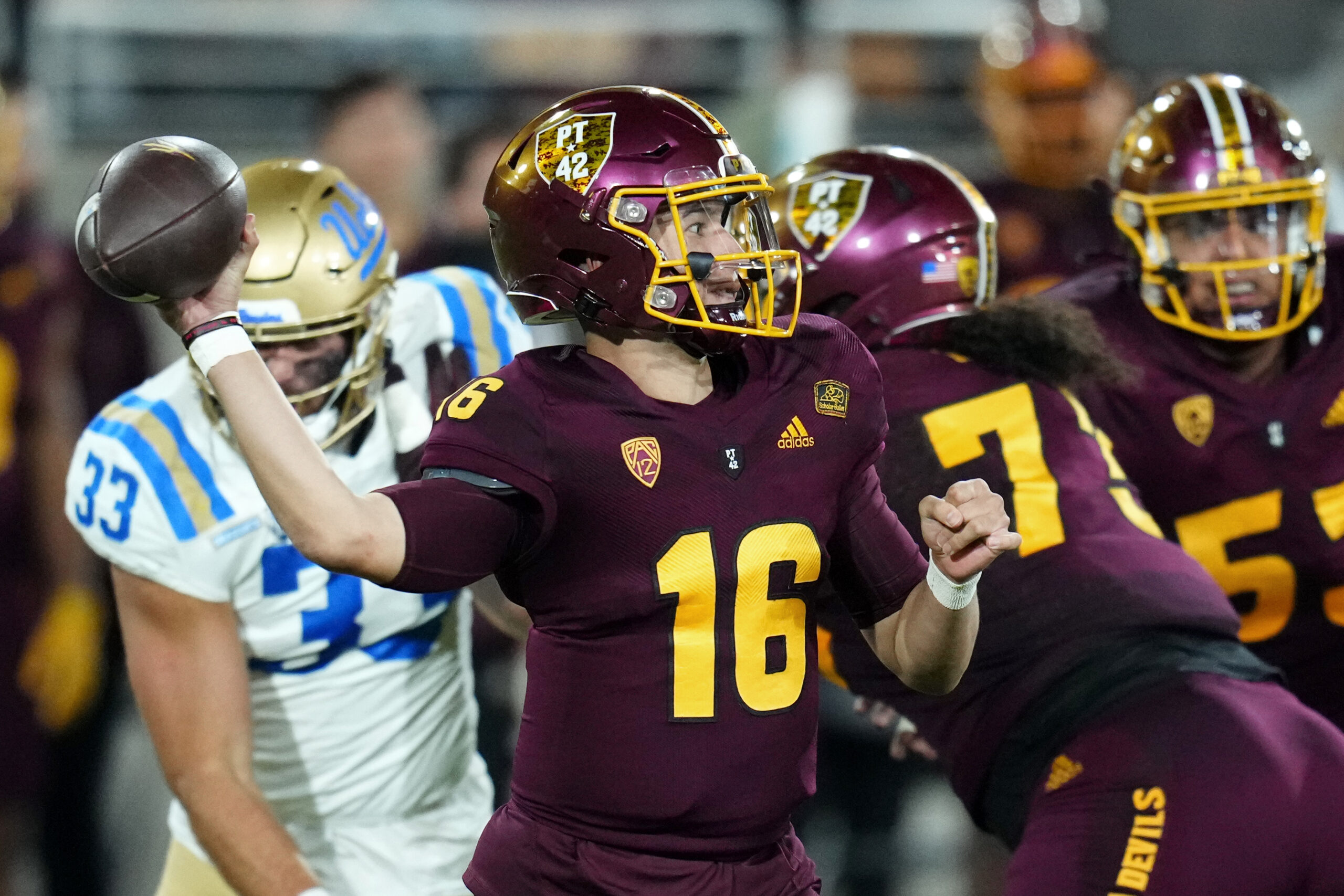 If I were the Athletic Director, I'd be thrilled that Aguano has taken the time on several occasions to speak at local functions aside from his weekly coaching show and radio commitment. I'd sit off to the side at two of his public appearances and see how patient he is with boosters who ask recruiting questions that he can't answer because it would be an NCAA violation. I'd listen to the big cigars who have interacted with Aguano in the last six weeks and ask for their feedback. I'd be on the sidelines at two high school games in the Valley where Aguano showed up and genuinely cared about being at the game. I'd call at least a dozen high school football coaches from around the Valley and ask if they've seen a change for the better since Aguano took over the reigns. If I were the Athletic Director, this search wouldn't be over yet, but I'd have my mind made up before the Territorial Cup was played. I'd sit with the senior leadership on the football team and ask what they think is the right course of action with Aguano. Good and bad.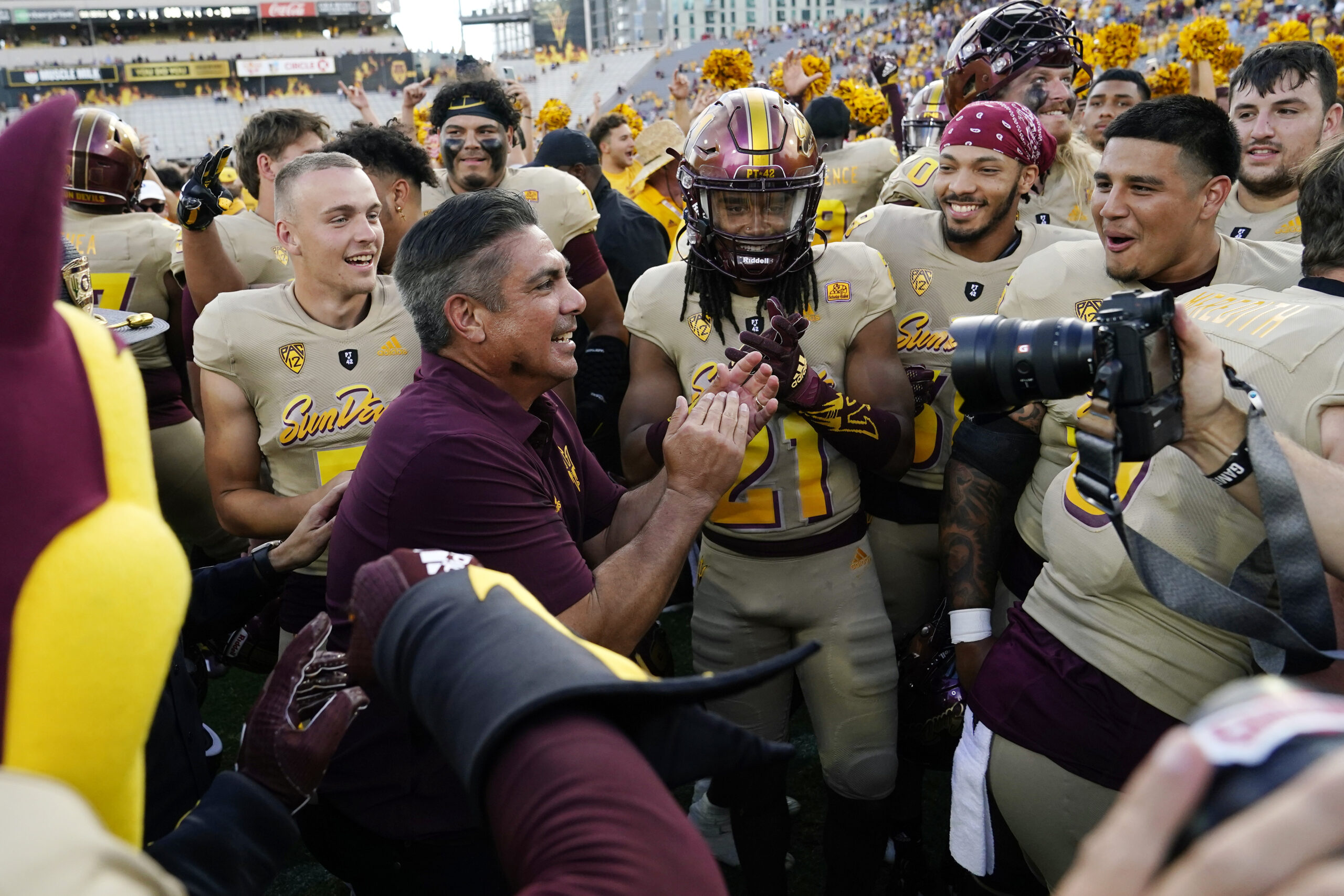 I'd look at the body of work since Aguano took over and ask, "is the team improved in more than a small way"? I'd do the best that I could to get feedback on the current roster and who is looking to hit the portal after the Arizona game; Players are going to leave no matter what in this new world of transfers and NIL money. They will leave Georgia, Ohio State, TCU, and USC too. If I'm the Athletic Director, I must have my school president onboard. I move forward sooner than later, not just because of the December 21st letter of intent day, but because I have to lead and show that we aren't going to wait around and get into bidding wars with agents for a certain coach. If I decide that Aguano is not my choice, I need to let Shaun know so he can move on with his career. I don't see how he can return to being an assistant coach or coordinator at Arizona State if he gets passed over. He's a head coach. Whether it's in Tempe or elsewhere. If I'm the Athletic Director, by the night after the Oregon State game, I've made my mind up ane I move.
While I've done most of the above since Aguano has taken over, I don't know as fact that the current Athletic Director has the juice on his own to make this decision. It appears and sounds like he doesn't, but when it comes to Always Something University, you never know…