This and that on the ASU interim head coach and future…
Tough week for those who don't believe in Arizona high school football.
Trenton Bourguet, an Arizona high school quarterback at Marana, led the Sun Devils to victory over Washington.
Shaun Aguano, the former Chandler high school head coach, picked up his first win on Saturday afternoon. I've felt that from the moment he was named interim three weeks ago, Shaun should be seriously considered for the head coaching job.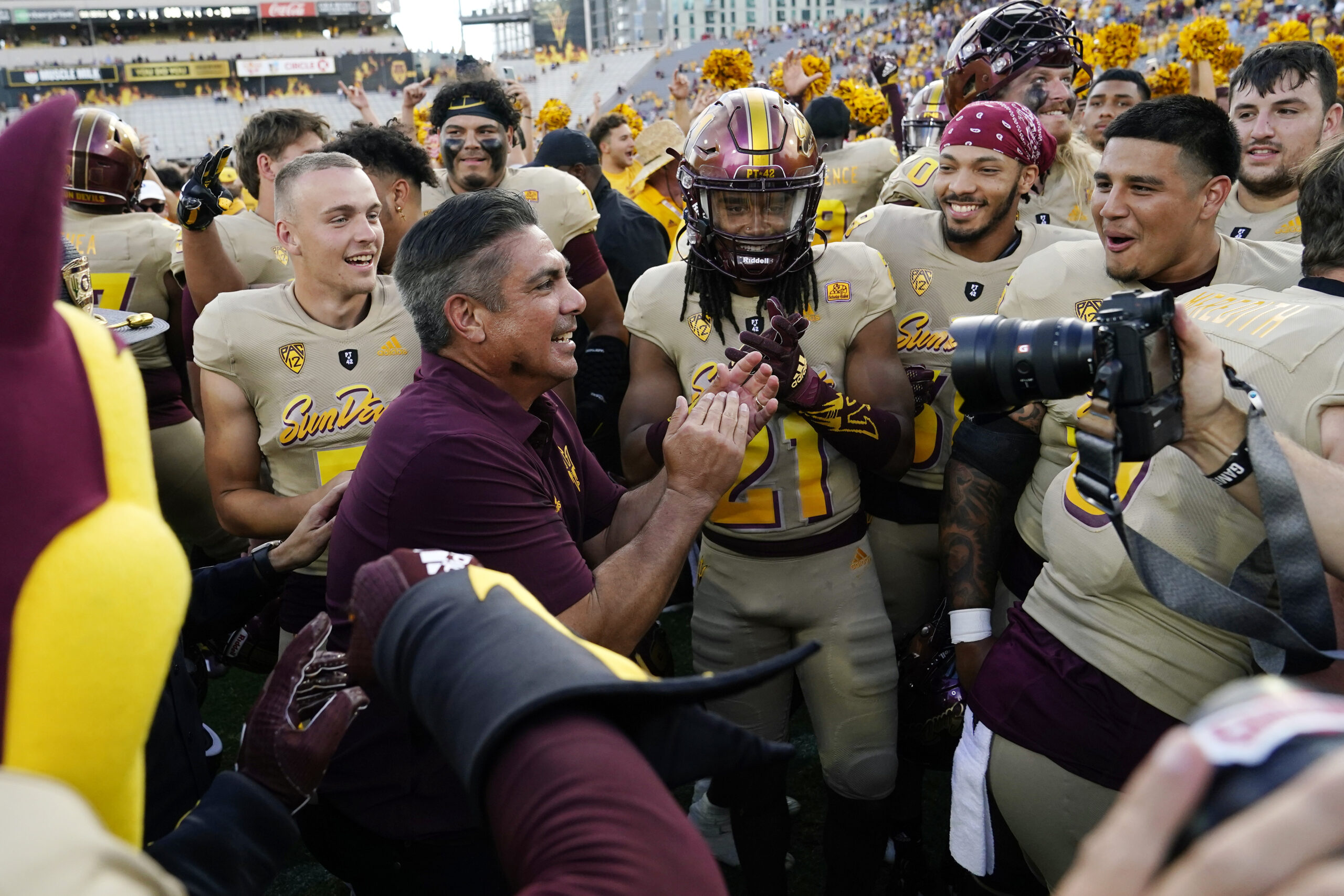 A win over the Huskies doesn't mean that the interim tag will simply be removed tomorrow. There are many, many questions that both sides need to have answered. If Aguano would be named the head coach, it wouldn't put fear into many outside of Tempe. Then again, Jedd Fisch's hire was universally ridiculed, and he has done a good job in less than two years at a very difficult place to win…
Aguano has one bite at the apple to become the next head coach, so it's not just about the win on Saturday; it's about what he's done off the field in just three weeks. He's completely flipped the script about the lack of commitment(I'm being kind) that ASU football has shown to in-state high school players over many, many years.
Last week hosting 50 players from Valley high school programs that were on Fall break was very smart and, more importantly, sincere. There's no BS meter with Shaun, which I like ALOT. He's already shown in three weeks that he can fix the long-running lack of Arizona recruiting issue.
Arizona St. interim head coach @aguanos addressing over 50 2023,2024,2025 top in-state recruits at this mornings practice pic.twitter.com/gF4D0ULlYC

— Sports360AZ (@Sports360AZ) October 5, 2022
In this new world of NIL and Transfer Portal, finishing second on a player may prove to be beneficial. Players will go away and chase the bright lights, but if Aguano, or whoever the next coach is, recruits strong enough, then Arizona State will get players bouncing back to Arizona. From my understanding, there are more than a few former Valley high school quarterbacks on current college rosters that are keeping an eye on what's currently going on at Arizona State.
Aguano has connected to several big cigars around town. You'll see and hear about him being out and about in the coming week. Smart…
Today's game ball goes to @aguanos! 🤝#ForksUp | #O2V pic.twitter.com/RDBmArO97J

— Sun Devil Football (@ASUFootball) October 9, 2022
What would his staff look like long-term? What about support staff? Can't answer that after just three weeks. Deep, meaningful dialogue would have to take place. Does the University have enough backbone to withstand the inevitable backlash from some who simply want a head coach with years of previous experience in that role or the hot name coordinator that wants the job(Kenny Dillingham at Oregon)? Does the University president want to make a splash?
The inevitable NCAA penalties? Sounds as though this would be pretty simple. For every penalty year, an extra year could be built into the head coach's contract. Again, it sounds simple…
Each week since Aguano took over, the team has improved on gameday. Still too many penalties (10) in Saturday's win. But the way that Aguano has navigated through the gauntlet of Utah, USC, and Washington has been impressive. For those who thought that there's no way that he should be considered for a permanent job, you were wrong. I heard from several after Saturday's win that nothing has changed in their mind. That is a "you" problem…
30th year at ASU. One of my favorite moments right now. Feel wonderful for this guy. pic.twitter.com/NjbCD7eDzd

— Doug Tammaro (@DougTammaro) October 9, 2022
It may not seem like a big deal to some, but Aguano punishing players for not being on time to practice is a BIG DEAL to me and some on campus…
There's a fight in this team. The Fightin Aguano's sounds better to me than Always Something University…
What Aguano has done in such a short period should raise eyebrows at other colleges potentially looking for a head coach. Remember, Shaun interviewed at Hawaii last year, it's not like he's not on any radars or hasn't had some other school batting eyes at him. If Arizona State drags its feet on this hire for whatever reason, Aguano has to look out for himself too. ASU can't wait until the end of the season to decide the fate of Aguano. It should not come down to him winning the T-Cup or not to decide if he's the right guy. So far, I don't see or hear any marks against him. We all knew that winning one of the first three would be big for him, so he should have an inside track…
And remember, Jordan Simone continues to be right…