Make the time to drop in on Arizona State Hockey. I doubt you'll be disappointed with the experience.
I dropped in on Saturday night after a friend with season tickets suggested I tag along. Glad I did. The parking was easy, the beer was ice cold, the student section was rowdy, and there isn't a bad seat in the new house. Mullett Arena is spectacular as a college facility. I'm skeptical that the NHL will be thrilled with its product being played in such a small building.
Hockey Night in Arizona! Dropped in to check out the buzz around @SunDevilHockey Great vibe… pic.twitter.com/tEYp4FKKyk

— Brad Cesmat (@bradcesmat) October 16, 2022
The biggest takeaway for me from the night wasn't the final score(Colgate beat ASU 4-0). I wonder why basketball can't play a game or two in that facility. I think the fan base wouldn't complain one bit. The other thought is there's actually been some good vibe around Arizona State since Herm Edwards left and now that the new hockey facility is open. More smiles and less conversation about firing the athletic director…
I'll take a 17-inning scoreless playoff game any day. For those who say "boring," time to move on to another sport…
Will Diamondbacks management look at what has happened in this postseason and believe that rather than building for 2024, they should push the accelerator down for next year? See what San Diego, Seattle, and Philadelphia have shown regarding passion and interest in the last ten days. Our city needs a big shot in the arm regarding interest in Major League Baseball. This postseason has shown that the game is alive in well in certain markets, so why not ours?
Where would the Diamondbacks be had they not botched the handling of Bob Melvin as their manager? Bo Mel should've been in Arizona on the bench for 15 years. Not winning big as he has done in Oakland and now San Diego.
Cactus League folks must be giddy with how this postseason has played out. Better book your spring training hotel space in Peoria now…
Jedd Fisch has done very good things in his short time in Tucson. Getting the Wildcats' defense fixed is not one of his accomplishments. If UA had even a bit of defense, they'd be at five wins. Saturday's loss at Washington was a gutt-wrencher. Hard to blame players lack of production when the coaching staff turnstiles have been swinging on that side of the ball for many years…
Those who had Shaun Aguano hitting a softer part of the schedule for ASU Football, think again. Stanford beats Notre Dame, and Colorado gets their first win. Start playing the "look ahead at the schedule" game, you will get beat. No easy games in college sports these days…
The last time I saw goalposts carried through the streets was when Arizona State stunned #1 Nebraska in 1996.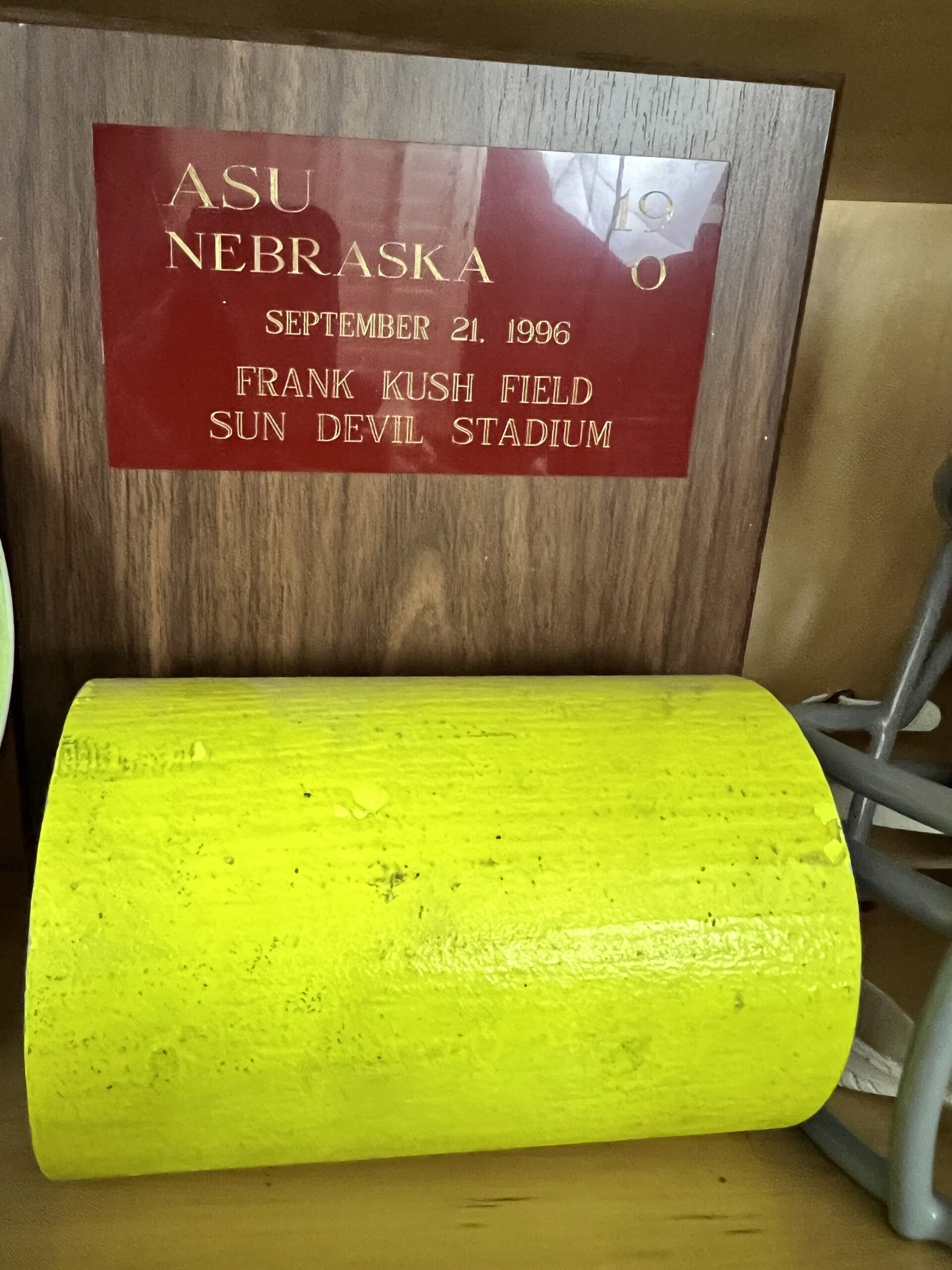 I thought of this while seeing photos of Tennessee Volunteer fans carrying the crossbar through Knoxville after upsetting Alabama. Here's my photo of the ASU goalposts. We found them in the drainage ditch in Tempe the morning after the Sun Devil upset. We cut them up and sold them, with the proceeds going to ASU Athletics…