This offseason was shaping up to be the best ever for Cardinals defensive back Antonio Hamilton. By August, he secured a starting spot in the secondary.
Then, as the season drew near an accident happened. While cooking dinner for his family, grease in the skillet caught on fire. As he was taking care of the situation and keeping his family out of harms way, he dropped the pan, burning both of his legs and feet.
Had the greatest camp of my career & last Monday I had a accident that could've ended up deadly for me & my family but instead I got the short end of it by having my feet severely burned (2nd degree). It was literally a freak accident and God spared me to only have these injuries pic.twitter.com/8SXhJjzZbW

— Antonio Hamilton (@UnitedSt8Of_Ham) September 1, 2022
He missed the first four games of the season, before making his season debut at home against the Philadelphia Eagles.
He was treated for his burns at the Arizona Burn Center at Valleywise Health Center. This week, he took the time to meet with kids going through similar battles.
"I wanted to give back and relate to the other patients who are going through what I went through and the ones who are currently going through it," Hamilton said before heading inside.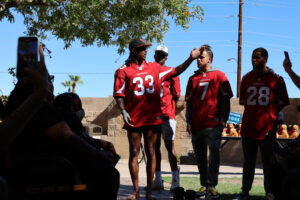 Joining Hamilton were teammates Byron Murphy, Jalen Thompson, Christian Matthew, and Charles Washington.
Community work has always been important to Hamilton, but this experience has altered his perspective. While talking to kids and families outside, he took off his shoes and socks in order to show them his burns.
"I showed my wounds because it's not something that I'm trying to do for any publicity," Hamilton said. "It's okay that you've gotten burned. You had an accident and that happened. That doesn't make you weird… Your situation was unique and now you have a unique look about yourself and it's okay to show it off. You don't have to be ashamed of it… Be true to who you are."