I was away last week for our son's destination wedding outside of Lake Tahoe. Smoke from forest fires made for some anxious moments, but when it was all said and done, my son was standing at the altar, our oldest daughter was the officiant, our other daughter was a maid of honor, and our youngest son stood up front with big brother. It's a moment that my wife and I will cherish forever. Crying is healthy!
On to Three-Dots…
The Father of the groom should not be asked, "what do you think about the Robert Sarver suspension" Yep, it happened over and over during the reception. I think that NBA Commissioner Adam Silver handled this much better than the NFL is going about the Washington Football Team and Daniel Snyder, but to say that the fine and suspension feel right isn't true. Good for PayPal. Good for Lebron and Chris Paul. It will be interesting to hear what Monty Williams and James Jones say when training camp opens. The same goes for Devin Booker. Other sponsors too…
The Arizona Wildcat football community should be the ones most disappointed with Herm Edwards departure from Tempe. Since the 70-7 destruction just 22 months ago, Arizona has been heading in the right direction under Jedd Fisch while Arizona State has a billboard on I-10 and that's about it. President Michael Crow continues to swing and miss on the sports front. He is a staunch supporter of the Pac-12 Network. He was in the Larry Scott as Commissioner camp, and he kept a head football coach around for 15 MONTHS while the program was ablaze from an NCAA investigation. We haven't seen a finger lifted to get the Activity Center(Desert Financial Arena) brought into modern times, which does Bobby Hurley no favors. Recruiting today's athlete to an antique isn't going to work. Hurley deserves much, much better on the facility front from the President. Crow hasn't delivered that crucial piece, it doesn't all fall on Ray Anderson; it falls mainly on the President…
When I refer to Always Something University, Shaun Aguano doesn't fall under that umbrella. I've known Shaun a long time. I admired and respected how he ran his football program at Chandler. When he went to ASU I felt that he was ready to go beyond high school.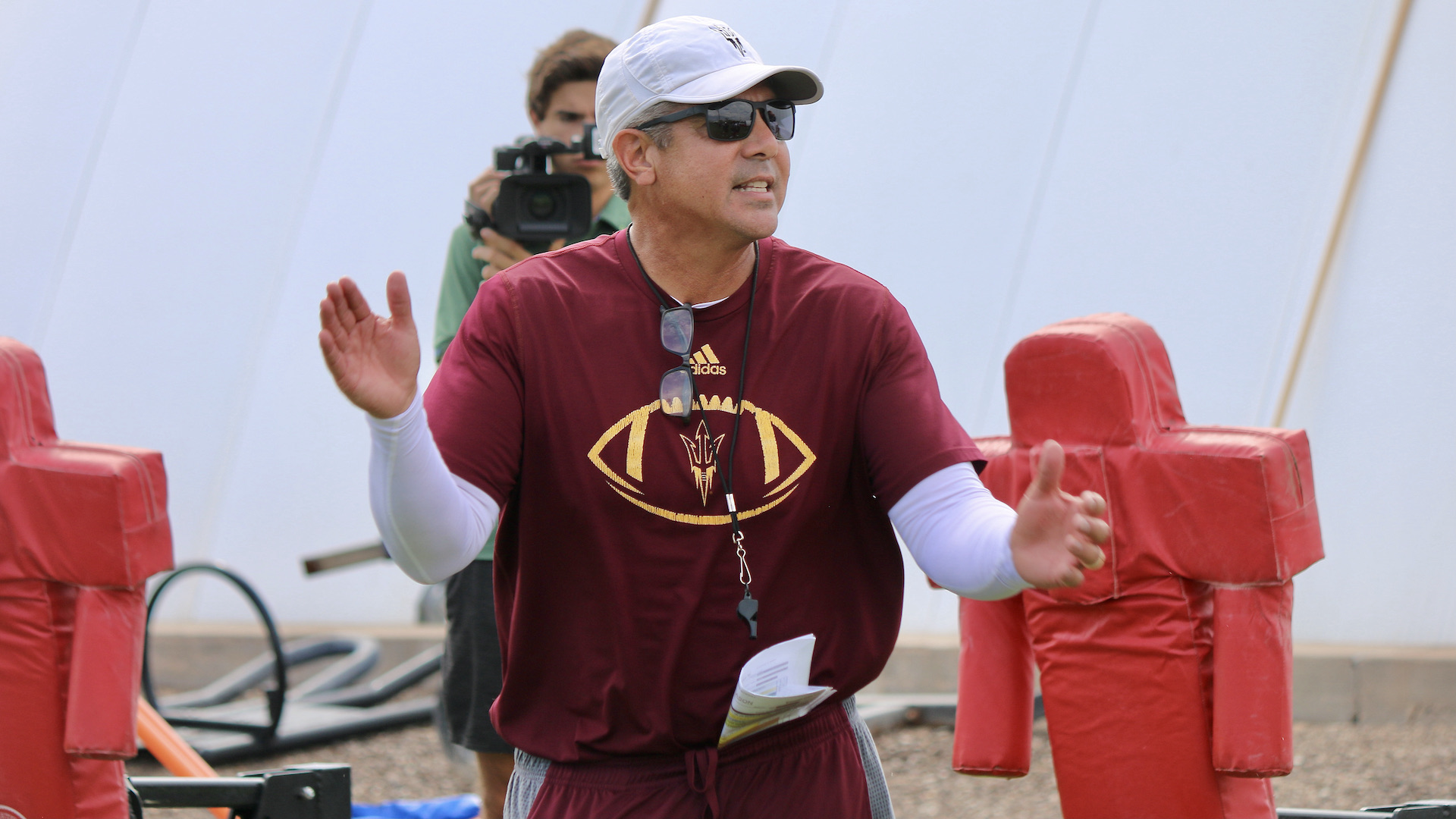 He carries himself in a manner that is impressive. I can't help but think that the team will positively respond to him even with three very good programs lining up across from them starting this Saturday with Utah. I am one of those that looks at results beyond the final score. I am not one of those who believes that the interim tag means he shouldn't be seriously considered for the job. Shaun Aguano checks a lot of boxes that this program desperately needs to fill. Will the President look at the total body of work, or will he simply pursue big names or the hot assistant coaches? Shaun Aguano, with the right staff around him can recruit and win at ASU. It's not sexy, but Always Something University doesn't need another coach who wants to use the program as a stepping stone. Shaun can pick up the phone or walk into any high school coaching office here in Arizona and he will be well welcomed with open arms. Let's just see how the next two months play out on and off the field…