Story by Jeff Metcalfe @jeffmetcalfe
Nicole Douglas' prime reason for returning to Arizona State for a super senior fifth season wasn't to break long-standing school career records. It's anything but insignificant, though, that three weeks into the season Douglas already has surpassed Stacey Tullock's career goals record while tying Tullock for most game-winning goals. She needs just six more points to break another mark set by Tullock from 1998-2001. Douglas, born in England, was 1 when Tullock, also born in England then raised in the U.S., completed her ASU career.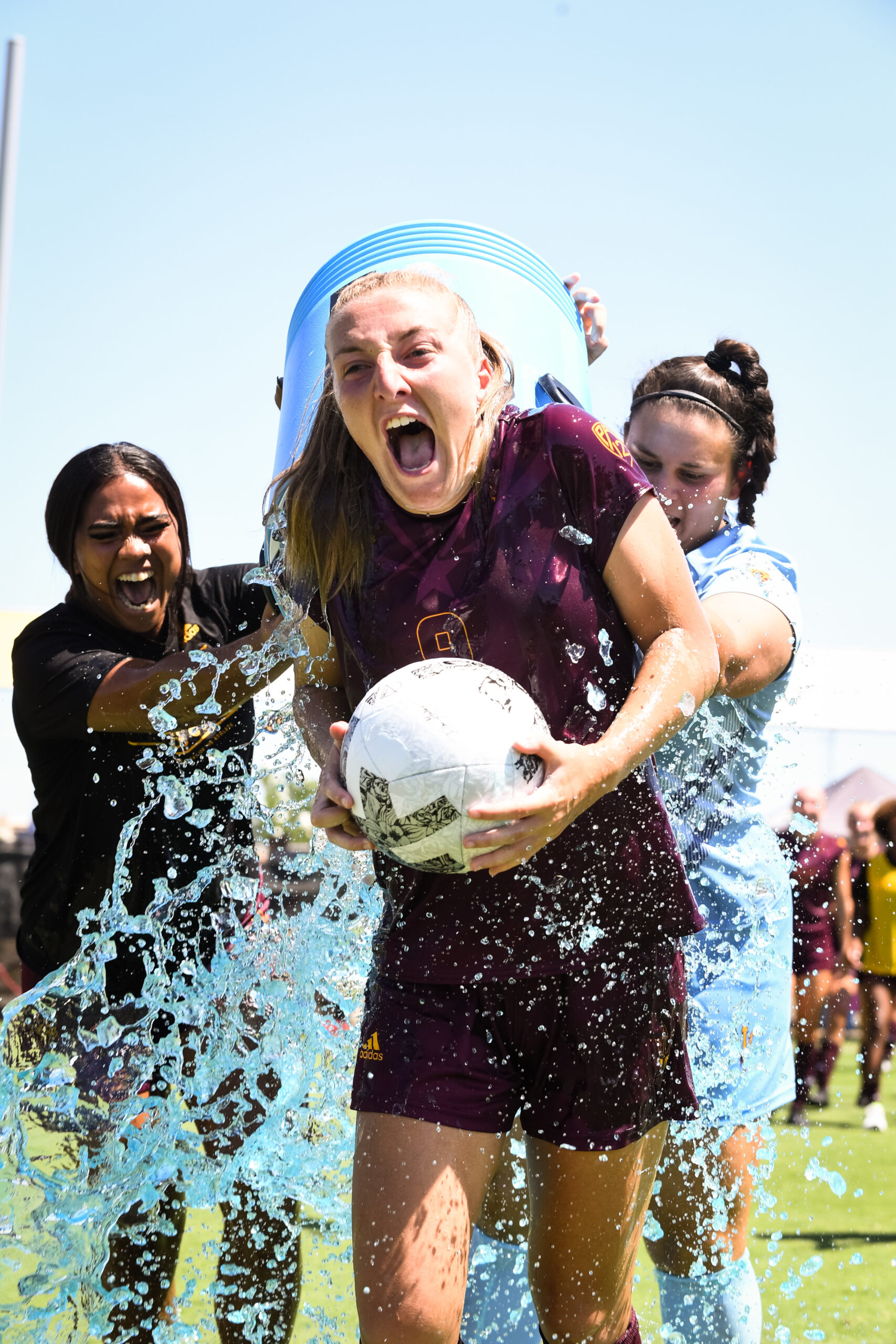 Cali Farquharson made a solid run at Tullock's records from 2012-15 but couldn't quite get the height that Douglas reached Sept. 1 with her 11th multi-goal game for 51 total in 75 games. Tullock scored 50 goals in 77 games and Farquharson 44 in 74 games. "Breaking this record is dedicated to my teammates, my family, my friends, my coaches," Douglas says. "Everybody who supported me on this journey. Coming in as a freshman at 18, I never thought this would be possible. To hold that record now is just an unbelievable feeling. I'm speechless."
Douglas is rarely at a loss for words, especially around ASU coach Graham Winkworth, another English native. They are like a comedy act at times, poking fun at each other but born out of deep respect. "We give each other so much grief every single day, but it comes from a good place," Winkworth says. "It shows we care." A place that includes not only nationality and their sport but tragedy that befell both in 2013, before they had even met. Doug Douglas, Nicole's father, died of cancer three days after he was diagnosed. That same year, Winkworth's infant daughter Darbi died one day after her birth. "We can both related a little bit," Winkworth says. Douglas, who started in soccer because her twin brother George was a goalie, had doubts about her future in the sport after the death of her father, a rugby player. Her mother Sandra also is a former athlete in synchronized swimming. "It hit me so hard, and he was such a major influence in my life," she says. "But the rest of my family really supported us through that time. It just made me stronger and made me the person I am today. Every game I play is for him and for my nana (grandmother, recognized when Douglas scores at home with the playing of nana's favorite song "The Best" by Tina Turner). "He'd be so proud of me if he could see where I am today."
Now at 22, Nicole comes close to being the ideal player and teammate. She could have turned pro after last season, when she led the nation in goals (19) and points per game (2.25) and was All-America third team. Instead, she committed to returning with three others — Alexia Delgado, Eva van Deursen and Olivia Nguyen – for a fifth season, allowed due to COVID restrictions impacting the 2020-21 school year. "We weighted out the pros and cons about staying or leaving," Douglas says. "It was more about the experience part, the level in the Pac-12. It's an opportunity we couldn't turn down. We all want to go professional, but we're still very young. "I did think about the (goals) record, but it wasn't the first thing. I love being at ASU. If I could be here for 10 more years I would." ASU made the NCAA Tournament for the first time since 2014 in 2020-21 (spring season due to COVID), losing in overtime in the second round to Duke. But in fall 2021, the Sun Devils regressed partly due to injuries, missing out on the postseason.
Leaving Douglas, despite her individual success, with two voids to fill this fall. "We don't want to make the NCAA Tournament just once," she says. "We feel like this is the year we can go back with the depth we have. And I am not leaving ASU until we beat UA." Arizona is on a seven-game rivalry win streak, five of those since Douglas started at ASU in 2018. English defender/forward Jemma Purfield preceded Douglas, transferring to ASU from South Alabama when Winkworth was hired from there in 2017.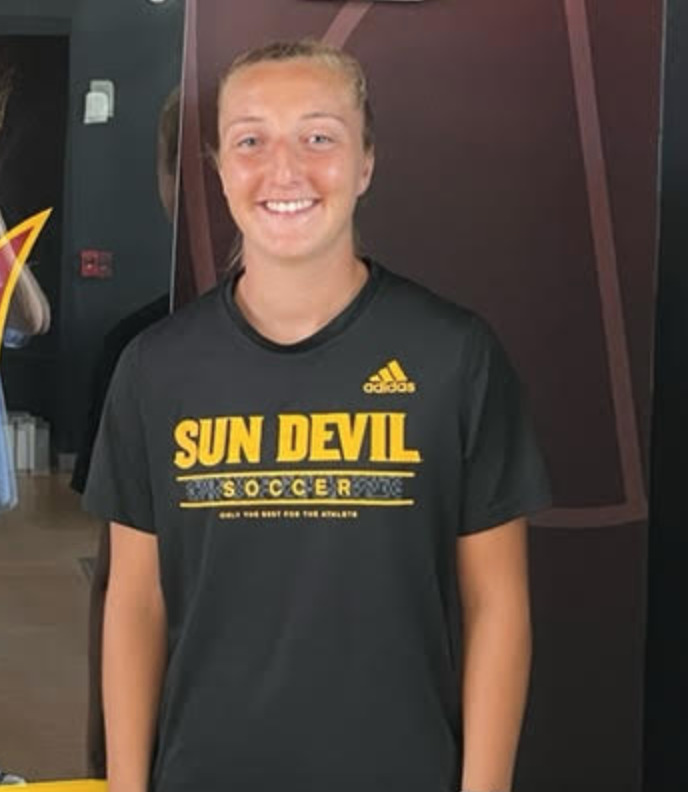 The main attraction for Douglas, though, was Winkworth aaand his team style of play, which both knew was suited for her striker ability. "It was positive for me that the (ASU) coaches are English because the way I played back home at Chelsea (her club team) was very similar," Douglas says. "For me not having to change what I had been doing for the last 11 years was a big part of why I came here. He knew my strengths and weaknesses, me playing as a false 9 (striker), dropping in (to midfield) and turning my defenders to play our wingers through the back line more than running in behind."
Winkworth says most top forwards in the U.S. rely on speed and athleticism. "That's just not Dougie. However, if you give her the ball in certain spaces, she's deadly. It's making sure we play in a manner that puts her in positions to score, and we've done a decent job of that over the last few years. "She needs to pick up the ball in dangerous parts of the field and not have to run 15 yards to do it. At the same time, she's also equally deadly at creating goal-scoring opportunities for other players. And that's not touching upon her work defensively. She's special, that's for sure."
Winkworth is convinced Douglas would have been a 2022 NWSL first-round pick had she opted for the draft (former ASU/Grand Canyon forward Marlene Schimmer was taken ninth overall). Douglas is open to the NWSL, where Farquharson plays for the Houston Dash, and to international leagues. Purfield plays in the English Women's Super League, currently for Leicester City. Although Douglas played internationally for England as a junior, she now is eligible to play for Ireland, still alive in 2023 World Cup qualifying. "I am thinking about it as my time here is coming to an end," says Douglas, already with five goals in four games for ASU. "I'm in that process of thinking about what options I may have. But right now my focus is more on performing for ASU (2-0-2, off until Sept. 14 due to COVID protocol) and getting results for the team and training as hard as I can to prepare me for my professional career."