Shepherd's Greater Calling
Silent surroundings can often fuel perspective through clarity of life's "bigger picture."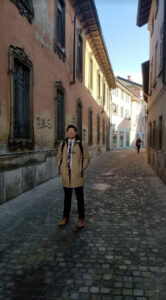 — Zack Shepherd (@zshep12) January 18, 2019
When his mission concluded, Shepherd returned to the states to start college life in Cedar City, Utah. The quaint college town, with a population of around 33,000 and home to Southern Utah, sits 250 miles south of Salt Lake City.
His first year-plus as a student-athlete, studying business and political science while strapping on the pads again, was everything he had hoped it would be.
But there was a greater calling – one which included him saying goodbye to the sport he loved since early childhood.
"It was a very difficult decision, but I decided to step away," the 21-year-old Shepherd explained. "The main reason was because I realized there was a lot of things in life that I needed to do. Football treated me so well for so long, but I decided my time was better spent elsewhere."
That time turned to founding Fatherhood Initiative, a non-profit organization "dedicated to fathers, and the role they play in the family, a child's life, and society as a whole," per their website's mission statement.
I've recently started a nonprofit organization, Fatherhood Initiative, which promotes responsible fatherhood and encourages a more father-present society. There's a ton of information on our social media and website https://t.co/PvS4cyHNLT dm me w/ any questions! pic.twitter.com/dpmO4bReGh

— Zack Shepherd (@zshep12) August 4, 2022
Shepherd's motivation for the project came from his father, Steve, who has helped guide and support him throughout his life.
His positive, supportive childhood relationship with his father was one Steve never experienced.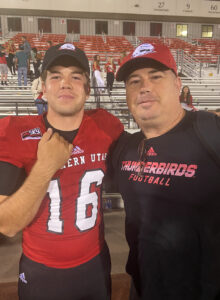 After about a year of pouring himself into Fatherhood Initiative's concept, research, and website design, the project was launched and made public a little over a month ago from the time this column was published.
Even with three years of football eligibility in front of him, he has no second thoughts about hanging up the cleats.
"At the end of the day I have not regretted stopping playing football once," he said. "Because I just worked a ton on this project, creating this organization. I miss [football]. It treated me so well but, at the end of the day, I'm glad I didn't wait because I feel my life is a little bit more fulfilling. Maybe even a little bit happier."
Accomplished one of my lifetime goals yesterday and wouldn't want it to be with any other team! Hard work really does pay off #AllTheWay 💍 pic.twitter.com/VtdNoa7rwm

— Zack Shepherd (@zshep12) November 27, 2016
Life is moving fast for Shepherd. On top of his Fatherhood Initiative responsibilities, he's taking two SUU on-line courses (he was a Big Sky All-Academic Team Honoree in the spring of 2021), and will be doing an internship this fall with Utah Senator Mitt Romney in Washington D.C.