(All photos courtesy Kenda Newbury/ @Train.N.Pics)
Payson, AZ – Camp Tontozona
Sunday 9:42AM – It isn't quite August but, make no mistake, Arizona high school football is back, as I exit my car following a fairly seamless two-hour drive up winding Highway 87 from the Valley.
The air is thin, and crisp, as the sounds of hip hop music, coaches' whistles, and players chattering reach a beautiful crescendo as I make my way down the gravely road to the picturesque, tree-lined field at the base of iconic Camp Tontozona.
"Camp is about setting the tone for the season. We want to make sure that all the work we did in the spring and in the summer should build up to this point. We talked about this [Saturday]. This is where we start. Everything that we do, we want to make sure we're doing correctly from the get-go. It's really about setting the tone with our intensity, with our discipline, with our attitude, and our effort." – Pinnacle head coach Dana Zupke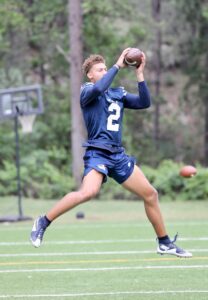 10:17AM – Under overcast skies and with the fresh scent of rain still in the air after a heavy downpour the previous night, a smattering of parents watch intently from the north sideline as senior tight end/wide receiver Duce Robinson sprints past the secondary for a deep completion down the opposite sideline as his offensive teammates chirp their approval at Pinnacle's first-team defense.
"It's surreal. I remember doing [camp] coming into my freshman year. I hadn't even entered high school yet but I remember making all those memories. Now fast forward four years later and we're here in the same spot as the guys I looked up to my freshman year. It's crazy to think this is my last camp." – Duce Robinson
10:56AM – Despite working together dating back to the early months of spring, camp provides additional reps for the offense, and defense, to not only further sharpen their knowledge of the Pioneers' schemes as the dress rehearsals shrink towards the regular season, but it also allows periods designated for timing, and rhythm, key components for Pinnacle's first-year starting quarterback, whomever that may be.
Strong-armed 6-foot-4, 225-pound junior Ethan Wall, who flashed moxie when pressed into action late in the season, is on track take the keys to the offense, but Zupke says he is being pushed by senior Nolan Ganter, who is coming off a torn ACL injury last season.
— Eric Sorenson (@EricSports360AZ) August 1, 2022
Zupke has built in the practice schedule "once or twice a week" various fun activities to keep the mood light during the grind of the camp and throughout the season.
3:41PM – It's nearing the back end of the workout, and the time has come for me to start getting ready to complete my day trip to eastern Arizona.
As usual, the Pioneers' schedule is daunting (Liberty, Queen Creek, Horizon, Highland, Saguaro, among others) but there is plenty of talent returning and experience at key positions to improve on last season's rare losing campaign.
Congratulations to our 22-23 Pinnacle Football Leadership Council and our four player-elected captains
Myles Libman
Duce Robinson
Elijah Paige
Brady Ponce pic.twitter.com/jxyudAUPz1

— 🅿️INNACLE FOOTBALL (@GoBigBlue_PHS) July 31, 2022
Camp is about improving as a team on the field but, more importantly, an opportunity for the players to sharpen their minds and continue to grow and mature into young men in an unfamiliar environment, as well.
"As far as X's and O's, [camp] is really all about the mental side…doing the right things, as far as camp behavior. It's pure supervision. We're counting on the kids to police themselves. So, there's a lot of responsibility bestowed upon them when they're up here at camp." – Zupke
That's a wrap from Camp T.
Thanks again, Pinnacle football, for letting "Zone Read" tag along for a day.