Story by Jeff Metcalfe
Brianna Turner goes by Breezy, but the nickname doesn't come close to capturing the essence of one of the WNBA's most prominent social activists.
There is nothing light and breezy about the issues that 26-year-old Turner chooses to tackle, in media opportunities, on social media and elsewhere. She is among the most outspoken players in a still young league (26 years) known for its diversity and steadfast support of Black and LBGTQ+ rights.
The turning point toward activism came when the 2014 USA Today national high school Player of the Year left her native Texas to start college at Notre Dame, already on a four-year run of NCAA Final Four appearances.
"A lot of stuff happened in my college years socially, racial justice, gender equality," Turner says. "The influence of my surroundings made me more aware. I started following politics more when I was in college too and of course I was taking gender studies classes and some more politically influenced classes so I guess I just liked learning different stuff too."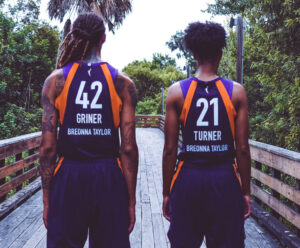 There was the time when former U.S. Secretary of State Condoleezza Rice spoke to the Irish after practice. Turner still is mad at herself for missing a speech on campus by Supreme Court Justice Ruth Bader Ginsburg.
In December 2014, when Turner was a freshman, Notre Dame players were far ahead of the Black Lives Matter curve by wearing warm-up shirts before a game with the final words – "I can't breathe" — of Eric Garner, who died earlier that year from a chokehold by a New York police officer.
Naismith Basketball Hall of Fame coach Muffet McGraw was at Notre Dame for 33 seasons (1988-2020), a run that included the careers of Turner and her Mercury teammate Skylar Diggins-Smith, a senior in 2013.
McGraw spoke to then Notre Dame athletic director Jack Swarbrick about her players' unanimous vote to demonstrate in support of Garner, receiving his support. "I don't think we anticipated the pushback we would get," she says. "Overall, I thought it was really positive."
"That was a good taste for them to see here's what we did, we knew it was right, and we didn't realize how many people would be opposed to it or took it the wrong way. It taught them when you have a message, you've got to think it through and make sure people understand your message."
Turner couldn't begin to imagine then how many messages she would feel compelled to send in the first four years alone of her professional career.
Never ending social issues
In 2020, six years after Garner's homicide and with the world in the grip of the COVID pandemic, the deaths of three Black people rocked America.
Ahmaud Arbery was murdered while jogging in February, Breonna Taylor was fatally shot by police in March and George Floyd was murdered by a police officer in May. Echoing Garner, Floyd's dying words were, "I can't breathe."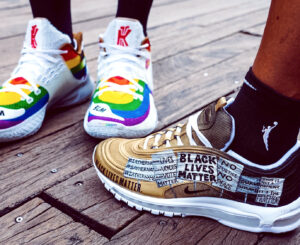 The WNBA, playing a shortened schedule entirely in Bradenton, Florida, dedicated its season to Taylor and more broadly to the Say Her Name cause, raising awareness for Black female victims of police violence. Floyd resonated with Turner since both grew up in metro Houston as did Mercury center Brittney Griner, another activist touchstone for Turner due to Griner's six month imprisonment in Russia.
"It's definitely been never ending," Turner says. "Talk about my body, my choice (since the Supreme Court decision overturning Roe v. Wade and a U.S. constitutional right to abortion in June) or trans rights, obviously talking about BG (Griner) a lot right now. There's always an issue I want to advocate for if I have this platform."
"Obviously everybody doesn't agree with me because I get lots of messages when people don't like what I have to say, but I think it's worth it."
"You definitely have to accept it (backlash). I get messages every other day about BG, people saying like she deserves to be there or this, that or the other. They really don't know her. They're trolls. They just want to let me know they say the opposite that I do. That's just something I'm willing to accept. I'm going to keep advocating for BG, talking about it, being about it even if people don't agree with it."
Occasionally after games, Turner speaks on behalf of all her teammates on a particular topic with no questions answered regarding basketball.
She frequently wears message shirts – "Why be racist, sexist or transphobic when you could just be quiet?" is displayed as her Twitter header photo – and her tweets are unambiguous on any number of topics including school shootings like the one in Uvalde, Texas, that took the lives of 21 (19 children) in late May.
Here's a sampler of Turner tweets that will delight some and infuriate others:
Kids are participating in school shooter drills. Parents are buying bullet proof backpacks. Teachers must decide if they are taking a bullet for their students. Primary students are supposed to be making baking soda volcanos not fearing if they'll enter a war zone when on campus. – May 25
Anti-maskers real quiet today. Temporary requirements to wear a face mask in public space during a global pandemic? Complete outrage. Forcing people to give birth? Complete satisfaction. It's the conditional bodily autonomy for me. – June 24
I'm so sick of this false narrative that BG hated the U.S. … I think it's patriotic to hold one's country accountable for atrocious action … Yes I have family in law enforcement. Yes I have family with military experience. Not wanting the (national) anthem to be played before a game does NOT mean I'm discrediting those that have fought/represent for the U.S. – July 12
I consider myself an advocate for many different causes & cases. Sometimes doubt enters my mind when things take a while to develop. Patience is something I'm continuously working on and I'm glad that Breonna Taylor's name has not been forgotten. FBI charges against the cops finally. – Aug. 4
Thinking beyond basketball
Vanessa Nygaard is in her first season as a WNBA head coach, nursing a team without 6-9 Griner (2021 league MVP runner-up) and now without star guards Diana Taurasi (injury) and Skylar Diggins-Smith (personal reasons) in pursuit of a 10th consecutive playoff appearance.
The tumultuous year also included 6-4 center Tina Charles, 2021 WNBA scoring leader, requesting and receiving a contract buyout in late June. Instead of a post trio of Griner, Charles and Turner, Nygaard was left with Turner playing out of position at center and 6-1 guard Sophie Cunningham at power forward.
"She's had to make the most adjustments to BG being gone," Nygaard says. "She's probably of all our players had to make the most adjustments, and I really commend her for how hard she's shown up every day."
"I think she's handled it like a pro. She has definitely come to a point in her career playing next to BG where they really had a great chemistry and played off each other well. And they're very good friends. So that relationship was really good. Then this year obviously that changed. The one thing that hasn't changed is she's one of the best defenders in the league."
Turner made WNBA All-Defensive first team in 2020 and 2021, defending the likes of league MVP winners Breanna Stewart (2018) and A'ja Wilson (2020). She was on the WNBA All-Rookie team in 2019 and is the Mercury single-game rebound leader (21 in 2020).
Nygaard largely knew what she was getting as a player in Turner including the need to develop her offensive game (she averages just 4.3 points while playing more than 33 minutes per game). The revelation is discovering how bold the typically soft-spoken Turner, winner of the WNBA Cares Community Assist award for June, is in her beliefs.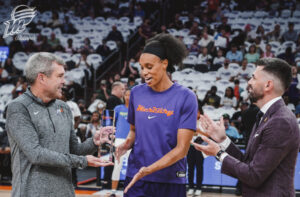 McGraw says, "What social media has done for this generation. It's given them that voice, but they're not standing up in front of microphone with a bunch of people listening. Even people who are a little bit a introverted can still use the platform. She wants to be a voice for people that don't have a voice. She's always looking to help someone else."
Turner, going to Turkey for the 2022-23 international season after previous stops in Australia, Russia and Italy, envisions playing for another decade. She is signed with the Mercury through 2024.
No matter what further accomplishments she adds as an athlete — she was four-time All-ACC and in 2019 played on an Irish team that lost by one point in the NCAA championship game – Turner senses that something more significant is ahead for her post-basketball.
Politics "does interest me," she says. "Not running for office per se, but maybe being an assistant to a mayor, a governor or a state rep. I want to get in the mix somehow. I made a lot of good connections over the past few years. That's definitely a benefit of speaking out."
McGraw sees Turner as a "change agent" for her generation. Nygaard jokes about wanting Turner to play forever but is intrigued with what she is destined to become, knowing it will be substantive instead of easy breezy.
"It will be really interesting to see what she gets involved with," Nygaard says. "You're a professional athlete, the world is your oyster, and she's using this extra time that she has when she could be doing
anything to help other people. I'm sure when she's done that's going to be very important for her."