One of the most interesting regular seasons in the history of the Mercury came to a close, and Phoenix earned the eighth seed of the 2022 WNBA Playoffs in the process.
While dealing with the emotional toll of Brittney Griner's wrongful detainment, then adjusting after Tina Charles' contract divorce, and re-adjusting to losing Diana Taurasi and Skylar Diggins-Smith down the stretch of the season; making the postseason meant something more in the Mercury locker room.
"We have gone through more than any other team has gone through times two," forward Megan Gustafson, who notched her first career double-double in the regular season finale, said. "It is a huge accomplishment for our team."
When questions arose throughout the year, the veterans helped keep the squad's mentality in check.
"I was asking Sophie [Cunningham] how do we make the playoffs and if there was a certain number of games we needed to win," guard Sam Thomas said. "She just said that Phoenix always makes the playoffs so just keep winning and keep doing what you are doing. That is what we have been doing through the ups and downs. We just kept focus on our goal and stayed with each other and here we are."
Cunningham's advice wasn't hyperbole – the Mercury has made the playoffs for the 10th straight season, giving Phoenix the longest active streak in the WNBA.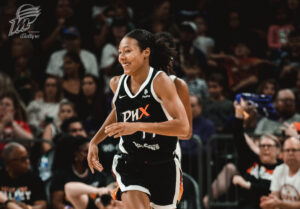 Even though they dropped the regular season finale to the Chicago Sky, that might've worked out even better for PHX.
Their loss combined with wins from Las Vegas and New York made the first round matchup an Aces versus Mercury showdown.
With Las Vegas All-Star forward Dearica Hamby out for at least the first round, the slightly smaller lineup could match up better for the Merc as opposed to the size on Chicago's roster.
"They have been doing a little different in their rotation than they did previously," former LV assistant coach and Phoenix head coach Vanessa Nygaard said. "Kiah Stokes has been playing well for them and she has some good size. Myself and my assistant coaches are going to dive hard into Vegas. We have already been doing the prep. We have been spending time and making sure we are ready in case of this scenario."
They've already begun prep, and perhaps, mind games as well.
Nygaard also mentioned that any Mercury player can potentially play in the postseason…including Kia Nurse (ACL), Diana Taurasi (Right Quad), and Skylar Diggins-Smith (Personal Reasons), who have all been out.
While it seems likely Nygaard is trying to give Aces head coach Becky Hammon more to consider during game-planning rather than any of the trio actually playing, as Nygaard said:
"Anything can happen in Phoenix."
And if there's one thing to take away from this season, it's expecting the unexpected, and the players know it.
"We cannot level down, we have to level up," Gustafson said. "That has been our mentality in every practice and game. A lot of us who didn't have as much minutes throughout the season are getting more because they can depend on us, so we just have to stay ready whenever that happens."
The postseason reveals what rosters are made of, and one could say this entire year has already done that for the Mercury.
Vegas beat Phoenix all three times during the regular season but it's been nearly 90 days since their last matchup, and that was weeks before PHX's small ball system was implemented.
"It is a reset in the playoffs," Nygaard said. "It is a new season. Everybody that has gotten in has a chance to win. We are really excited to have that opportunity."
That opportunity begins on Wednesday in Las Vegas as Game 1 tips off at 7:00pm.