It's been a long, painful run for the hometown 9, but on the field, I'm starting to see the makings of a sustainable product. I wish I could say the same for the building they are playing in.
Sat in my office Tuesday night, thoroughly entertained watching Zac Gallen breeze through the Phillies. He's not RJ or Schilling, but right now, he's dominant. 34-and-one-third inning without allowing a run. The top of the rotation is secure for 2023.
Corbin Carroll's batting stance reminds me a bit of Craig Counsell's. Do you see it too?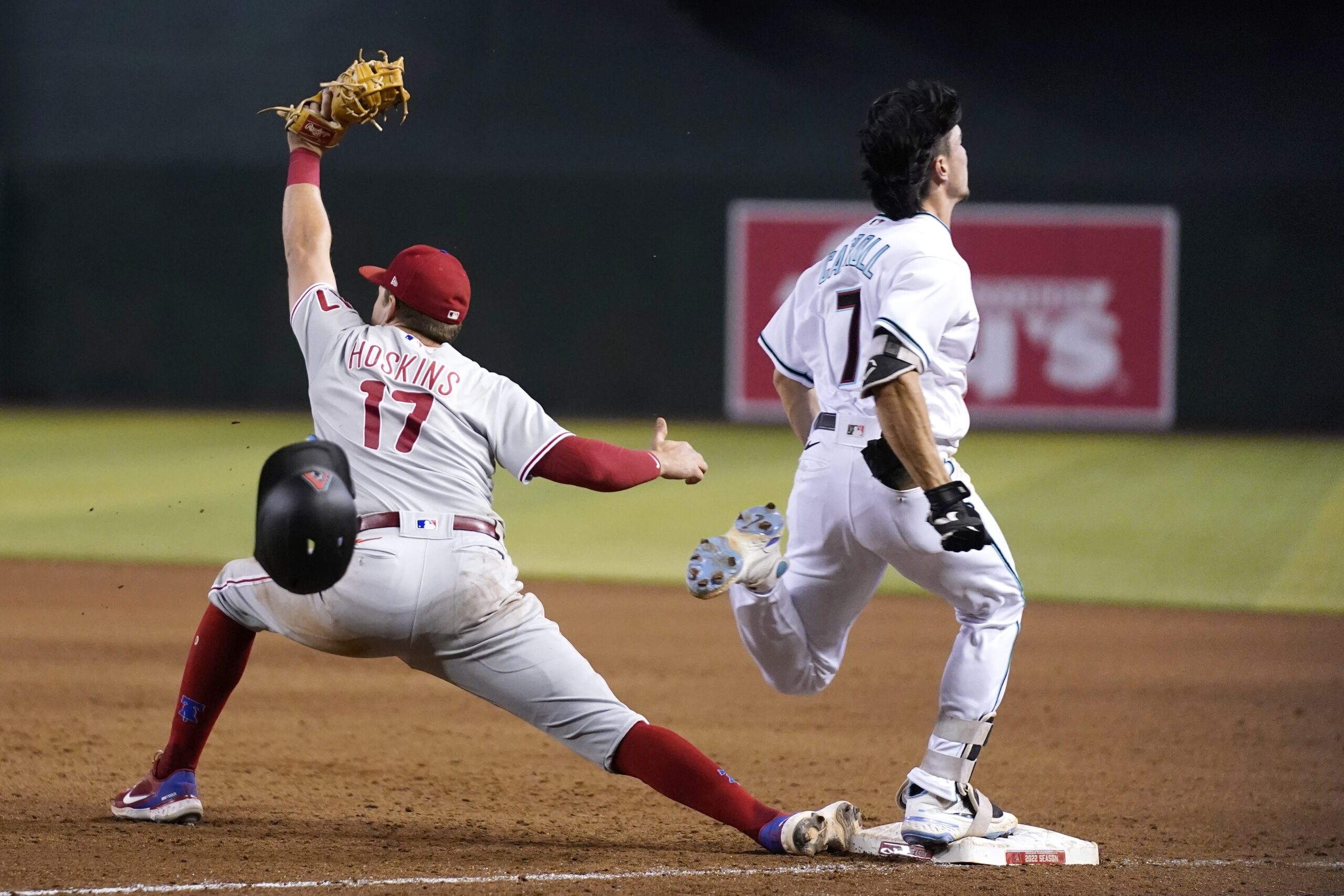 Carroll or Devon Allen. Who do you take in a straight line? It wouldn't be a blowout. Dude is fast…
A triple is the most exciting play in baseball…
The manager can only be as good as the talent he is provided. There are Dodger fans I run with who don't like Dave Roberts style. Torey Lovullo's option being picked up is the right move at the right time. Finish the season strong with the kids getting their opportunities. Good plan…
Carson Kelly hitting leadoff with a .225 average isn't going to cut it in 2023…
Hamilton fatigue…
It was a win for the players at Hamilton, but a loss for the adults. Just so we are very clear, this won't be the last time a coach on staff gets accused or caught of recruiting. I've been here for 29 years, and the guiding/migrating/recruiting of players through pop warner coaches, speed coaches, strength coaches, quarterback whisperers, 7th and 8th-grade junior high flag football coaches, head of youth football organizations, club football coaches, assistant, and head coaches, recruiting "advisors", etc, etc, etc. will never stop in the high school sports space. In baseball or softball, you better play for the feeder program to the high school by the time you're in 5th, 6th grade or you're already behind the eight ball. The same for club volleyball and soccer. Daddy-ballers want to build a loaded team so their kid can win a title. That's just how it is.
No high school player should've been punished for what happened at Hamilton, but there will be more shenanigans. Daddy-ballers won't be happy with playing time in the next month, and the reach-outs will start up. By Christmas break, the shopping season will have already happened, and then when school resumes in January, there will be a slew of transfers. Rinse, repeat. Snapchat is the platform where a lot of reach outs happen according to coaches I've spoken to on the subject. Within moments Snapchat goes away. A screenshot of a DM does not.
I felt the AIA came off as heavy-handed when this story first broke. Now after the reversal, I feel as though the model is set for schools that do get caught recruiting. Get rid of the coach that did it and move on. What can the AIA do? One of these times, they will have to bring the hammer and not let up on the nail…
Basha vs Hamilton, Chandler vs Saguaro, Two regular season high school football games that you should make a point to attend. Yes, there are many others you can put on the list, but trust me the below the surface storylines make the two matchups must-see…
By my count six Arizona State football players from last years Vegas Bowl team made NFL rosters. Yet, we all saw a team that under performed. Alamo Bowl or greater and I'll be doing cartwheels(probably pull a hammy)…
Another chapter in the Brock Purdy book was written over the last eight months. Not a better story for coaches to tell players in the college recruiting cycle than the former Perry QB, who made the 49ers 53-man roster on Tuesday…