Lead the Way, Jose
It's been over two years since Jose Lucero got the call he'd always dreamed of, an opportunity to return to his alma mater, Saint Mary's High, as the head varsity football coach.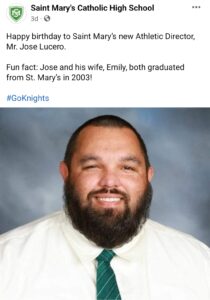 That's right, Lucero will not only be strategizing X's and O's for SMHS football, he'll also be overseeing the blueprint for an entire athletic department.
Those are two fairly big hats to wear for the well-liked and respected 38-year-old, considering Saint Mary's competes in 4A, with an enrollment of just 480 students.
The school made the official announcement last weekend, on of all days, Lucero's birthday.
"So, obviously, the athletic director job became available," Lucero explained to the "Zone Read." "I've been involved in athletics now going into my 16th season as a football coach. I just felt like this was my opportunity to step up and serve this community, and it all worked out. I was given this chance and I'm really looking forward to it.
"Transitioning to athletic director is something that a lot of coaches have done and I felt like I was ready for it."
Of course, "Zone Read" had to ask: is Lucero, as the head coach AND athletic director, essentially his own boss as the pecking order goes?
"[laughing] In somewhat of a way, yes," he quipped.
Lucero's deep-rooted connection to the private central Phoenix Catholic high school goes back to his playing days with the Knights in the early 2000's – the same place he met his wife, Emily.
He's also not the only alum who's chosen to come back and be a part of the athletic program.
"We're in a really unique spot at Saint Mary's," he explained. "A lot of our programs now have alumni coaches and have been around for a long time. Our head baseball coach is alumni. Our swim coach is alumni. Our girl's basketball coach is alumni. Our head softball coach is alumni. We just have a lot of people who just care about Saint Mary's in those positions of leadership on campus."
People are also starting to care about Knights' football again, too. The school's tradition rich brand had gone flat before Lucero left behind a loaded Desert Edge roster, which he had built and developed, to return for his "dream job" as he called it.
After a 6-3 season in Lucero's first year, the Knights jumped up to 8-4 in 2021, pushing eventual 4A State Champion Casa Grande to the brink, before falling 31-29 in the quarterfinals.
"I knew we were going to work hard and get things going," he said of the fast success. "But I never would have [dreamed]we would turn things around as quickly as we have and that's just a testament to the kids we've had come through the last couple of years that have really bought in…there is a buzz [again]. It's been fun."
St. Mary's rushed for 2,797 yards last season (233 ypg). Just 238 yards of that total came from seniors. The Knights return Joseph Beguhl (918 yards, 10 TDs) and David Galindo (905 yards, 18 TDs) along with 2 offensive tackles that were All-Region last year.

— Gridiron Arizona (@gridironarizona) July 7, 2022
While's Lucero's dual role in athletics with SMHS is fairly unique, he's not the only 4A varsity football head coach who also oversees an entire department of coaches and student-athletes. David Inness from Northwest Christian and ALA-Gilbert's Randy Ricedorff also serve as their school's athletic director.
After accepting the AD job, Lucero contacted both to pick their brains on everything from running a high school athletic department, to time management, and all things in-between the full days both positions require on an individual basis.
Congrats to @SMBaseball for winning the 4A Skyline Region tonight!! Great job fellas!! #WeAreSM #GoldSZN

— Coach Lucero (@Coach__Lucero) April 26, 2022
Are Inness, Ricedorff, and Lucero Arizona trend setters handling both responsibilities, something much more common at the prep level in bigger states like Texas?
Time will tell.
For now, Lucero is just figuring out ways to keep his on-campus desk organized. It will surely get a bit more cluttered in the coming months.
Good things happen to good people.
AA's Big Day at UofA
While college recruiting can be imperfect and, at times, cruel – sometimes it's best to just trust the process.
More importantly, trust, and bet, on yourself.
Anyone who saw Ammon Allen shine as a two-way star at Gilbert Highland High knew he was a Power 5 player.
This week it became a reality for the University of Arizona redshirt freshman.
Congratulations to @dantecirvonni and Ammon Allen for receiving a full scholarship!#ItsPersonal | #BearDown pic.twitter.com/vygWg0XHDr

— Arizona Football (@ArizonaFBall) July 19, 2022
"When I first got to UofA last year, I kind of had a plan that I would walk on my first year and if I worked really hard, I'd hopefully get [a scholarship]," Allen explained to the "Zone Read." "I wasn't sure I was going to get it, but I was super happy to get that surprise."
Another surprise to many was Allen's body transformation this summer as the former prep wide receiver and safety, who helped lead Highland to the 2020 6A State Championship Game, transitions to linebacker at Arizona, under first-year Wildcat defensive coordinator, Johnny Nansen.
"Six months ago I was about 194 [pounds]," he explained. "In about six months I was able to put on about 16 pounds of lean body mass and keep my body fat down. It was a hard. I was up late making [protein] shakes. It's still hard. I have to keep gaining weight. It was a big sacrifice but, it's crazy, my strength has gone up a lot, too."
At just over 6-foot-3 and now close to 210 pounds, Allen's speed, added strength and hybrid versatility as a former 1st-team All-State defensive back could be a welcomed addition to a defense who struggled stopping the run and rushing the passer. He has been practicing with the second-team defense and said he expects to play on special teams this fall, as well.
Ammon Allen on scholarship after one year is the least surprising thing ever @CodyTCameron @JUSTCHILLY https://t.co/jUOvX3iswA

— Ralph Amsden (@ralphamsden) July 19, 2022
The transition to a fresh scheme and, more importantly, an entirely new position starting with spring ball and now into the summer has been "difficult," but Allen has always been open to the challenge, even as a true freshman walk on.
"When I wasn't on scholarship and I was grinding, it was hard at times," Allen said. "I just put my head down and worked like everyone else. Hopefully the coaches would see that and I'd earn their respect from my work ethic."
Mission accomplished, Ammon.
Bear Down.
One to Watch – Bulldog Mentality
One play can change everything.
Just ask Queen Creek's Luke Gonzalez who saw his outstanding junior season cut short, suffering a season-ending knee injury against Liberty in Week 6.
Now the 6-foot-2, 180-pound free safety and wide receiver is back, and poised for a big senior campaign for the Bulldogs.
Absolute hit stick here from @QC_football 2023 DB @Lukegonzalez08 comes over and fills the alley forcing a fumble and recovery by Kade Farrell. pic.twitter.com/EeAS65IYyw

— Cody Cameron (@CodyTCameron) October 16, 2021
"He has worked hard to get back in shape and rehab," QC head coach Travis Schureman said to the "Zone Read." "Luke plays at a high level on both sides of the ball. He is a competitor who makes our team better."