I often refer to our little slice of heaven as "the busiest sports market in America that nobody knows about."
While national networks and media companies chase their daily click goals off of Aaron Judge, Deshaun Watson, Rafa, and 5-things that make the Yankees unbeatable, followed by rinse/repeat, I'm looking at our own backyard and see more than enough interesting and relevant topics to hit on. I'll get to Durant and the Arizona/Always Something University future home in a moment, but let's start with the next fresh face/name that should be showing up in Phoenix any week by way of Amarillo, Texas.
Corbin Carroll should be wearing an Arizona Diamondbacks jersey by the time we get to August 1st if not sooner. The hometown nine is meandering along this season. At times they've given me hope for the second wild card slot and at other points look like a bottom-feeder. If you haven't heard or studied up much on Corbin Carroll, now is the time because it's time for the D-Backs to bust up this cast of current characters and move forward.
Corbin Carroll has been named to the National League Futures Game roster

— DbacksFarm (@FarmDbacks) July 6, 2022
His production at AA has been off the charts.
http://
Corbin Carroll homers for the 16th time this year. He also stole his 20th base.

Carroll is the only player in the minor leagues with 15+ HRs and 20+ SB.

— DbacksFarm (@FarmDbacks) June 22, 2022
He also has almost as many triples(8) as doubles(11). He'll turn 22 in August, so he's putting up very good numbers against older competition. I don't see the need to stick him at Triple A. https://www.milb.com/video/carroll-rips-opposite-field-homer-x2209?t=playerid-682998
This wouldn't be a Justin Upton rush job, but it would be smart business to get more of the younger names up here. Alek Thomas has more than shown he was ready and now there's a bit of a buzz in the community about him. The logjam of outfielders and left-handed bats needs to change by the trading deadline. It shouldn't be that hard to get the future up here, now…
I'm on the side of the street that trading for Kevin Durant makes sense on many levels, but I'm not convinced that this franchise knows how to be patient and rebuild if things don't go well. Golden State and San Antonio know what they are doing when times are lean. Both are model pro sports franchises. While I admire what James Jones and Monty Williams have done with the Suns in a relatively short period of time, the facts are they haven't had a season when injuries wiped them out(See Golden State in 2020-2021). The Spurs won't be down much longer. They have a hall of fame head coach and weren't going to win anything of substance with all-star guard Dejounte Murray, so they shipped him to Atlanta for three first-round picks. Going after Durant is fine. But, as we are just in Brooklyn, it doesn't mean that he's going to bring a title to Phoenix.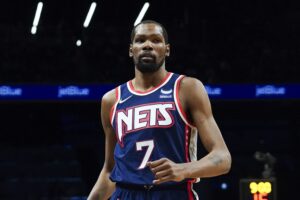 Monty needs to take a CE(continuing education) offseason load management course and not put on more than 20-30 minutes per game out of his starters until late March. The smart way to win NBA titles is to be mediocre in the winter and rev up the last 10-15 games of the regular season. Resting players to win 16 games between April 15th and the middle of June is the blueprint. IF things went south in terms of injury or chemistry, at least the Suns went for it. I don't want nice teams that win a bunch of games between Late October and May. I've seen that movie many times, and so have you. We both know how it ends…
Phil Knight may ultimately be the deal maker for the new Pac-12 and/or Superconference…
One of the more interesting talking points on the potential of the ACC marriage with the Pac-12 is the current Grant of Rights media deal that runs through 2036. Talking with a media attorney and a couple of agents, "If eight or more of the ACC schools want to go, they could get out of the deal." Again, what would be so wrong with Arizona and Arizona State being in a Super conference where basketball was bigger than football? Kansas, North Carolina, Duke, Virginia. Arizona. Eventually. college football will be its own business. They will have a commissioner and rules for the forty or so teams. The NCAA is in the business of running tournaments. March Madness brings in a whole lot of dough. Baseball and softball NCAA tourneys don't hurt the bottom line either. It's not like Arizona and Arizona State were finding their way to Pasadena for a New Years Day football game very often or at all…