Everyone knows the classic story of the Trojan horse. (If you don't, google it)
It's a story of outsmarting the opposition and the willingness to go the extra mile for victory.
"Whatever it takes to win – that's the play style," head coach Greg Davis said.
While the Paradise Valley Trojans could benefit from more players on the roster, their focus is on those already working hard to prepare for the battles this season will bring.
"They've stuck with it," senior defensive end Phillip Dozeman said. "They've stuck with me. They've stuck with the team…If we have to do it with 25 dudes, we'll try our hardest."
Even though the program's request to move down from 5A to 4A was denied, the AIA decided to move PV from the Northeast Valley Region to the Central Valley Region.
"People keep bringing up the fact that we went to the state championship last time we went down," Davis said. "That was in 2015. I wish that conversation would end…our kids are the one's paying the price for something that happened seven years ago."
It's an understandable request, seeing as the Trojans' rosters have hovered around 25 to 35 players.
"We're playing teams that have 70 kids," Davis said. "You don't feel real great as a coach putting a kid out there and telling them you gotta play every play. I don't think safety is real great at that point. When they get tired, you turn around and there's no one."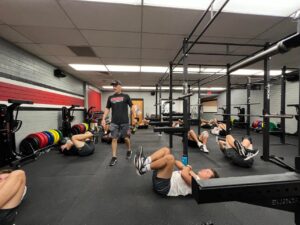 Not only has there been a numerical difference between PV and other schools in their previous region, but according to Davis, there's also been an economical difference.
"People hear the tag 'Paradise Valley' and they think the township 'Paradise Valley,' which is about 10 miles away and has $2 to $10 million homes," Davis said. "That's not us."
The other schools in their new region are Copper Canyon, Kellis, La Joya Community, North Canyon, and West Point.
"This year is gonna be different because we're playing teams that have similar situations to us," Davis said. "I think it really is gonna help with us staying motivated throughout the year."
"We're hopeful that we could do something great." Dozeman said. "If we can pull something off this year, that'll probably be one of the proudest moments of my life."
Another rejuvenated element for PV is the team's health.
Last year, three of their top student-athletes broke their collarbones in the first few weeks of the season.
Not only will the Trojans have rising star prospect in dual-threat quarterback Jaiden McDaniel back, they'll also see the return of DB/WR Jaden Ralston and Quincy Wright in the backfield.
"We've had this problem so much that we've kind of dialed it into a science," Davis said. "When kids are motivated to hold each other accountable is what makes it fun. These guys have that."
"Everybody has that same end goal so they push each other and bring each other closer," senior linebacker Angel Vega said. "It's just us and that's all we need."
The connections built through sports is a unique bond that Davis wants more students to experience.
"The reason why I put out on social media every week, 'We need players,' is because I feel like the game of football has taught me so much," Davis said. "I feel like kids are just missing out on that opportunity. I want as many kids in our program so I can be a part of growing them up and making them great people in general."
Trojan Nation: August 8th is day 1 of mandatory football practice. Wrestlers, basketball players, baseball team, track & field, soccer athletes & any student at PV, we would love you out if you want to work and be part of our family. No way around it, WE NEED PLAYERS. #WeUsOurs

— Coach Davis (@FBCoachDavis) July 26, 2022
If you're wondering what kind of team to expect from Paradise Valley, it's a versatile roster full of guys who pack their lunch and pack a punch, night in and night out.
"Where our strength is, is we have a lot of athletic guys that can run around and make plays," Davis said. "Where we're gonna have to get pretty creative is our line play. We just don't have a ton of depth in those spots…Our guys have done a great job of learning our system and from there we can adjust as needed."
The Trojans start official football practices on August 8th as their new slate of competition awaits.
"All you ask for as a coach is a competitive chance," Davis said. "I feel like we got that."