"Talking about my wife in the light of her absence from her country, her safety, and her humanity as a person is gut-wrenching."
Brittney Griner's wife, Cherelle, was honest and vulnerable as she spoke if front of hundreds.
It's been 140 days since Brittney Griner's wrongful detainment.
The Phoenix Mercury held a 'Bring BG Home' Rally at Footprint Center in downtown Phoenix Wednesday night.
"I'm frustrated that 140 days have passed since my wife has been able to speak to me, to her family, and to her friends," Cherelle said. "I'm frustrated that my wife is not going to get justice. I know you all are frustrated too – that's why you're here. This easily could be any one of us."
The evening was filled with memories, poems, speeches, and hope.
Hope of a resolution for Brittney to finally return home to Cherelle and their family.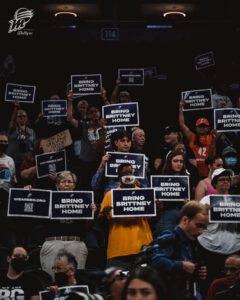 President Joe Biden reached out to Cherelle Wednesday morning and expressed his administration's goal of bringing Brittney, as well as all American detainees in Russia, home.
Thursday morning, Griner pleaded guilty.
"I'd like to plead guilty, your honor. But there was no intent. I didn't want to break the law," Griner said, according to Reuters.
It's a strategy many expected due to the recognition that it didn't matter whether or not she had the vape cartridges – she was going to be found guilty.
"I'll continue calling on our government to bring her home despite what or how I feel," Cherelle said. "Let's make sure this administration knows that they have our support to do whatever is necessary and we are not going to ever be quiet until she's home safely."
Former Mayor of Phoenix, Greg Stanton, was in attendance after his resolution calling for Griner's immediate release was passed by the U.S. House of Representatives earlier this week.
"This President and the Administration – they're gonna have to be really strong and work really hard to secure Brittney's release," Stanton said. "With this resolution, it shows that this congress, in a bipartisan way, will have the President's back when he has to make those important decisions."
Teammates and friends shared stories about BG, including Brianna Turner, who received a letter from Griner on Wednesday.
"I wrote and I told her how she was gonna be an honorary All-Star starter," Turner said. "BG got that great sense of humor and she told me that she'll probably get the worst stat line since she won't be in the game."
What Brittney didn't know was that 42 would actually stuff the stat sheet in the second half of the All-Star game, since the players honored her by wearing her number.
As the X-Factor continued to pour into the seats, their voices in support of BG filled the hearts of her loved ones.
"The people who really know and care about BG have really responded," Mercury President Vince Kozar said. "It was gratifying to be able to bring together a bunch of people and just talk about BG. Talk about all the things that make her great, talk about all the reasons she should be here, and to hopefully do some good."
After several teary-eyed speeches and passionate performances, the fire has never burned brighter to bring BG back.
"I ask for your help in continuing to fight for BG's safe and quick return home," Cherelle said. "Thank you for your love, for your voices, and for your prayers. We are BG."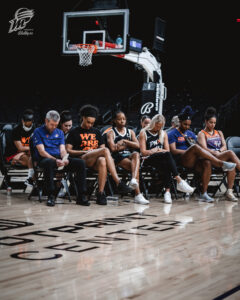 While Phoenix's season continues Thursdsay at Footprint against the Liberty, Griner is always top-of-mind.
"Playing for BG," Turner said. "BG42 is on all the courts. She's such a competitor, she's such a winner. Really playing for her."
Griner was arrested at Moscow's Sheremetyevo International Airport for what prosecutors allege was two cartridges containing 0.252 grams and 0.45 grams of hashish, or cannabis, oil.
Her drug smuggling trial continues in Russia as she faces up to 10 years in prison after pleading guilty and is hopeful for an eventual prisoner swap.