Story by Haley Smilow
Crowds at Gila River Resorts & Casinos waited in anticipation to see who would be called when the Coyotes were on the clock in NHL 2022 draft.
After enjoying food, drinks, and free prizes, the anticipated number one pick, Shane Wright,
was still left on the board. Season ticket holders, lifelong fans, and kids just starting their love for hockey all hushed when they saw Bill Armstrong, Coyotes General Manager, take the stage in Montreal.
The room filled with roars, howls, and lingering applause when Logan Cooley (18) was announced a Coyote over Wright. Wright was eventually drafted next by the Seattle Kraken.
Later after trading up with the San Jose Sharks for the 11th pick and Edmonton Oilers for the 29th pick, the coyotes took, center Conor Geekie (18) and defenseman Maveric Lamoureux (18).
Cooley is a native of Pittsburgh and will continue his hockey journey next year at the University of Minnesota. He wants to add a bit of size to his 5-foot-10, 181-pound frame before coming to the desert.
"It still feels like a dream," Cooley said after being drafted. "It's definitely a little crazy, but I'm super fired up to be a Coyote." Fans in Arizona cheered on the much-welcomed pick. "Cooley is a great pick," fan Charles Lutz said. "I like his energy and I think he's excellent."
Geekie, the Manitoba, Canada native, played for the Winnipeg Ice last season, where he scored 24 goals and produced 70 points in 63 games. Upon being drafted, he said, "I like the hot weather." His older brother, Morgan Geekie, currently plays for the Seattle Kraken.
With their final pick of the night, the Coyotes took the 6-foot-7 defenseman Maveric Lamoureux. Last season he played in the Quebec Major Junior Hockey League with the Drummondville Voltigeurs, where he tallied 24 points.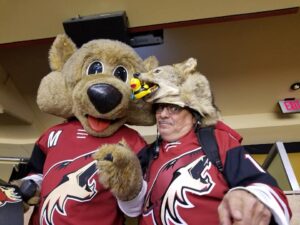 The local Arizona crowd, full of season ticket holders and longtime Coyotes fans, celebrated the team's new picks and the move to Tempe. "It's a good step," season ticket holder Ryan Travis said. "It's more centrally located around where the fan base is. A new arena is on the horizon and if it comes to fruition, the future is bright."
Fans were joined by current Coyote, Clayton Keller. He happily recalled his draft day, remembering what it was like finally seeing all the hard work pay off. For his new teammates, he offered them some advice, "You realize how hard it is to make the NHL," he said. "But to be successful in the NHL you have to put in even more time after your first two years make the most of every day." He also hoped to be playing with them soon. To the fans, he left with undoubted thanks and hopes for sellouts next season at the new arena.
"We've got a lot of young, talented and almost ready-to-go players," Joe "Coyote," Caruso said. "They need a chance. If they can play, work together and grow together, then in four to five years, we will be going for a cup."
The NHL draft continues Friday, July 8th at 8 a.m., where the Coyotes are currently scheduled to have the fourth and 11th picks to begin the second round.