Mountain Ridge's Alex Doost made his commitment to Northwestern on May 17. The 6-foot-6, 300-pound offensive lineman had eighteen offers to choose from but ultimately landed on Northwestern.
Committed! Cant wait to be apart of the Wildcat Family💜🤍!!#T1FM @coachfitz51 @OLINEPRIDE @MtRidgeFootball @VYDLperformance pic.twitter.com/FAyKERHQwM

— Alex Doost (@DoostAlex) May 17, 2022
He and his family valued the combination of high-level football and the prestigious education that he would experience as a Wildcat. Alex began the recruiting process with the help of his entire family, but especially his mother who got to witness him receive his first official offer from ASU before she passed away.
"She was my number one supporter the whole way through," Doost said. "She keeps me going and seeing her reaction after we accomplished something that big was just incredible to me."
Alex has lived by the motto, "This One's For Mom," or "#T1FM" ever since his mom passed away. Throughout the recruiting process, Doost included the hashtag on his posts anytime he announced a new offer and ultimately his commitment. While his mom didn't get to witness his commitment to Northwestern, Alex is confident she would be thrilled over the decision to commit to a school that would provide him with opportunities beyond the gridiron.
"We're a big educational and academic family," Doost said. "My dad was on the visit with me and he was just jaw-dropped the whole time."
Alex's oldest brother is studying at the law school at ASU and his middle brother just graduated from ASU. He is confident that his mom would've loved everything about Northwestern too.
According to ESPN's latest ranking, Northwestern is now among the top 25 recruiting classes for 2023 and the Wildcats have started to make a big impression on high school football players in the Valley. Centennial defensive lineman Dylan Roberts made his commitment to Northwestern on May 15 and Saguaro cornerback Cole Shivers committed on May 18.
Committed…GO CATS!! 💜🤍 #GoCats @coachfitz51 @CoachJimONeil @DLCoachLong pic.twitter.com/QQKmbyWNwf

— Dylan Jett Roberts (@DylanJettRober1) May 15, 2022
"Dylan Roberts was on the same visit as me, so we got to hang out a lot," Doost said. "We both agreed it's a great experience and AZ guys coming to that school is just really cool to have."
Committed!! #GoCats @CoachMohns @coachfitz51 @NUFBRecruiting @Coach_Smitty pic.twitter.com/H5EWdsEopk

— 5 ® (@coleshivers21) May 18, 2022
Alex is excited to be surrounded by familiar faces when he makes the move to Evanston, Il. And while his recruiting chapter is coming to a close, the hashtag and motto "#T1FM" will live on.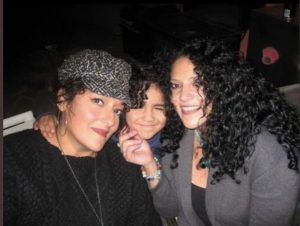 "It's not like I need to tag it to know who I'm doing it for," Doost said. "First day of youth ball my mom was there, so I've been doing this for her since I was like 10 years old."