Cole Martin – 2023 Basha, Cornerback
The 4-star Oregon commit took an unofficial visit to check out the Louisville Cardinals in late June to continue to explore his options. While the visit may come as a surprise to some, Cole says he still fully intends to sign his papers and officially become an Oregon Duck this December. Martin said he would be doing himself a disservice if he didn't take the opportunities he has in front of him to make official and unofficial visits and learn from the process.
Martin said it was ultimately his relationship with the coaches that drew him towards making a visit to scope out Louisville's program. He described defensive coordinator Bryan Brown as a coach who's "bigger than football" and someone he would like to learn more from.
"He's a great guy, a great coach, and honestly just a great person," Martin said. "Him keeping that relationship even though I am still fully committed to Oregon, that made me want to go out there and check out the ACC."
The Ville.📍 pic.twitter.com/KOppTO0rzo

— cole martin (@colemartin21) June 23, 2022
"Going to check out other schools means I'm just going to check out what the future at this school could do," Cole said. "I have a lot of friends that are all committed to Louisville from California and they all talk to me about the futures they have there."
Seeing every conference and how they operate is really important to Cole as he considers his future career at Oregon in the Pac-12.
"I've been around the Pac-12 my whole life and I know the Pac-12 inside and out," Cole said. "Now to go around and see the ACC and the SEC is really eye opening and it's really a blessing to be able to see it."
Martin says he's looking forward to the opportunity to play for his father, the cornerback coach for the Ducks. However, his dad fully supports Cole's desire to continue exploring all of his options before his December signing day. Cole says his father understands that he wants to experience all the potential he has and fully supports him wanting to enjoy the full recruiting process.
Happy Father's Day OG 🙏🏽 @coach_meat pic.twitter.com/qXhoT1cpRr

— cole martin (@colemartin21) June 19, 2022
"That's why I committed to play for him," Cole said. "It wasn't like I was playing for my dad, it was playing for the coach that I haven't gotten to experience yet because he's always just been a father for me rather than a coach for me."
Cole plans to make a handful of official visits and has settled on checking out Oregon, Louisville, and hopes to make it out to Texas as he has many friends committed to play for the Longhorns.
"Going around the country and really just being able to learn from each individual coach who has years of experience is only going to make me a better football player," Cole said.
Cole shared that NIL does play a role in his future in football. While he's considering his NIL opportunities, it is not the end-all be-all for Cole and will not be the deciding factor.
"NIL does play a big factor but there are a lot of things that come before NIL," Martin said. "Graduating early is a huge factor for me, and getting onto the field and into a scheme is a big factor, and other things going on more than just NIL itself."
In addition to continuing to explore the recruiting process, Martin is focussed on the Bears' potential this upcoming season. He says their motto is "Take It" after losing in the first round in the playoffs after going 10-0 in the regular season.
Carston Kieffer – 2023 Corona Del Sol, Kicker
The Corona Del Sol Kicker has rounded out his 3,600-mile road trip after making many visits, attending camps, and checking out some Breaking Bad filming locations.
Before kicking off his road trip this summer Carston attended a camp at the University of Oklahoma where he placed first in two separate field goal competitions.
Carston and his father were well prepared for their road trip with a full itinerary, some sight-seeing, and plenty of road trip snacks- Pringles and Subway sandwiches galore. Before arriving to their first stop in Texas, Carston and his father allotted enough time in their schedule to check out some of the most memorable filming locations from their favorite show.
"My dad has always wanted to drive across the country," Carston said. "We got to check out like six different locations from Breaking Bad."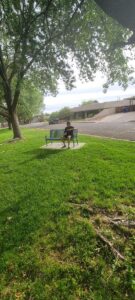 After the "Breaking Bad tour", their first football stop was in Lubbock, Texas to attend a camp. Carston enjoyed the college town aspect of Texas Tech and said he'd be excited to play for a school where football matters so much to the entire community. After leaving Lubbock they made the trek out to Tulane, which had a very different feel than the Red Raiders experience he had prior. Carston participated in a camp at Tulane and says it was one of his best performances of the summer.
"I was striking the ball very well and the coaches really liked my leg," Carston said. "After, they gave me a tour and we've been keeping in touch."
Great day at Texas Tech! Thank you coach @CoachSchov and @CoachKennyPerry for the opportunity to compete! @TexasTechFB @HKA_Tanalski @steverausch17 @CoachBarro @CdS_Football @AZKicking pic.twitter.com/tnLGbvFUP1

— Carston Kieffer (@CarstonKieffer) June 6, 2022
Carston rounded out his road trip in Manhattan, Kansas where he scoped out Kansas State. Carston has attended a handful of camps throughout the summer and said the Wildcat's camp was one of the most professional camps he'd experienced.
"Their special teams coach was really awesome and the head coach came and talked to all the kickers too," Kieffer said. "The head coach told us he even eats with the kickers pregame because he thinks special teams is really important and I thought that was awesome."
Carston just returned from a Top 40 camp in Orlando where he spent a week living in dorm conditions with three other kickers. The camp presented an opportunity for coaches and scouts to watch a live feed of the players and gain exposure.
"I'm really open to anything and continuing the relationships that I already do have," Carston said.
My'Keil Gardner – 2023 Liberty, Defensive Lineman
The 275-pound defensive lineman has spent the large majority of his summer training and making several official visits as he gets closer and closer to making a decision. My'Keil made his first visit of the summer to Cal-Berkeley, a school that he'd previously gone on an unofficial visit to.
"Getting to connect with those guys again, seeing how they're developing their program, and seeing how invested they are in their players is what really stood out to me," Gardner said.
Had a great official visit to Cal-Berkeley this weekend thank you @MWCherrington @browning_coach @BenjiPalu_Cal @coach_schrider for the great time pic.twitter.com/yvy1wS2abk

— My'Keil Gardner (@mgardner2023) May 16, 2022
Gardner wants to emphasize his relationships with coaches on his visits and says the most important thing for him is to gauge the interest of each coach. Gardner had built solid relationships with the coaches at Cal-Berkeley and Wisconsin before making the trek out for his visits but didn't have that same luxury with Michigan.
"It definitely really opened my eyes going out to Michigan, even though their a great program I just didn't know too much about them just with the offer being so recent," Gardner said. "I had to go out there and start building those relationships and I'm still building those relationships."
My'Keil received his offer from the University of Michigan on May 11 and visited Ann Arbor Michigan exactly one month later. He said his experience visiting Michigan made him realize that he wants to take the time to revisit schools that he's already made unofficial visits to and he plans to visit Michigan again on July 31.
Yeooo Michigan fans show some love to the gram #GoBlue pic.twitter.com/aHR2VZ0eGs

— My'Keil Gardner (@mgardner2023) June 13, 2022
On the other hand, Gardner said the coaches at the University of Texas had been keeping in contact with him plenty prior to his visit and have continued to call and text him since going to Austin.
"Seeing all the new people that they've added to their program and the guys they've taken away, I think they're really heading in the right direction," Gardner said.
Texas, Michigan, Oregon, and Cal are reaching out to him very regularly to continue to show their interest. My'Keil says he will be revealing his top three schools in early July.
Cree Thomas – 2025 Brophy, Cornerback
The young Broncos cornerback received his second Divison I offer from the University of Arizona on June 28. His first-ever offer came from the University of Oregon on May 12.
Blessed and excited to have received an offer from The University of Arizona!! Grateful for the opportunity!! #BST @jason247scout @dwalkerfb @FootballBrophy pic.twitter.com/ybPxoKRZjY

— Cree Thomas (@CreeThomas3) June 29, 2022
"We have been fortunate enough to have some talented, national type prospects in our short time at Brophy and Cree has a chance to be in that conversation with continued development," BCP head coach Jason Jewell said. "He has a ton of qualities that college coaches want; he has length, obviously athletic and has plenty of speed. Not to mention, he's a fantastic kid."
After an amazing conversation with @KennyDillingham I am super blessed to have received my first offer from The University of Oregon!! @jason247scout #blessed @FootballBrophy @JUSTCHILLY @lmzworld_ pic.twitter.com/t4rMW5Bu1D

— Cree Thomas (@CreeThomas3) May 13, 2022
Bear Tenney – 2025 Hamilton, Wide Receiver/Tight End
The young Hamilton athlete has been raking up offers over the last few weeks. This June he's earned offers from the Georgia, Tennessee, Michigan State, and most recently from Ohio State.
Honored to receive an OFFER from The Ohio State University!! After a Great Camp and conversation with @ryandaytime & @OSUCoachKDub 🔴⚪️ #GoBucks 🌰 @OhioStateFB @brianhartline @CoachJFrye @CoreyDennis_ @CoachTonyAlford @michaelzdebski @CoachJimKnowles @markpantoni @adamgorney pic.twitter.com/IwmEacRDWo

— BEAR TENNEY 6'5 230 WR/TE 2025 (@BearTenney) June 28, 2022
"I was super excited and honored," Tenney said. "I've always loved watching Ohio state and Michigan State on TV and for them to see my potential meant a lot."
The 6-foot-5, 230-pound sophomore transferred from Casteel and hopes to make an impact for Hamilton in his first season as a Husky.
"Tim Doughtery has a great weight program and has made a huge impact on me and the team," Tenney said. "We have great team chemistry and a lot of talent. We got something really special happening at Hamilton, especially with Michael Zdebski as Head Coach."