Tuesday, KTAR Radio celebrated its 100th birthday. Here's my KTAR story.
August 1993, Jude LaCava and I were standing on a football field at UCSD, watching the then Phoenix Cardinals and the then San Diego Chargers go through training camp workouts. I'd gotten to be friends with Jude through our work in our respective markets on the sports scene. Jude mentioned to me that he was leaving KTAR for a television position and that I should look into coming to Phoenix. At that moment I thought, hmmm…
Growing up in North San Diego County(Valley Center), I never thought about leaving my hometown sports market, but I had been getting the itch to spread my wings after being on the ground floor of the legendary Mighty 690 radio station. Our owner, John Lynch, was a visionary, armed with a 77,000-watt signal. I was an original part of the station, starting in 1987 before the format switched to all-sports. Wolfman Jack and Lee Hamilton were the main cogs; I was a 21-year-old just trying to fit in.
I followed through on reaching out to KTAR and was given a one-night audition on November 8th, 1993. I remember the day because the Suns traded backup Neagle Knight right before the show started. I was prepared around the Cardinals and the future of then-head coach Joe Bugel. Instead, Mitch Otto, the producer, had the Suns' owner Jerry Colangelo and head coach Paul Westphal come on in the first twenty minutes to talk about a backup being traded. I had 38 phone calls that night, and only two wanted to discuss Bugel's future. The rest had to vent about the Knight trade. I left the studio and went back to the hotel, thinking I had bombed my opportunity. At the airport the following day, the newspaper's headlines were "Colangelo and Major League Baseball." I beat myself up for not being better prepared or even thinking about that as something to ask the owner of the Suns the night before. I knew I wanted the gig. I saw a budding sports market. KTAR 620am was one of those hallmark radio stations(WGN, KDKA, KMOX, KRLD, KABC). I didn't mind that it wasn't an all-sports format. I felt the community vibe the moment I came into the building.
The sticking point of getting a deal done came down to being part of Arizona State basketball and my love of college sports. I was the play-by-play voice of San Diego State basketball and believed that to be a strong talk show host, you had to be out at games and get to know the coaches and players. In the 90s, you could still be the voice of a team and host a daily show. KTAR's General Manager Jim Tazark and program director Marc McCoy made it work. I started on December 10th, 1993. I would be let go nine years later.
Being in my 20s on a heritage station like KTAR was as cool as being on 690. I'd seen and done a lot, but the collection of talent at KTAR 620am was like being part of a dynasty. Legendary broadcasters like Bill Heywood, Al McCoy, Pat McMahon, Preston Westmoreland, Bill Straus, and Tom Dillon would be in the hallway or at the arena talking with this country kid from Valley Center. The station management gave great latitude for me to make errors of enthusiasm and find my footing following someone as well regarded as Jude. If I went an hour with Charles Barkley without taking a break, there would be an "amazing radio last night" from the crew. I could do turkey bowling for the Salvation Army, cook fish in studio with Bob Hirsch, sit in every seat at Bank One Ballpark for charity, bury a time capsule in centerfield at the ballpark(it's still there from my understanding) or I could live in a van outside of the then America West Arena for ten days waiting for the Suns to win a game. I had the support and resources of the powerhouse station behind me to do my thing.
People like Greg Schulte, Jeff Scott, Ned Foster, Dan Beach, Steve Clawson, Doug Nintzel, Jeff Munn, Bart Graves, or Mike Sausado sitting across the glass or taking the time to even to acknowledge me was pretty cool.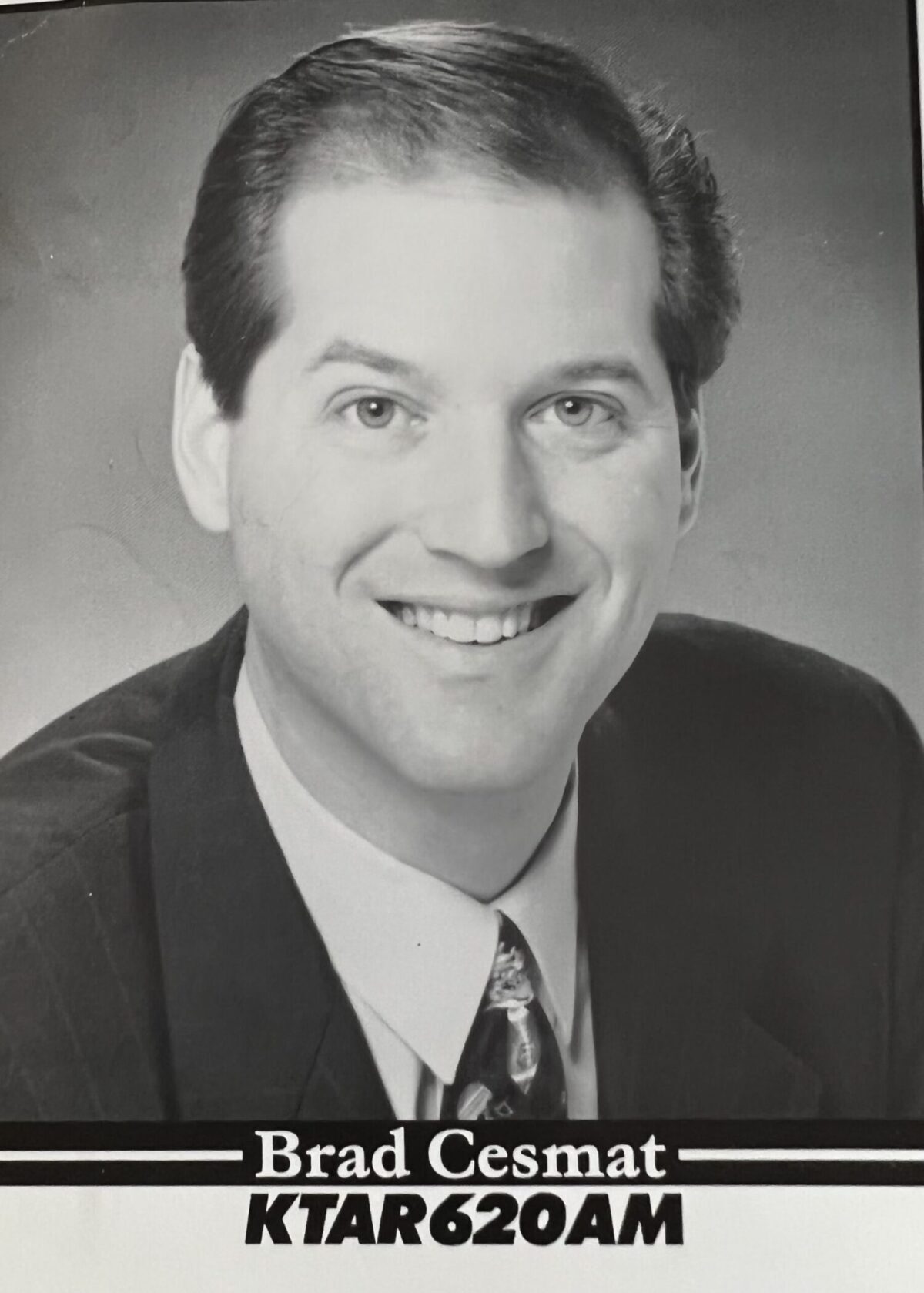 Over time, I began to have a problem that I didn't even realize was building. I couldn't say "no". Talking with many broadcasters through the years, the insatiable appetite to do more is always out there. I was becoming out of balance with my personal life and found myself on the 620am airwaves in the mornings and evenings. Heywood, who I adored, asked me to be his morning sports sidekick. How do you say no to a legend like Bill Heywood? You don't!
The station put a studio line in my house, and I'd be on before and after games or hosting a show at night and back on the air early the following the morning with Bill. I was missing family events and found myself thinking, "what's next."
One day a manager informed me that corporate was starting to look at my salary. I knew then that the end was coming. The Diamondbacks were eliminated in the 2002 playoffs from St. Louis and on the flight back from the series, the plane dropped more than once because of bad storms. I looked out the window and thought, "what am I doing?" My wife and I prayed for change in October, and two months later, I was called into the General manager's office and was told, "you've been here too long, you've been too loyal, you make too much money."
I thanked them, and they thanked me. I was free to come into the building for the next six months. In the business of broadcast, we both handled it the right way. The old saying "you haven't made it in broadcast until you've been let go" is true…