Exactly one year ago former Casteel quarterback Dane Christensen took a leap of faith and embarked on his mission to South Africa. Going on a mission is very common in the LDS community but less common for a young athlete determined to play football at the next level. For Dane, there was no question that he wanted to serve.
I am excited to announce two commitments in my life. Starting 6/24, I'll be serving a 2 yr church mission in Cape Town, South Africa. Upon my return in 2023, I have accepted an offer to join the BYU football team. Huge thanks to my family and coaches for their support. Go Cougs! pic.twitter.com/Y9r9NAVfCa

— Dane Christensen (@DChristensen_12) April 7, 2021
From High School Football to South Africa
Dane was a standout quarterback for the Casteel Colts – as a senior in 2020 he stood at 6-foot-3, 190 pounds, and earned a three-star ranking. He received an offer from Drake University in his final season with the Colts but says he trusted that God had a plan for his life and his future in football.
"Recruiting was a little slow for me at first but it all worked out for me in the end," Dane said.
With guidance from his coaches, teammates, family, and prayer he landed an opportunity to play football at BYU after completing his two-year mission with his church. Once Christensen made the decision to go on his mission, he was all in.
The Christensen family held a party at their home on Feb. 16, 2021, where Dane opened a letter that revealed he would be serving his mission on the other side of the world. Dane and the rest of his family standing by his side were all visibly shocked when he read his mission call out loud.
"That was probably the most shocked feeling I've ever felt or had in my life," Dane said soon after finding out his placement. "I was like 'are you kidding me? I'm really going to South Africa?"
Adjusting To Life On The Other Side Of The World
When Dane received his mission call, his biggest concern about serving his mission in South Africa was whether or not he would find any food he liked. Christensen is a self-proclaimed picky eater and his second-largest concern for his mission after a potential language barrier was being in a culture with untraditional cuisine. Soon enough Dane would be eating caterpillars at dinner, trying sardines covered in ketchup, and a dish that he likes to call "mayo salad" while visiting with the locals. While he doesn't like caterpillars or any meal with too much mayo, he has found a few foods to his liking.
"I really love this fried dough called Amagwinya," Christensen said. "The South African mama's are really good at making that."
While Dane is becoming accustomed to the food in South Africa and discovering his favorite dishes, it hasn't all been easy. Dane said the first twelve weeks were the most difficult and that's the period that missionaries always refer to as the 'training period'. In addition to being immersed in a culture on the other side of the world, he was learning what everyday life would look like for the next two years of his life. Since beginning his mission Dane has become accustomed to his routine which generally begins the same way every day.
A Day In The Life Of Elder Christensen
"I work out every morning," Dane described his workout routine as a combination of running, light weight-training, and workouts using his exercise bands. After he's worked out and had his breakfast, Dane begins studying scripture on his own for about an hour. After he's done with his independent study Dane meets with his companion to study together and plan out their days. By noon he and his companion drive out to their designated area to teach people about their faith for the rest of their day. Dane says they usually return home around 8:00 or 9:00 at night.
"We meet many people. Members of our church and non-members and our goal is to invite everyone to know Jesus Christ."
The entire Christensen family is thankful that he went on his mission in 2021 because he has so much time to catch up with his family. Just a few years ago missionaries were only allowed to speak with their families twice per year, once on Christmas and once on Mother's Day.
"The fact that I can call them every week is amazing," Dane said. "We talk for an hour or so every time but in the beginning it was difficult."
His family didn't have the luxury of weekly phone calls when Dane's older brother was serving his mission. Every Monday is a preparation day or "P Day" for Dane and he is able to make time to catch up with his parents and other loved ones.
"Being able to visit with him every week has really been a blessing for Tiffany and I," Dane's father Cannon said.
On preparation days, Dane catches up with his family over video calls, he responds to Facebook messages and has a little extra time to build on his training. Preparation days also include shopping, cleaning, and taking a mental rest. Since his family has had weekly opportunities to connect with Dane, they have been able to see his growth as a person and in his faith.
"I think when you're out on your own and you're 10,000 miles away from home and you're dependent upon God you tend to grow up quick," Cannon said. "He was quite mature for his age before he arrived but I love just to see his maturity and his humility, he's not about just himself."
Cannon says he and Dane's mother ask all the typical parent questions: Are you safe? Are you eating well? Are you training? But the most rewarding thing for him and his wife Tiffany is to see how happy he is to share his experience serving others.
"We love to hear about the people that have accepted baptism and joined the church," Cannon said. "He's been able to be a small part of their lives and see them change and grow closer to God. Those are the best."
Dane has built many relationships with people of all ages since arriving to South Africa and he especially enjoys any opportunity he has to spend time with local children in his area.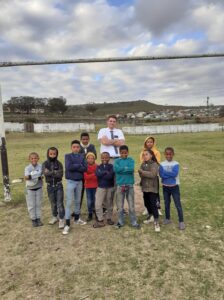 "The kids are really the best, they are so sweet."
It's very clear that some of his best memories in his first year have been with the kids he's encountered.
"In my last area there was a group of like 20 kids, and you know, when you walk around and you're this white American and you kinda stand out and they would kind of swarm you," Dane said. "They loved playing soccer and loved playing rugby and we would go to the field by them and play with them for like an hour. And when we were done we would tell them that Jesus loves them and to have a good day."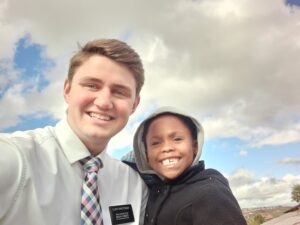 Training For BYU Football
"My focus is all in on my mission, it's two years so I want to be all in," Dane said. "But at the same time, football and playing at BYU is in the back of my mind every day."
Special signing for Dane Christensen who has committed to play football for BYU once he returns from his mission to South Africa. Congratulations! #NLI @DChristensen_12 pic.twitter.com/rtHRUUzlLy

— Jennifer Johnson (@NCAACasteelJen) April 14, 2021
Rugby is among some of the unique exercises Dane is able to maintain while serving his mission abroad. When his mission comes to a close, his next mission is still to play football at BYU. While his daily schedule doesn't allow significant time to throw a football or practice drills, he has found a way to stay in shape. He plays soccer or rugby with the locals when he gets the chance, and says when they play on the beach it's an especially good workout because of the sand. In addition to the occasional recreational sport, Dane has implemented exercise bands and cardio in his daily workout routine. Unfortunately for Dane and other missionaries, he says recently his mission president has banned weights from their apartment, due to damage caused by dropping weights on the ground.
"I'm trying to put on muscle and its a little hard since it's a lot of bodyweight stuff," However, Dane has been innovative in finding ways to get a bit of weight training into his routine. "We filled these big bottles with sand from the beach to use as weights instead," Dane said.
Dane is still throwing the pigskin every chance he gets. Right now Dane has plenty of fellow missionaries around him in his area of East London to throw a football with to help get him some reps. In fact, one of Dane's closest friends from his time in South Africa is on a similar journey.
"There was actually an elder in my zone who actually just finished his mission and he was committed to play at BYU as a linebacker."
Dane became good friends with Bodie Schoonover, the new Cougars linebacker and enjoyed having someone with the same goals in mind while he's been away from home. However, he wasn't as lucky in his first area placement. When Dane arrived for his mission in South Africa he was the only missionary within an hour and a half radius, making it incredibly difficult to find someone to play catch with.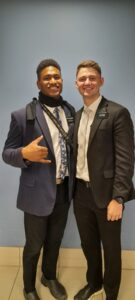 "I feel pretty good, I don't feel like I've lost a step at all," Dane said. "Velocity, arm strength, overall ability, I feel really good."
In addition to strength and physical ability, Dane is confident that his mission is providing him with all the skills he needs to make an impact as a Cougar. Since he decided to go on his mission he has been confident that the mental aspect of serving a mission would translate onto the football field.
"Missions aren't easy," Dane said. It's actually really hard. As good as it is to serve the Lord every day it can be overwhelming at times but I know I'm learning from it all."
Dane's father Cannon agrees that his time abroad has helped him mature beyond his years and will help him as a leader at the quarterback position, but more importantly, he believes it will help him in all aspects of his life.
"There's many opportunities as a missionary to lead and right now he has an assignment as a zone leader and he's responsible for about 14 missionaries," Cannon said. "That in and of itself is providing some great groundwork just like his position in football where he's got to lead."
Dane will be 21 years old when he begins his college football career at BYU while most other newcomers will be 18. Dane and his father both believe that the responsibilities he's taking on now in his position as a zone leader will directly translate to his ability to lead a group of young men who share the same goal for the Cougars.
"I've been put in different leadership responsibilities and right now I'm in charge of guiding the elders in my zone," Dane said. "I've learned to be a better leader and my patience has improved as well. I don't know if that directly translates but I think it has helped me as a leader. This will definitely translate to being at BYU."
"You have two years to serve and the rest of your life to think about it."
Dane has been serving his mission in South Africa for 365 days. Hitting the one-year mark has given Elder Christensen plenty of time to reflect on what he's learned and what he wants to do in his final year of service.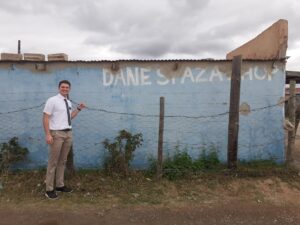 "For the next year I just want to really soak everything in," Dane said. "The first year, especially the first six months was an adjusting period."
When Dane left, the thought of being away for two years in a brand new country was a bit daunting, but now that he's one year in he wants to focus on enjoying every moment. He's been thinking about a phrase his dad always told him – "You have two years to serve and the rest of your life to think about it."
"I want to spend as much time with the people that I can and continue to build relationships, I will take these relationships with me forever."