Dallas 123-Phoneix 90
It was a blowout from the opening tip. The Suns' season ended with a whimper amid boos coming down from their own fans.
Sixty-four wins don't mean a damn thing once the playoffs start. Leading the league in road wins, home wins, and whatever else between November and mid-April isn't what a successful team is measured. Sure, on a given night in January, the Suns beat up many mediocre teams. What does it mean now? How does arguing over whether Devin Booker should be the MVP of the NBA after he hit just 9-31 shots in two close-out games? I get it, some fans think their team can do no wrong at any point in time. We're supposed to talk about what a great season the team had. Um, no, we're not. "We played the worst game of the season tonight," Monty Williams said after the game.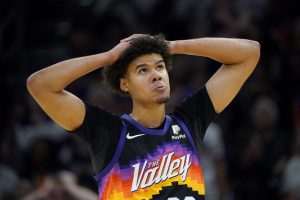 What an absolute disaster. A 43-point home loss in Game 7. Chris Paul and Booker were a combined 17-46 in the last two games.
Biggest halftime lead in a Game 7 in the history of the NBA. "I did not have us ready to play a Game 7,". Williams added.
What will be interesting moving forward is to see what ownership and management do with this roster. You CANNOT bring back this group as it's currently constructed. They weren't right at any point in the postseason. New Orleans pushed them around, and Dallas simply wore them out. Chris Paul played too many minutes against the Pels, and at 37 years old, it eventually caught up with him in a long series against the Mavericks.
Once again, we can't have nice things in Phoenix when it comes to pursuing a title…