IF I were a betting man, Deandre Ayton would be celebrating his twenty-fourth birthday in July as a member of a team not named the Phoenix Suns. Too bad, really. How often do you ship off a player who isn't even halfway to thirty and was the number one overall pick in 2018? Yes, General Manager James Jones did say at the end of the season, "we want to keep our consistency, our continuity." While I'd like to have heard Jones say,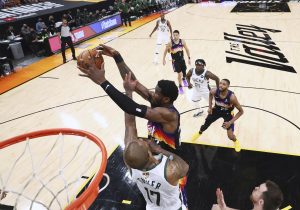 "Deandre will be taking the opening jump in October," it simply isn't that easy after the flameout to Dallas. There's NO WAY the Suns can run it back with the same roster. More problematic are the folks who like to argue that trading Ayton will bring back assets(draft picks) to give the Suns future flexibility. Um, the window is now…
With Ninety-four days to go until Arizona State football opens its season, I was able to get a breakdown and opinion on new Sun Devil transfer quarterback Emory Jones from the highly respected lens of ESPN college football analyst Tom Luginbill who also does work on the SEC Network with Sirius XM.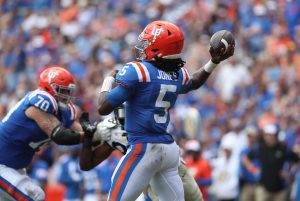 "I actually thought Florida let the wrong quarterback go," he told me last Thursday. Luginbill used the word "streaky" when describing Jones, who left the Gators after Florida went with Anthony Richardson as their starter for the 2022 season. "I think in the right situation, he's going to be just fine. He's a great kid and will be a force for the locker room and will give them back some of that athleticism they had with Jayden Daniels. The hope is you get far more consistency in performance with the passing game from Jones than you did with Daniels".
I had an in-depth conversation with Luginbill about the view nationally of the Arizona State program, which I'll share in the coming days in this space and on the Football AZ show on Bally Sports Arizona…
Eight losses to the same team in the last fourteen days without showing much fight is not the best way to stop the "Beat LA" chants at the Big Ballpark. At some point, the Diamondbacks have to bloody the Dodgers nose if they want to convince a fragile fan base that they can compete and stop the Big Blue Conventions from being held in downtown Phoenix. Losing 9 of 11 matchups, including this current eight-game ,beat-down, isn't the way to turn the tide. Seven home games against LA in the first seven weeks of the season brought in around 150-thousand fans which means there were about the same number of empty seats…
UArizona is going to the softball world series in Oklahoma City. Arizona State came within a victory of being in the CWS as well. The sport of softball is booming in our state. According to Max Preps, three of the top fifteen high school players in the nation reside right here in Maricopa County. None of the three will play college ball in Arizona. They're heading to Texas, Oklahoma, and Northwestern…