The No. 1 quarterback in the class of 2024 just announced his commitment to Ohio State University.
BUCKEYE NATION!!! LETS G⭕️⭕️⭕️⭕️🌰🌰🌰🌰🌰 pic.twitter.com/NvXE24XM7j

— Dylan Raiola (@RaiolaDylan) May 10, 2022
Raiola transferred to Chandler this year after moving from Burleson High in Texas. He threw for over 3,00 yards and 32 touchdowns during his sophomore campaign.
Now that Raiola has made his commitment public his focus is on his first season with the Chandler Wolves.
"Before I moved to Texas I was officially enrolled at Chandler," Raiola said. "The program that it just provides great opportunity to compete at the highest level but also get ready for the next level."
Coach Rick Garretson is yet to see him take a game snap in the Chandler Wolves blue, but he knows he has a special player at the helm of his offense.
"He's stepped in and took control from day 1 by leading this team back in January, Garretson said. "His work ethic, Football IQ and commitment to excellence are second to none. Dylan is a perfectionist who is self driven and knows how to critique himself at his position."
Dylan wasted no time stepping into a leadership role. He says it's a part of his nature to lead.
"I definitely want to be a leader," Raiola said. "Not just because I'm a quarterback just cause that's kinda how I am."
Dylan goes by the motto "Touch Two," a motto he said he learned from Russel Wilson's quarterback coach.
"He always said touch two so I'm just trying to touch a new person every day," Raiola said.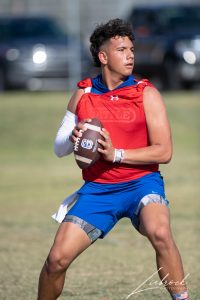 "He's the type of kid that knows the right fit and wasted no time in putting his decision out to the rest of the country," Garretson said. "I'm sure his commitment will help attract the top players in the nation to come play alongside him at Ohio State."
Dylan's father, Dominic Raiola also joined the Chandler Wolves as a part of the offensive line staff. Dominic played college football at Nebraska and received the Rimington Award before moving on to his NFL career with the Detroit Lions. Raiola played for the Lions for 14 years.
Former Queen Creek class of 2022 quarterback Devin Brown is a signee with the Buckeyes. Ohio State consistently signs some of the top high school quarterbacks on a yearly basis. Brown played his senior season in Utah at Corner Canyon.